Gregutt Tells It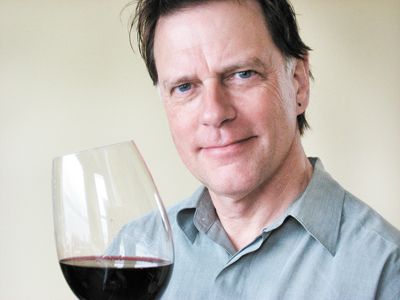 Paul Gregutt (pronounced GREG-it) is an American wine writer who focuses on Washington and Oregon. He publishes a column titled "Wine Adviser" in The Seattle Times Pacific Northwest Magazine and is Northwest Editor for Wine Enthusiast Magazine.
Over the length of his career, he has contributed to publications such as Vineyard & Winery Management, Yakima Herald-Republic, Walla Walla Union-Bulletin and The Spokane Spokesman-Review. He has also written the Pacific Northwest material of Tom Stevenson's annual Wine Report, as well as made contributions to Decanter and Wine Spectator magazines. He is also the wine editor for Wine & Jazz Magazine with weekly blogs on their website.
His critically acclaimed book, "Washington Wines & Wineries: The Essential Guide," was one of the top selling books on all topics published by the University of California Press in 2008. A new and completely revised second edition is now available.
Gregutt lives in Waitsburg, Wash., with his wife, Karen. Together they operate Waitsburg Cottages, vacation rentals in Walla Walla wine country. In his spare time, he writes and performs as an acoustic singer/songwriter in the Walla Walla Valley and Seattle. He recently retired his blog, www.paulgregutt.com, after four years of well-read posts.
OWP: How did you first become interested in wine?
PG: My interest grew over many years, mostly due to the generosity of friends who knew far more about the subject than I did. Some worked in the industry, some were consumers who organized tasting groups and wine dinners, and the more I tasted, the more I thought, "Wow this stuff is really pretty good!" I was never a beer drinker, nor did I have a particular fondness for spirits, so wine slid right into first place pretty easily.
OWP: If you could open a winery anywhere in the world, where would it be and what would you make?
PG: I would stay right where I am, in Walla Walla County. My goals as a winemaker are pretty simple – do something different and better than what anyone else is doing. Not so hard, huh?!? Actually, stay tuned: I will have an announcement later this spring with more on the subject.
OWP: What do you admire most about Washington's wine industry?
PG: I have been a fan of, and advocate for, Washington wines since long before anyone outside the region (and few inside it) believed that they were world-class. I believed that they were, and I have the newspaper and magazine clippings to prove it. What I admire most is the creativity, work ethic, camaraderie and sheer chutzpah of those who have pioneered the industry here. So many of them started with nothing, worked day jobs and made wines in their garage or workshop, simply out of pure love for the process. That they have built a world-class industry, largely without big cash infusions, is a tribute to their talent.
OWP: What do you see in the Walla Walla Valley's future in regard to varieties, tourism, numbers, etc.?
PG: I think that Walla Walla is already established as a great winemaking region. As a wine grapegrowing region, its clear strengths are Syrah, Merlot and Cabernet. There are many other exciting wines being made, but as far as Walla Walla wines from Walla Walla grapes, it will take more time to fill in the blanks. As a wine touring destination, the Valley has been discovered. Many articles have appeared recently in the national press. Even my little town of Waitsburg has gotten reams of good ink (or pixels as the case may be). Being four hours from any major urban area is both a challenge and an asset. It keeps the roads uncrowded, the tasting rooms convivial and the costs down. The weather from April on into mid-November is marvelous, and even winter has its charms. I see a very bright future for the region as a gathering place for folks who love great food, wine, scenery, outdoor activities and a relaxed lifestyle that is hard to find in the big cities.
OWP: How has the changing world of newspapers and print media affected wine journalism?
PG: Clearly, the proliferation of blogs has had an impact, along with crowd-sourced reviewing such as you find on Cellartracker. But the bottom line is that just because someone can post an opinion easily doesn't mean that they can attract readers. Real journalism is a skill and a craft that must be learned the hard way, just like winemaking. You have to do it, over and over, to prove yourself and to build a following. Making a living at it is even harder. There are very few individuals in the entire country who earn their living exclusively by writing about wine, and almost all of them work for a specific publication. Most freelancers have to have alternative income sources to get by. I don't think it's going to get any easier anytime soon.