Dessert and Sparkles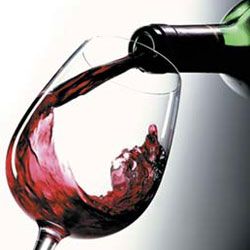 Value Picks for December 2009
2008 Noble Estate Willamette Valley Semi-Sparkling Muscat
$14 (250 cases)
Just a tickle of effervescence brings liveliness to a well-balanced wine that speaks to Muscat's assertively spicy, floral flavor profile, yet with restraint. Melon, citrus, lychee nut and dried tropical fruit make a delightfully delicate statement on the palate.
NV LongSword Applegate Valley Accolade Sparkling Chardonnay
$20 (455 cases)
The only fully sparkling wine in the tasting would be accurately described as a Blanc de Blanc Brut. Made from 100 percent Chardonnay, its floral, mineral and yeast aromas lead into a clean, dry yet fruity mouthfeel, augmented by refined, persistent bubbles and a lingering finish.
2008 Tualatin Estate Willamette Valley Semi-Sparkling Muscat Frizzanté

$15 (1,567 cases)
This version of the world's oldest grape variety retains its unique identity with fresh mown hay and piquant citrus aromas. Flavors of grapefruit, orange peel and bouquet garni are accented by the semi-sparking style.
2008 Daedalus Dundee Hills, Maresh Vineyard, Sweet Riesling

$25 (74 cases)
There may be only a precious few gallons of this ambrosia available, but those with a sophisticated sweet tooth and a love of fine wine would be well rewarded by seeking it out. Vibrant pear and honey form the velvety robe, which, once opened, reveals tantalizing dried herbs and floral scents. Simply put, it's one class act.
2007 Ponzi Willamette Valley Vino Gelato

$24 (345 cases)
The painstaking process of freezing ultra-ripe, old-vine Riesling and Muscat grapes has yielded a concentrated ice wine infused with lusciously intense flavors of pineapple and citrus accented by a hint of juniper. Firm acidity delivers the balance that elevates it into the upper echelon of dessert-style sippers.
2008 Elk Cove Willamette Valley Late Harvest Riesling

$20 (400 cases)
Poised on the cusp between dessert and sweet apéritif, Germans would call this an auslese or "selected harvest" Riesling. It offers a harmonious counterpoint of crisp green apple and ripe peach. The co-mingled flavors complement one another beautifully, while a hint of licorice adds flavor interest.
The Oregon Wine Press tasting panel has selected these wines based on overall quality and value within their respective categories. To the best of our knowledge, they are currently available in the retail marketplace. But a call to the winery or your favorite wine merchant will best determine where they may be purchased. The above wines have met the following criteria: produced by an Oregon winery; retail price up to $25 per 375 ml bottle for dessert and $30 per 750 ml bottle for sparkling; currently available to consumers. Recommended wines were selected using a double-blind method and a 20-point ranking system for appearance, aroma, taste, balance and finish.