Tête-à-Tête with Tarlov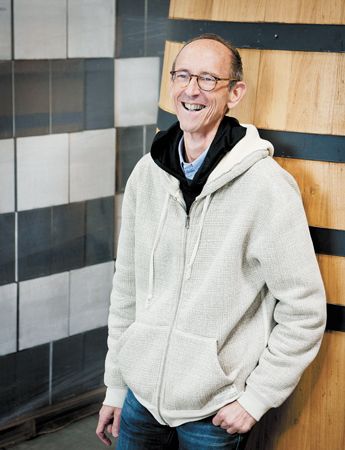 MARK TARLOV began his involvement with Oregon Pinot Noir in 2006, when he formed Evening Land Vineyards, which leased Seven Springs Vineyard in the Eola-Amity Hills. He oversaw Evening Land until July 2011. As of January 2012, he left the winery entirely.
Tarlov started Chapter 24 Vineyards in July 2012 and now collaborates with young winemaker Mike Etzel, son of Michael Etzel of Beaux Frères. Mike also makes wine with his brother, Jared, for their own label, Coattails.
Before starting Evening Land, Tarlov produced and/or directed more than 20 feature films, including "Christine," based on the novel by Stephen King (his first film), "Copycat," starring Sigourney Weaver, Holly Hunter and Harry Connick Jr., and "Simply Irresistible," with Sarah Michelle Gellar. He is currently preparing a new film, "Lost in the Stars," which begins production in spring of 2013.
In addition to producing and directing feature films, Mark founded e-studionetwork, providing production and collaboration software to some of the major Hollywood studios.
Before striking off on his own, Tarlov worked at Warner Bros. in New York and Los Angeles. He came to Warner Bros. following a three-year stint as a trial lawyer in the Antitrust Division of the U.S. Department of Justice. Prior to graduating from law school, he worked for two years in the office of Chief Justice of the U.S. Supreme Court Warren Burger. Writing speeches and articles were among his various duties.
OWP: How did you first become interested in wine?
I became interested in fine wine after reading an article in The New York Times about 10 Bordeauxs for under $10. That was in 1976 or 1977. I was in law school, and my experience up to that time was choosing wine primarily by the shape of the bottle. I am not talking about straight shoulders or sloped shouldered bottles but bottles that looked like a fish or a keg or were wrapped in straw ... well, you get the point. In any case, I went out over the next several months and tried all of the wines, and the journey began.
OWP: What inspired you to get into the wine business?
I have always had this notion that you should work at something you love and then try to find a way to earn a living at it. I have been lucky enough to be able to put this idea into practice. The three careers that I have had so far, advocacy, film and wine, are all passions for me, and I have found a way to merge my avocations into vocations. I think the line between work and play is one that should be very, very, very blurry.
OWP: Having been involved in four different wine regions (Willamette Valley, Santa Rita Hills, Sonoma Coast and Burgundy), how do the four differ in terms of personality?
The differences between the four regions are quite distinct. For me, it has always been a little like the first line in Anna Karenina: "All happy families are all alike; each unhappy family is unhappy in its own way." That is to say that making and selling wine is primarily an exercise in coping with difficulty. My experience, and this is a survey of only one, is that each of the regions copes with these difficulties in fundamentally different ways. Equanimity, anger/hauteur, optimism and resolve pretty much break it down by region. And no, I won't tell you which region I think goes with each personality.
OWP: Your new winery's name, Chapter 24 Vineyards, is a reference to "The Odyssey." Why?
My thing is storytelling. Conflict and resolution is what interests me. It is all about drama. Tension and release. Finding the harmony in opposites. "The Odyssey" stands at the very beginning and is at the heart of all dramatic storytelling in Western literature. It is where the structure of modern Western storytelling started. "The Odyssey" and a few other writings of the ancient Greeks have informed every speech, closing argument, article, film and wine that I have been associated with over the last 30 years. Chapter 24 is the last chapter of the Odyssey, so it seemed fitting to bring it all home to this fabulous winery in this fantastic place.
OWP: If you were asked to direct a movie (thriller, romance, comedy, you name it) in Oregon wine country, what would be the plot? Who would you cast?
This one is easy. One of my two or three favorite screenwriters and directors is Billy Wilder. Wilder wrote a short story that he later adapted in a screenplay for the film, "Ball of Fire," which is essentially Snow White and the Seven Dwarfs, starring Gary Cooper and Barbara Stanwyck. The film was directed by Howard Hawks. I have for many years wanted to use the template of "Snow White" as Wilder did in "Ball of Fire" to make a contemporary screwball comedy/romance/thriller. Just think about it — a beautiful, wisecracking young girl must hide out from "evil queen" or boyfriend or U.S. attorney and while on the lam she winds up in a bucolic hidden valley where she is protected by a group of seven lovably quirky characters that farm the fields of the valley.
Each of these lovable residents of the "valley" has distinct personality traits making them all irresistible. Our heroine loves them all, but she falls for one in particular, who galvanizes his fellow lovable friends to thwart the evil-doers so that he can live happily ever after with the girl of his dreams. And so it goes... No actor could resist such a film and the chance to play the damsel in distress, the slightly befuddled but handsome and gallant hero, the evil-doer or, for that matter, anyone of the six other characters that farm the Valley. It has been suggested many times that I was born to play an oversized version of Dopey, so that part is spoken for, but all of the others are up for grabs.