'Tis the Season for Surf and Turf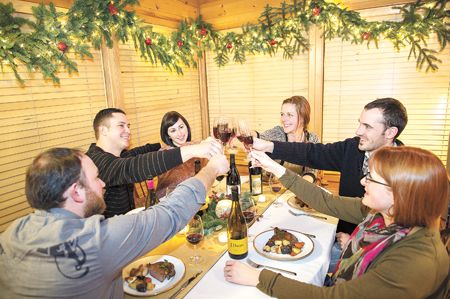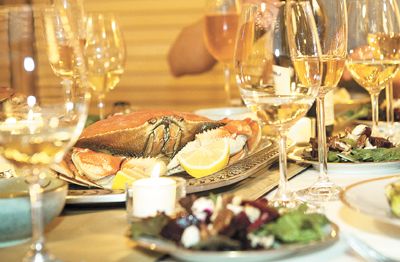 By Kerry Newberry & Jennifer Cossey
Photography by Andrea Johnson
This Holiday season, don't talk turkey or even ham it up. Instead get crabby — who doesn't this time of year — and beef up the menu, because it's time for a surf and turf Festive feast.
SURF
Culinary poet and chef James Beard deemed Oregon Dungeness crab "a meal the gods intended only for the pure in palate." White as snow, succulent and sweet, Dungeness crab is a feast for the senses, especially during the holidays.
"We love crab for its perfect simplicity," says Laura Anderson, owner of Local Ocean Seafoods, a restaurant and seafood market in Newport. "It's equally at home on fine china or newspaper; and it doesn't need much, maybe a little butter and lemon, and a glass of crisp Chardonnay or sparkling wine."
Whole Dungeness crab in the shell is a sight to behold and the traditional way to serve the crustacean, but there are other ways to incorporate it into your holiday menu. Soups, salads, cakes, dips — among many other applications — make crab a very versatile ingredient.
"One of the most popular specials that we run every holiday season is a Dungeness crab, brie and caramelized onion quesadilla. It's also a very nice holiday appetizer to make at home."
A third-generation commercial fisherman, Anderson spent summers on her father's fishing boat, salmon trolling and Dungeness crabbing. "Crab really is a holiday tradition on the West Coast because the season typically starts in December, so we get those first of season crabs right before the holidays," she explains.
Winter is when crabs are at their peak in terms of the quality of the meat and fullness. The volume of crab is highest at the start of the season, which means the price point is lower — one perk of an Oregon winter.
Environmentally inclined epicures concerned about the state of seafood and our oceans will be glad to know that in 2010, Oregon's Dungeness crab fishery earned Marine Stewardship Council (MSC) certification, one of only three crab fisheries in the world to receive the distinction, and the only one of five West Coast Dungeness fisheries certified sustainable.
A state-managed fishery, Oregon's Dungeness crab is regulated by size, sex and season; only males meeting a minimum size standard are harvested; smaller males and all females are returned to the water to ensure healthy stocks for the future.
The crab fishery is the largest single-species fishery in Oregon. "Most folks here on the West Coast are crabbers at some point during the year — from the small boats to big boats," says Anderson.
With that in mind, supporting the local crab economy is the perfect way to celebrate the season of giving and the spirit of the sea.
MEAT ITS MATCH
Cooking styles are particularly important here. For boiled or baked fish, think lighter and crisp white wines with good acidity to help the natural flavors of the food shine through. Sauvignon Blanc, sparkling wine or lightly oaked Chardonnays are great examples. For fish that is sautéed or cooked with butter, think fuller-bodied whites with some aromatics like Gewürztraminer or Riesling.
When considering the type, the more buttery seafood, like crab and lobster, pair well with a wine that can stand up to it and not vanish behind a cloud of rich flavors, so go bigger with the more full-bodied whites —Chardonnay, Viognier, Gewürz. For more delicately flavored seafood, like mussels or light, flaky fish, stick with something lighter and higher in acid.
For guests who don't like white wines, consider light-bodied reds like Gamay Noir or Pinot Noir; these wines also pair beautifully with salmon and trout. The key to pairing fish with red wine is to avoid tannin (those bigger red wines from above) as they most likely will cause an off-putting taste on the palate.
Even more so than with turf, the sauce can play a crucial role in your meal when serving fish. A sauce on delicate seafood can be the determining factor in how you pair wine. Spicy sauces can be tamed by slightly sweeter wines such as Riesling; while creamy sauces can be balanced with creamy textured wines such as Chardonnay. Wines with bright acidity can also be used to cut through the fat of rich sauces.
TURF
When seeking beef-hearty fare for the season's upcoming feasts, family recipes and cookbooks are often cracked open for inspiration and guidance. Home chefs reacquaint themselves with temperatures, trimmings and, most of all, techniques.
Roast, fry, grill or braise? For Lynne Curry, author of "Pure Beef: An Essential Guide to Artisan Meat with Recipes for Every Cut," the answer is obvious: "Holidays are perfect for braising. Anyone can do it."
Curry says most cuts are appropriate for braising, and it's an ideal technique for entertaining. "When you braise, the dish is made ahead of time, so you can have it all set and enjoy yourself at your party, and not do any last-minute cooking."
One of her favorite "Pure Beef" holiday-ready dishes is the Rolled Cranberry-Glazed Beef Brisket with Braised Red Cabbage. "What I love about this is that the rolling and tying makes it look more holiday-table ready," Curry says. "Plus, it's braised with a beautiful garnet-colored fruit glaze."
"Pure Beef" is filled with recipes for every cut — more than 140 — but more importantly, the ranch-to-table stories sprinkled throughout the text provide behind-the-scenes insights into the certified grass-fed beef operations across Oregon that are changing the way we think about meat production.
Curry devoted one year to following the food chain from the rangelands in Oregon to regional meat processors and retailers. Her intent was to fully understand how beef is made and sold, and how that landscape is slowly evolving from commodity production to small-scale sustainable ranching.
"It's an absolutely fascinating topic," says Curry, a longtime vegetarian turned carnivore. "I love meat, but the topic of beef and how it's produced in Oregon — when it's done well, when the land is managed and the animals are respected, and it supports families and communities — are what get me excited."
Just as you can support your local farmers at the weekly markets, small-scale ranchers raising grass-fed cattle can be found just outside of Portland, Salem and Eugene, to the more remote regions of the state.
Curry suggests finding the producer who is closest, whose meat you like best and supporting them. "One of the best places to start is your local farmers market," she says. Another great resource is LocalHarvest, a comprehensive organic and local food website providing a nationwide directory of small farms, farmers markets and other local food sources.
The holidays are a time to give thanks, and in that spirit, we raise a glass to the ranchers behind the plate producing high-quality, sustainable meat across the state of Oregon.
MEDIUM RARE PAIR
To pair wine with roasts and steak or any other red meat, there are several considerations. First, is the cut fatty or lean? Fattier meats work well with more tannic wines. Varieties such as Cabernet Sauvignon and Syrah are great examples. Fat in the meat helps tame the assertiveness of tannins, and in return, the tannins stand up nicely to the fat in the meat.
For leaner meats, look for wines that still have weight and texture but won't overwhelm the more delicate flavors with bitter tannins. Wines like Tempranillo, sparkling reds and some Italian varieties like Sangiovese or Lagrein are excellent choices.
Next to consider is cooking method. Baking will impart only slight flavor, so choosing medium-bodied wines would be best. However, if you are grilling, charring or blackening, think bigger wines with more pronounced flavors like Cabernet Franc or Bordeaux-style blends.
Last, yet no less important, consider sauces. If you are using any kind of sauce for your meats, it will be the dominate flavor and needs to be considered in your pairings. If you are incorporating a rich or heavy sauce on your steak, think bigger wines, and if you're topping with ingredients, such as grilled onions or mushrooms, match your dish with medium- to fuller-bodied wines.
Take your cue from the texture of your food and pair the wine to match it; think heavier textured wines with heavier flavored foods and vice versa.
SURF SIPS
R. Stuart & Co. Non-Vintage Rosé d'Or Brut Rosé
Comprised of 70 percent Pinot Noir and 30 percent Chardonnay, this bubbly's effervesce greets the palate with notes of cranberry, rhubarb, orange peel, pink rose and a touch of yeast. A perfect match with almost anything from the sea. $35; 120 cases
Methven 2011 Gamay Noir, Eola-Amity Hills
Notes of fresh cranberry, red cherry and violet with undertones of black pepper, earth and herb. A great pairing with light game, such as turkey and roast chicken, or a lovely match for darker-fleshed fish, like trout and salmon. $19; 145 cases
Brandborg 2011 Gewürztraminer, Umpqua Valley
Apricot, peach and subtle melon notes marry with the spicy characters of cinnamon, clove and ginger. Pairs well with crab but even better with more sweet yet savory dishes like roasted squash soup. $18; 838 cases
Matello 2010 Riesling, Carey Creek, Chehalem Mountains
Peach, candied lemon, honeycomb and a fresh stony minerality pair up nicely with a balance of sweetness and acid. A perfect food wine. $25; 22 cases
J. Christopher 2011 Über Sauvignon Blanc, Croft Vineyard, Willamette Valley
Gooseberry, grapefruit pith and lemongrass notes linger with white pepper and elegant minerality. Bright acids lend themselves to food friendliness and the wood notes, derived from acacia barrels, are subtle but create elegance and roundness in the finish. $35; 100 cases
Cameron 2011 Chardonnay, Dundee Hills
Yellow apple, lemon, white lily, honeysuckle and touches of pastry dough characterize this well-balanced white, expressing its subtle oak notes alongside zesty acids. Perfect for Dungeness crab and lobster. $19; 450 cases
TURF TASTES
Argyle 2009 Black Brut, Willamette Valley
This 100-percent Pinot Noir sparkling red wine is dark in color and exhibits lightness in texture alongside complexity in flavor. This is a wine that can work with several courses but shows especially well with leaner cuts of meat with its bright acids and notes of plum, cherry, cassis, lavender, black pepper and clove. $30; 625 cases
Tyrus Evan 2007 Claret, Ciel Du Cheval Vineyard, Red Mountain, Washington
A blend of Cabernet Sauvignon (50 percent); Merlot (25 percent); Petit Verdot (20 percent); Cabernet Franc (5 percent), this classically modeled Bordeaux-style blend is both rich and approachable with notes of chocolate-covered cherries, blackberry, dark plum and allspice easing into a graceful finish. $37; 492 cases
Quady North 2008 "4-2 A" Syrah, Rouge Valley
Blackberry, huckleberry, violet, leather and smoke characterize this rich and robust red which is both a crowd pleaser as well as a perfect paring with almost any red meat dish. $25; 660 cases
Remy 2009 Lagrein, Illahe Vineyard, Willamette Valley
Blackberry, black cherry, blood orange, chocolate cake, cinnamon and violet notes elegantly integrate with approachable tannins. This wine will pair seamlessly with grilled meats. $48; 94 cases
Abacela 2007 Reserve Tempranillo, Umpqua Valley
Black cherry, blackberry and boysenberry fruit notes linger with secondary characters of herb, flowers, black licorice and chocolate and firm tannins in the finish making this a great choice for red meat dishes. $45; 281 cases
J. Daan 2009 Cabernet Franc, Columbia Valley
Herbal notes mingle with aromas of tobacco, rose petals and dark earth, highlighted by baked black cherries and red plum. The perfect blend of flavor and texture for any holiday meal. $20; 100 cases