A Coastal Wine Tour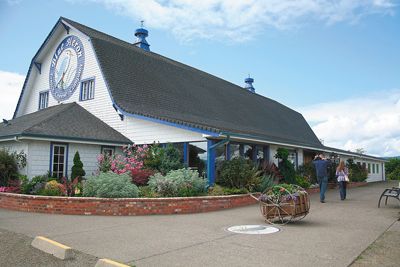 By Dan Hagg
The coast isn't necessarily the first place you think of when discussing Oregon wine, but for owners of wine businesses — and their patrons — up and down the North Coast, wine is part of a daily, delicious discourse.
The Wine & Beer Haus
1111 N. Roosevelt Drive, Ste. 200, Seaside
503-738-0201
Perched along Highway 101 in Seaside, the Factory Outlet Center is a major draw for bargain-hunters. The Wine & Beer Haus — one of the mall's original tenants — recently moved to a larger, more visible storefront.
"We needed to get bigger and this spot is double our old shop," owner Jeff Kilday said. "We have tasting space, a larger, more comfortable lounging area and walk-in coolers to keep chilled wines on hand, something we didn't have room for before."
More space means a larger wine selection. While The Wine & Beer Haus stocks a substantial number of Northwest wines, the additional area has allowed Kilday to broaden his global offerings, including selections from New Zealand, Spain, South America and Italy. The shop also features over 50 Champagne selections. "A big part of wine-tasting and buying is experimenting and expanding horizons," he said.
Kilday, who originally plied his trade as a wine-buyer for Shiloh Inns, is excited to expand at a time when it is tough to do so. "We're busy year-round, especially during the upcoming holiday season," he said. "I'm probably the only wine shop that opens at 7 a.m. for wine tasting during Black Friday, but it's part of the fun." Tastings are held daily from noon to 7 p.m. year-round.
The Wine Shack
124 Hemlock Street, Cannon Beach
503-436-1100
www.beachwine.com
Twenty minutes south of Seaside in the town of Cannon Beach, The Wine Shack has been a local fixture and wine lovers' darling since 1977, and named one of the top wine stores in America by GQ Magazine. New owners Steve and Maryann Sinkler purchased the shop in March 2012.
"We immediately emphasized Northwest wines," Steve said. "Our clientele are mainly interested in educating themselves on wines from this region." The Sinklers also offer many South American wines. In all, The Wine Shack carries 50 Pinot Noirs and 50 Pinot Gris.
With the purchase of the shop, the Sinklers acquired Puffin Brand Wine. For the 2009 Pinot Noir vintage, they worked with Sean Driggers, Pudding River's winemaker. Under the Pudding River label, this medal-winning Pinot Noir was released in August 2012 to a positive reception. "It's done so well, we are looking to expand the brand to perhaps a Pinot Blanc and a Chardonnay," Steve said.
The Wine Shack offers a place to unwind and enjoy discovering a new favorite wine in the remodeled tasting room. Tastings are offered daily from 1 to 5 p.m. Additionally, the space can be reserved for private tastings or small gatherings. It is also the place to purchase a gift or make a special order. "Wine is a social event, and sharing wine in a comfortable setting breaks down barriers," Steve said. "We want people to relax and enjoy good wine and good company."
Nehalem Bay Winery
34965 Highway 53, Nehalem
503-368-9563
www.nehalembaywinery.com
Half an hour south of Cannon Beach you'll find the Nehalem Valley. Hemmed in by mountain vistas, it's a quiet spot for wine tasting and a picnic at Nehalem Bay Winery. While traveling on the North Oregon Coast, founder Patrick McCoy purchased the abandoned Mohler Creamery, a former Tillamook Creamery co-op. McCoy pictured a potential winery in the old structure.
His first production was Blackberry wine in 1974, still a winery staple. Soon, he added other wines and started renovating the building.
Today, the remodeled Nehalem Bay Winery retains the original charm McCoy first saw. Under Ray Shackelford — who purchased the business in 1993 — the winery has become a wine-lover's beacon for North Coast visitors. Making wines with Willamette Valley grapes and locally grown fruits, the winery offers an eclectic selection with which to enjoy the view.
"With the surrounding trees and the river flowing through the valley, it's a great place to sip a glass of wine," said manager Melissa Stetzel. The tasting room is open every day, except Christmas.
Blue Heron French Cheese Company
2001 Blue Heron Drive, Tillamook
800-275-0639
www.blueheronoregon.com
Just a short drive south is Tillamook, home of Blue Heron French Cheese Company. Celebrating over 30 years in business, Blue Heron provides something for the entire family; famous Blue Heron Brie, gourmet foods, a unique gift store and fantastic homemade meals. Most importantly, Blue Heron is dedicated to providing a taste of many of the Pacific Northwest's finest wines.
Blue Heron's daily wine selections offer a wide variety to entice visitors. "We have wines from all the growing regions of Oregon and Washington," said wine manager Heather Christie. "Everyone who comes here looking for a specific wine — for food-pairing or just for wine's sake — will leave happy." The tasting menu offers signature brands like Blue Heron Reserve Pinot Noir and includes sweeter dessert wines like Moonstone Plum Saké. All wines are available for shipping nationwide.
Like any good wine shop, the Blue Heron is a gathering place. Its historic 40-acre farm is a vacation destination and community hub. Originally, the land was home to a showcase Grade-A Jersey farm. The Pastega family bought it in 1978 and still runs the business.
The 1930s Dutch Colonial barn now houses Blue Heron's tasting room "This is a close-knit family and we've developed a loyal following," Christie said. "It's a central place for people to enjoy wine and feel at home. We're very proud of that."
DAN HAGG is a writer, photographer and chef. He writes for Oregon Coast Today, Oregon Beer Growler, Newport Times-News and Oregon Coast Magazine. He's lived on the North Coast for 20 years.