Candy Dandy Dos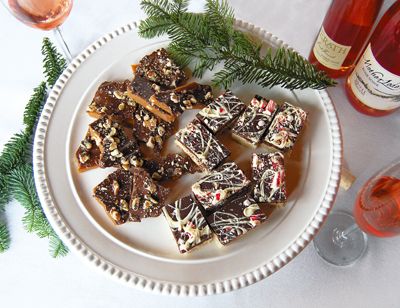 By Hilary Berg
The holidays bring families together in the kitchen, crafting culinary traditions. Homemade cakes, pies and candy can be found in homes and offices for weeks, tempting those on a diet to take a "well-deserved" break.
I always look forward to my mother's fudge, peanut clusters and chocolate-covered Ritz crackers with peanut butter in the middle — those are my favorite. But this Christmas, I want to wow the crowd with something deliciously different. To accomplish this sweet feat, I have called on chefs around the Willamette Valley to share their favorites.
Making candy can be a messy process, but it is also a great opportunity to turn on some holiday tunes, pour a glass of wine and make some merry memories. Here are some sweet suggestions.
SEA SALT & WALNUT ENGLISH TOFFEE
Recipe by Wendy Bennett
Wine Country Cooking Studio, Dundee
This recipe is sourced and adapted from a Southern Living cookbook printed in the early '80s. I added the sea salt and modified some ingredient quantities over the years. My mother-in-law always makes English Toffee for the holidays and gave me the recipe about 25 years. This recipe is dangerous to make (well, most candy is — molten sugar sticks to the skin like tar and can burn to the bone), but is very easy to make and tastes delicious." - Wendy Bennett
WINE PAIRING: Erath's Sweet Harvest 2010 Pinot Noir
"The candy's butterscotch, toasted nuts and milk chocolate flavors are enhanced by the apple, orange and pineapple fruit flavors in this not-too-sweet dessert wine." - WB
INGREDIENTS
2 cups sugar
1 pound butter, unsalted
½ teaspoon table salt (non-iodized)
1½ cups walnuts, chopped
1 cup milk chocolate (like Hershey's bars)
3–4 pinches flake sea salt (like Maldon's)
DIRECTIONS
1. Lightly butter a sheet pan (approximately 10 by 14 inches) and place it in a 300°F oven to heat, while making toffee. Heating pan will allow candy to cool gradually after being removed from stove.
2. Meanwhile, using a heavy saucepan, melt butter with sugar and salt over medium-high heat, stirring often, using a wooden spoon. When mixture begins to turn light brown, add ½ cup chopped walnuts (reserve other 1 cup walnuts for topping toffee).
3. Continue cooking over medium-high heat, stirring often, until mixture reaches 300°F (check with candy thermometer) or hard-crack stage.
4. Remove heated sheet pan from oven and place on heat-resistant, stable surface. Pour toffee mixture from saucepan onto warmed sheet and spread toffee carefully into an even layer.
5. Immediately place milk chocolate on top of hot toffee. Once chocolate is melted (about 1 minute) spread chocolate evenly over toffee, using a rubber spatula.
6. Immediately sprinkle 3 to 4 pinches sea salt evenly over chocolate. Next, sprinkle remaining chopped walnuts evenly over melted chocolate. Gently press nuts into chocolate so they stick.
7. Allow candy to cool until chocolate is firm, about 3 to 4 hours at room temperature. Break candy into pieces and enjoy.
PEPPERMINT BARK SHORTBREAD BARS
Recipe from Karo Thom
Alcyone Café, Salem
"The buttery shortbread balances the sweetness of the bark." - Karo Thom
WINE PAIRING: MotherLode Cellars 2011 Rosé
INGREDIENTS
2 cups all-purpose flour
1 cup butter, softened
1/3 cup sugar
1⁄2 teaspoon peppermint extract
1 cup bittersweet chocolate chips
1/3 cup chopped peppermint candies
1⁄2 cup white chocolate chips
DIRECTIONS
1. Heat oven to 350°F. Line 13-by-9-inch baking pan with aluminum foil, extending foil over edges; set aside.
2. Combine all ingredients except chocolate chips and candies in large bowl. Beat at low speed until mixture resembles coarse crumbs. Press mixture evenly onto bottom of prepared pan. Bake 20 minutes, or until edges are lightly browned. Do not overbake.
3. Immediately sprinkle crust evenly with chocolate chips; return pan to oven for 1 minute to melt chocolate. Spread chocolate evenly over crust; immediately sprinkle with chopped peppermint candies. Then drizzle melted white chocolate. Cool completely.
4. Remove bars from pan using foil ends. Cut bars into 28 squares.
WHITE CHOCOLATE PISTACHIO FUDGE
Recipe by Carrie Wong
Extreme Chocolates, Salem
"I love how this fudge is creamy with little salty bursts of pistachio, creating a great contrast of textures and flavor. I created this recipe several years ago due to a love of pistachios, and I usually throw in some extra nuts!" - Carrie Wong
WINE PAIRING: Argyle Sparkling
INGREDIENTS
18 ounces premium white chocolate
½ teaspoon baking soda
1/8 teaspoon salt
14 ounces sweetened condensed milk
1 tablespoon vanilla
1½cup roasted and salted shelled pistachios
DIRECTIONS
1. Line an 8-by-8-inch pan with parchment paper.
2. Except the nuts, toss all the ingredients together in a microwave-safe bowl. Microwave on 50 percent power until almost melted. Take out and stir until everything is melted add the nuts.
3. Chill 2 hours in fridge. Cut into squares and serve. Keep leftover in a tightly covered container in the fridge.
VARIATIONS: You may use the same amount of dark chocolate in the recipe; any nuts; and any dried, diced fruits.