A Wine for Winter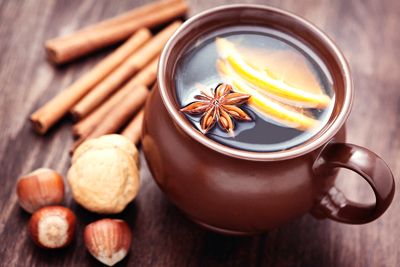 By Mark Stock
For those above a bottle of Yellowtail, Charles Shaw or Kendall Jackson, let me introduce gluhwein. Hot mulled wine can gussy up the cheapest bottle of red well beyond the realm of satisfactory. The Europeans have understood the power of this seasonal elixir for more than 1,500 years.
About the fifth century, gluhwein, or something very much like it, first appeared. A recipe for "Conditum Paradoxum" appeared in "De Re Coquinaria," among the first gastronomical texts of the Roman Empire. Loosely translated to "wine of spice and surprise," this drink could not have a more fitting name. Not only is gluhwein built on the addition of powerful, wintry spices, but it is unexpectedly soothing, medicinal even. The common inclusion of elements like citrus, sugar and honey gives this drink a therapeutic, tea-like quality.
Gluhwein's place in European winter culture is not unlike the role cider plays in the American orchard or farm stand every autumn. Each represents the season to the fullest, incorporating the ingredients of the time and a thawing sensation to deflect the turning weather.
In Berlin, gluhwein is a staple in the many holiday markets dotting the street corners of the city. Shoppers huddle around heat lamps and festive craft stands with gluhwein in hand, each sip sanding down the edge of long lines and seasonal crowds. Black Friday in America could be downright tolerable with such a drink.
While Germans lead the charge — consuming some 50 million liters of hot mulled wine every year — many European countries produce a similar sipper. Citizens of Nordic countries enjoy gløgg, while the Polish stay warm with grzane wino. In Moldova, residents drink izvar, and in Croatia, the winter drink of choice is kuhano vino. Romanians have something called vin fiert, or "boiled wine," which often incorporates apples. Here in the states, holiday sweaters are more at risk to be stained by brandy-spiked egg nog or Bailey's Irish Cream and coffee than a steaming hot mulled wine.
Yet, the simplicity of gluhwein ought to attract an entirely new band of followers at home. Practicality is king in this tasty elixir, especially in regions where winter tends to drag its frozen feet. There may be no better way to counteract a dreary day, with limited supplies and minimal costs. Better still, gluhwein can be reheated and consumed the following day, should the urge to hibernate outweigh one last pour.
And while there may exist a top-shelf gluhwein in some distant land, it is the bottom shelf bottle that truly shines in this capacity. Clove, anise and cinnamon lend inky, unbecoming reds a lasting quality and down-home comfort level. This is to say nothing of the aromatics involved, a potpourri of seasonal aromatics that outshine anything a scented candle could ever muster.
For those who haven't had the pleasure of visiting Germany in the weeks prior to Christmas, engage in some armchair travel from home. Gluhwein is holiday cheer served warm, the flavor of thousands of twinkling lights and an upbeat people half-drunk on the season. Sure, the context is richer with spätzle in hand and a German choir singing in the background; but a steaming pot of homemade gluhwein is a pretty close second.
The kind of red wine used is not hugely important, but the bigger the better, generally. A Cab or Merlot is best suited to stand up to the influential outside ingredients; that, and the thicker, meatier consistency serves superior when warm, taking on a soft and syrupy quality — in other words, save your Pinot for dinner. Gluhwein demands a bit more heft and needs no nuance.
A few Oregon producers offer a bottled version of spiced wine, some made from orchard fruits instead of wine grapes. Yet, gluhwein is more of a DIY endeavor, part cooking project-part social event.
Discover why Europe is so enamored by the drink by trying the recipe (see left) yourself. Be liberal and creative with you spice additions and remember not to boil the wine, unless you're trying to eliminate the alcohol.
Prost!
INGREDIENTS
1 bottle cheap red wine (emphasis on cheap)
1 orange, sliced
8–10 cloves
3 cinnamon sticks
* pinch of allspice
3 tablespoons sugar
¾ cup orange juice
Other spice options include cardamom and ginger. For a higher-octane version, add brandy or aquavit.
DIRECTIONS
Pour wine into pot and heat on low. Add orange slices, cloves, cinnamon, allspice. When warm, add orange juice and stir in sugar. Stir every 5 to 10 minutes. Strain over cheese cloth, or similar, and serve in a mug.
TOASTY TIPS
1. While red wine and apple cider are the most traditional of the mulled winter warmers, you can also use cran- berry juice, grape juice, white wine, hard cider or ale. All of these bever- ages can be successfully mulled.
2. To infuse without making the mulled wine cloudy and gritty, use whole spices rather than ground.
3. Don't let it boil. This can cause spices to turn bitter. To really allow the flavors of the spices to infuse into the beverage, you should allow the mixture to simmer on the stovetop for at least half an hour.
4. It's fine to keep the pot warm for several hours, allowing everyone to sip holiday cheer throughout the night; a slow cooker on low heat is ideal.
Mark Stock, a Gonzaga grad, is a Portland-based freelance writer and photographer with a knack for all things Oregon. He currently works at Vista Hills Winery.