Ahead of the Curve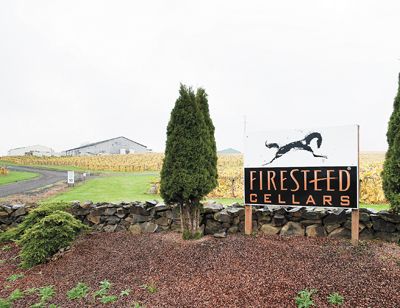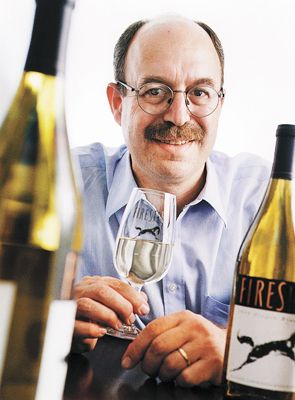 By Karl Klooster
Any mention of Firesteed Wines must include Howard Rossbach from the outset. Over the course of the last two decades, the winery's enterprising founder has built a nationally known brand quite literally from the ground up.
His success is a prime example of that archetypal business adage "Find a need and fill it."
By 1992, the year he launched Firesteed, Rossbach had worked in wine marketing and distribution sales and management for 15 years.
A Bronx native, he initially envisioned a career in academia. His interest in the biological sciences took him to Seattle and the University of Washington, where he majored in botany.
He then gave into serious consideration to pursuing a law degree and specializing in environmental law. In this, he was encouraged by his father, a federal judge in New York who had distinguished himself for work with FCC television broadcasting regulations during the Truman administration.
But neither professor nor attorney was to be his ultimate career path. After graduating from UW in 1975, Rossbach, who had just turned 21, took a job at a wine shop to keep a roof over his head and food in the fridge.
"My father always said follow your passion," he recalled, "And it wasn't long before that I discovered how much I enjoyed wine in every way. My mentor was Bob Betz, who became one of America's first Masters of Wine."
Two years later, he took a job with a small wine distributor in Seattle. During his eight years there, he rose from salesman to general manager and helped expand the company from 10 to 150 employees.
In 1985, he formed his own marketing firm, Vintage Northwest. For seven more years, he represented Oregon wines nationally, becoming closely acquainted with the countrywide scene augmenting his already well-honed, on-premise sales skills.
Rossbach's deep understanding of the marketplace told him that both retailers and restaurateurs would respond well to a competitively priced, high quality Oregon Pinot Noir.
The state's reputation for the variety was on the rise, but established wineries relied on a markup placing them at the higher end among premium wines.
By the early 1990s, he was convinced that the pent-up demand had reached a point where the opportunity could no longer be overlooked.
Connections at all levels of the industry allowed him to contract for selected lots of Pinot Noir grapes at the quality level he knew would be in demand and to reach an agreement with a winery to produce the wine.
He then assembled a network of distributors in key markets that could quickly sell to both off- and on-premise accounts, giving Firesteed immediate cachet, not to mention cash flow.
The combination of information, intuition and connections paid off. In its first year, 1992, Firesteed sold 7,000 cases. The production pathway rose rapidly from that point.
Consistently a strategic business thinker, Rossbach set up the brand for wide distribution from the outset. He continued expanding his distributor base until it was not only nationwide but international as well.
A point of particular pride for Rossbach was the fact that soon after Firesteed arrived on the market, the label's Pinot became the House Red of the Clinton administration. It was served at the White House from 1993 to 2000.
Ultimately, Firesteed became available in all 50 states and 17 foreign countries. "We do have good supermarket presence in the Pacific Northwest," he said. "But less than 25 percent of our wine is sold here."
These days, that 25 percent represents some 13,000 to 18,000 cases, depending on vintage. In a higher tonnage year, such as 2012, the vineyards from which Firesteed sources its grapes should yield upward of 70,000 cases.
Total acreage of both estate and contracted grapes currently totals about 350 acres. Rossbach bought the Flynn winery north of Rickreall in 2002, making Firesteed's home its own. The facility featured 100 acres of contiguous vineyards, which constituted a true estate after the classic European model.
Three different Pinots and four other wines comprise Firesteed's portfolio. They include an Oregon Pinot Noir, the lead value, Willamette Valley Pinot, a cuvée with additional bottle age, and Citation Pinot, an older vintage of special lots released gradually from the winery's cellar collection.
Few wineries have the capacity to consistently offer bottle aged wines in any quantity, if at all. But for restaurant wine lists and connoisseur appreciators, this represents a special opportunity and a rare treat.
The 2008 Firesteed Willamette Valley Pinot Noir, retailing for a modest $30, genuinely impressed the Oregon Wine Press tasting panel in October.
Citation Chardonnay, with additional bottle age, Oregon Pinot Gris, Pinot Noir rosé and Riesling are also offered under the Firesteed label.
Additionally, what may be a first for any Oregon winery is a Barbera d'Asti imported by Firesteed and available at the tasting room. Following Firesteed's value philosophy, it sells for under $10 per bottle
In pursuit of other international connections, Rossbach was among the first Oregon producers to make Japan a priority.
"Japan was an early target for us when I started Firesteed in 1992," he said. "It is a sophisticated market from a culinary standpoint, and I knew our wines would match well with their traditional cuisines.
"Go to Japan," he continued. "Know what you are looking for. Be prepared to go several times, as relationships are vitally important in Japan."
Rossbach's most recent move is the launching of Cayalla, a new Washington brand, carrying Cabernet Sauvignon, Merlot and Syrah from the Columbia and Walla Walla Valleys under its label.
WINERY INFO
FIRESTEED WINES
Address: 2200 Highway 99W, Rickreall
Hours: Daily, 11 a.m. - 5 p.m.
Phone: 503-623-8683
Website: www.firesteed.com