Fixture of Fine Fare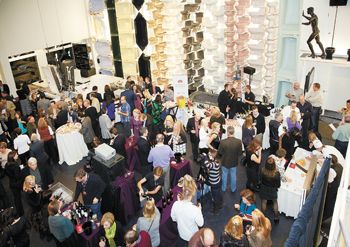 By Jim Gullo
During a Wisconsin weekend punctuated with food and wine offerings as diverse as vertical tastings of Tuscan wines, cooking demos from top Chicago chefs, cheese pairing seminars (of course) and a gala tasting event held in an enormous showroom of bathroom fixtures, Oregon wines stood out and were the surprise hit for many festival-goers.
The event was the 12th annual Kohler Food & Wine Experience, held in October in the company town of Kohler, Wisc., home to the eponymous line of plumbing fixtures as well as The American Club resort and its subsidiary shops, restaurants, theaters and demonstration kitchens.
Hundreds of festival-goers from Chicago, Milwaukee, nearby Sheboygan and other Midwest locales attended a broad slate of seminars that included classes by Willamette Valley producers Domaine Serene and Ponzi Vineyards.
"We just love this event," said Alan Carter, general manager of Domaine Serene, who hosted a sold-out tasting of estate wines. "We get to meet lots of our customers from Chicago and Indiana; it's like a mini-Aspen festival." He noted how the winery has returned to the festival five times, and for the second straight year, Domaine Serene was the title sponsor of a tasting room in the conference center of the American Club Hotel.
It was there that Carter told an attentive audience how Domaine Serene owners Ken and Grace Evenstad met in college, married and built the winery after creating a successful pharmaceutical company in Minnesota.
"We pulled out all of the stops this year and asked ourselves, 'What do people need at three-thirty in the afternoon at a wine festival?'" joked Carter as patrons sampled a broad line-up of Chardonnays and Pinots. "We decided they need nine glasses of wine." Included in the pours were the winery's superb 2009 Récolte Grand Cru Chardonnay, which he noted was an extremely limited bottling of only 100 six-bottle cases, and the 2005 Monogram Pinot Noir, another low-production, premium wine.
"We just love to be exposed to stuff we ordinarily wouldn't try," said festival-goer Mike Brown from Madison, Wisc., who attended the Domaine Serene tasting with his wife, Chris. "California Pinots are way too fruity for us, but we love these wines."
On another day, Maria Ponzi told her family story to another eager crowd of wine tasters, beginning with her father Dick Ponzi's decision to leave his job in the aerospace industry to purchase a 15-acre strawberry farm outside Portland that was converted to wine grapes in the early '70s. On hand for sampling were five Ponzi Pinots, dating to 1992. "It's hard to [taste such older vintages]," Ponzi noted. "Most Oregon wineries don't have such long histories." Besides the '92 Pinot, attendees enjoyed the '03 Reserve, as well as the stellar '07, '08 and '09 vintages.
Both Ponzi and Carter were on hand to pour their wines at the festival's signature event, the Friday night "Taste of the Vine" party held at the Kohler Design Center, a massive, multi-level showroom dedicated to Kohler's bathroom and plumbing fixtures. Dozens of food and wine producers set up stations among the sinks and showerheads and demonstration bathrooms to serve small-bite plates and tastes of their wines.
"I was blown away by the quality of the presentations and how nice it was here," said Ponzi, who was making her second appearance at Kohler. "I'm really impressed by how interested the guests are in getting educated."
Jim Gullo is a McMinnville-based freelance wine and travel writer.