That's "Somm" Movie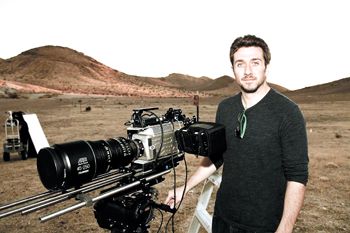 By Janet Eastman
Jackson Myers was a good student when he attended Ashland schools, but nothing prepared him for this test.
The 28-year-old cinematographer spent years exploring the aromatic wine cellars of Europe, sweeping vineyards of Chile and fabled Cabernet Sauvignon producers of Napa Valley to tell the story of four wine stewards obsessed with earning one of the world's most prestigious diplomas.
Throughout the feature-length documentary "Somm," which premiered Nov. 7 at the Napa Valley Film Festival, Myers' lenses are focused on the Court of Master Sommelier's competitive, level-four exam, which demands years of study, flawless tasting abilities and a deep knowledge of wine, spirits, saké, beer and cigars.
Few who struggle to pass "the hardest test you've never heard of," as the exam is called, succeed. The main image on the film's promotional poster says it all: It's a drawing of a man inside a wine bottle with a corkscrew drilling down on him.
Despite scenes of despair — one insomniac man is seen reviewing flash cards on a treadmill and another talks about his marriage breaking up over the hours he has devoted to taking the test — Myers, who has lived in Los Angeles since graduating from Ashland High School in 2002, believes viewers who don't know a lot about wine will like the film.
"Hopefully, people watch it, enjoy it, learn something from it and then want to dive into the world of wine," says Myers, who admits how he knew little about the world's cuisines and wine grape varietals until he became the director of photography for the travel TV series "Escapeseeker," and now "Somm."
Jason Wise of Forgotten Man Films, who conceived, wrote and directed "Somm," also worked with Myers on the travel TV series.
"Jackson is one of the most naturally talented photographers I've ever met," says Wise. "Jackson's photography is as important to the story as the characters in the movie. We worked together on every shot to make sure there was a cohesiveness that helped make the world of wine more understandable and show how beautiful it is."
This is the first time filmmakers have been granted permission to chronicle the brutally demanding exam. Already, The New York Times, celebrity food bloggers and TV show hosts have generated all-important buzz about "Somm." Gordon Ramsay, the Michelin star chef and foul-talking star of "Hell's Kitchen" and other restaurant reality shows, tweeted about the film to his million Twitter followers.
With Myers at the premiere were his family, including his parents, Ashland arborist Tom Myers and Lauren Schaffer, a French language professor at Southern Oregon University who once taught at AHS.
Says a proud, but slightly incredulous Schaffer, "If you told us Jackson would grow up to be a guy who reads wine and food blogs and knows all the best restaurants, we would not have believed you." Everyone who knew him growing up, however, saw him holding a camera.
Although screening documentaries and welcoming filmmakers are now a big part of Ashland, thanks to the Ashland Independent Film Festival, Myers lived here when movie equipment was expensive and hard to operate.
Still, Myers and friend Luke Schreiber found motion-picture inspiration here. They were sophomores at AHS in 2000 when they borrowed digital cameras from Schreiber's dad, film producer Howard Schreiber, and made a short called "The Talk of the Town" about kids who lost their keys and encountered a bully.
After graduating from high school in 2002, Myers attended Occidental College in Los Angeles and studied at the Charles University film school in Prague.
The freelance cinematographer and camera operator has just finished shooting principal photography for "Sparks," his first narrative feature about a film noir superhero. He also shoots commercial and digital content for Yahoo and AOL.
For "Somm," Myers used a $100,000 Phantom high-speed, high-definition camera and an Arri/Fujinon Alura long zoom lens to capture Champagne bottles exploding at 1,000 frames per second in the California desert.
In Germany, he took aerial shots of the Mosel River and Riesling grapes growing on steep cliff sides, and filmed interviews with winemakers inside centuries-old cellars. In Reims, France, he filmed the Champagne bottle-laden caves.
After the documentary was shown to film buyers and distributors for the first time on Nov. 7, Myers, his family and 30 Master Sommeliers attended a gala. There he celebrated a project he started working on in February 2010, when he knew so much less about what it takes to create something special in a wine bottle.
From his travels and studies, he also learned something about the state where he was born. In every wine region he filmed, people recognized Oregon for its ability to grow Pinot Noir and other wine grapes. Says the now-savvy wine appreciator: "I mention [to people] I grew up in Oregon all the time."
Janet Eastman is a reporter for the Ashland Daily Tidings. Article published with permission from the Ashland Daily Tidings.