Win-Win Wines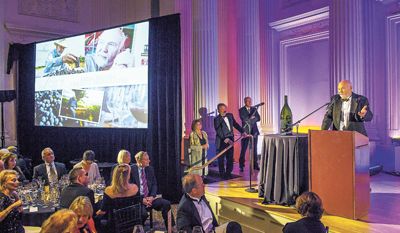 By Karl Klooster
This story is about the highly regarded Oregon wine industry program called ¡Salud! Its health benefits for vineyard workers are unprecedented in the country. And that, of course, is its raison d'être for a two-day, Pinot-centric extravaganza, including a barrel auction of as yet unbottled wines from 42 wineries and a lavish banquet with silent and oral auctions.
Each year, Willamette Valley wineries craft special ¡Salud! Pinot Noirs from selected vineyards. The proceeds from these one-of-a-kind cuvées help cover annual program costs. The five-case lots are sold, either case by case, or occasionally, the entire lot, to the highest bidder during the course of what is the industry's most notable "Oregon-only" Pinot Noir event.
A Pinot appreciator can really feel the love after sampling just-bottled wine, or one drawn from barrel only for this tasting.
The barrel auction takes place every year at Domaine Drouhin Oregon, high in the Dundee Hills. This year it was held on Friday, Nov. 9 and played, as always, to a packed crowd for obvious reasons.
Not only are these unique wines, this is the one-and-only opportunity to taste them all in one place. One could ask for no better way to judge how the vintage, almost ready for release, is evolving.
In this case, the vintage is 2011. That year's harvest turned out well because it was saved at the bell. Yogi Berra's famous saying, "It's not over 'til it's over," perfectly summed up the circumstances.
With warmth far below normal, Oregon winegrowers squirmed nervously as the end of the season approached. A scenario of under-ripe grapes appeared to loom on the horizon. Then, at the beginning of October, Mother Nature sent sunshine that lasted long enough to achieve full flavor maturity with moderate alcohols. This vintage was hailed as "The Miracle Harvest."
Winery representatives poured the results of that miracle at DDO with justifiable pride. Almost across the board, the wines expressed classical varietal character, complex flavors and excellent balance.
Participating wineries included: Adelsheim, Amalie Robert, Antica Terra, ArborBrook, Archery Summit, Argyle, Ayres, Beaux Frères, Bethel Heights, Brittan, Brooks, Chehalem, Cristom, Dobbes, Domaine Drouhin, Dusky Goose, Elk Cove, Erath, Evening Land, Hamacher, King Estate, Lange, Maysara, Patricia Green, Patton Valley, Penner-Ash, Ponzi, R. Stuart, Raptor Ridge, Scott Paul, Shea, Sokol Blosser, Soléna, Soter, St. Innocent, Stoller, Torii Mor, Trisaetum, WillaKenzie, Willamette Valley Vineyards, Winderlea and Witness Tree.
You couldn't ask for a wider spectrum of wineries, large and small, located throughout the Willamette Valley, allowing tasters to judge overall quality of the vintage for the state's signature grape.
Although time limitations didn't allow tasting every wine, a comprehensive comment would have to be stylish middleweights, well-balanced throughout, with youthful yet unobtrusive tannins.
Though none of the ¡Salud! wines is ready for release and development in the bottle will add nuances as yet unknown, at this point several stood out for this taster. In the directly comparative environment, they presented immediately engaging aromas, concentrated but approachable flavors and a velvety mouthfeel within an elegant varietal structure.
Among my personal favorites were Dusky Goose and Beaux Frères.
Dusky Goose is a limited-production Pinot made for owners John and Linda Carter by Lynn Penner-Ash. The fruit comes from Rambouillet Vineyard in the heart of the Dundee Hills. To say that the 2011 ¡Salud! cuvée is excellent would be an understatement. If such depth and richness of flavor is evident so early, one can only wonder what a few more years will bring.
Beaux Frères is perhaps Oregon's most illustrious boutique winery because renowned wine critic Robert Parker is one of its owners. Winemaker/partner Mike Etzel has made consistently exceptional wines since 1988, and the 2011 cuvée from three vineyards in three different AVAs is a very pretty wine with loads of succulent fruit.
Large projection screens, called big boards, situated on all three levels of DDO's facility continuously updated bidders on the status of case bid figures throughout the course of the auction.
When the last of four-lot groupings closed at 6 p.m., auction goers had purchased $149,000 worth of wine they won't receive delivery on for several months.
The entire ¡Salud! weekend, Nov. 9 and 10, culminated in the elegant oral and silent auction dinner at the Governor Hotel in Portland.
¡Salud! Services Manager Leda Garside, RN, MBA — recipient of the March of Dimes 2012 Distinguished Nurse of the Year Award — introduced this year's paddle raise with a plea to give generously to support an ever-increasing demand for services. The overwhelming response raised $106,000, galvanized by sizeable contributions by Ronni Lacroute of
WillaKenzie Estate, and Scott and Annie Shull of Raptor Ridge Winery.
Oregon wine pioneer Dick Erath was honored with the 2012 Legacy Winemaker Award for his contributions to the industry and steadfast support for ¡Salud!
Between the two events, $640,000 was raised to support the program. According to Tuality Health Foundation manager Maria McCandless, who coordinates the auction, the annual event has raised more than $9.4 million over the years.