Crate Expectations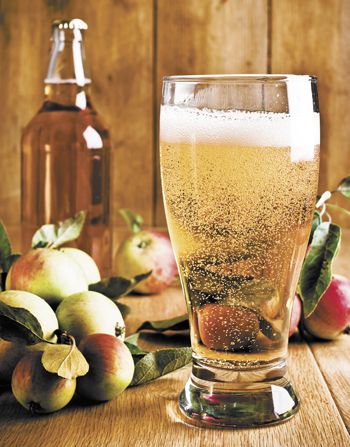 By Abra Cohen
As summer turns to fall, tell-tale signs show evidence of season's change. Brilliantly colored leaves carpet the earth. Cooler temperatures mean jackets, scarves and boots. Football flags dot the highway showing allegiance to one team or another.
Autumn also signals the arrival of apples. Apple pies, apple crisps, apple butter and apple cider give the season its own distinct flavor.
Alcoholic cider, also called "hard cider," has become a popular beverage alternative. Oregon's version is drastically different from the sweet bottles of commercially brewed Hornsby made in Buffalo, New York. Our artisan cider is low in sugar, dry, handcrafted and often locally brewed. Served on tap in neighborhood bars and sold by the bottle in many grocery stores, cider makers have carved out a niche and brewed up a following.
With a proliferation across the nation, some compare the cider revolution to the craft beer market, which blossomed in recent decades. Cider isn't new to America; in fact, it's embedded in American history and dates back to the Founding Fathers. Thomas Jefferson was known to brew his own cider; John Adams famously drank a glass every morning at breakfast; and William Henry Harrison, the ninth U.S. President, ran his 1840 "log cabin and hard cider" presidential campaign, in which he attracted voters by handing out the tasty beverage at rallies.
Hard cider was not only accessible to the masses, it also was cheap, easy to produce, and because the British brought large amounts of apple seeds, orchards were overflowing on American soil. Prohibition destroyed cider production, yet when the 21st Amendment was passed and Prohibition was repealed, cider never really made a comeback. Instead, whiskey and beer took center stage.
Fast-forward to 2012, and cider is back, at least in Oregon. Our state boasts more than half a dozen cider houses, producing artisan cider akin to French cidre or British cider. Its popularity has taken off in recent years with the growing demand of what used to seem an out-of-date drink.
Andrew Brown of Blue Mountain Cider Company in Milton-Freewater, a small town of 6,000 residents located 27 miles east of Pendleton in the Walla Walla Valley, says that cider's reputation for being only sweet is inaccurate. Blue Mountain challenges the stereotype by producing a variety of styles, including a dry version, and is one of the few cideries that adds back fresh juice prior to bottling, and a dash of carbonation to ensure a quality, unique taste.
Brown grew up near an apple orchard and has been at Blue Mountain since 2008. "I have a love for fermentation," he says. This year, he will help produce 140,000 gallons of hard cider for the 2011 season. With six varieties, Blue Mountain invites guests for complimentary tastings six days a week at their Eastern Oregon location.
Orchardist and cider maker Kevin Zielinski of E.Z. Orchards in Salem grows and produces all the fruit used for their family-run cider company. A smaller scale production, E.Z. Orchards (named after its founder, Edward Zielinski in 1929), bottled 1,950 gallons of cider from last year's crop.
Zielinski employs méthode Champenoise, the French traditional process of making sparkling. He approaches cider making the same way he does wine: low input with yeast inoculations and sulfites. Champagne-style cider takes three months at cool temperatures to ferment. Before the process is complete, it is bottled and undergoes a secondary fermentation. Zielinski says the protracted production period allows them to better preserve the aroma and flavor of the apples.
Apples used for cider are typically not the Red Delicious or Granny Smith varieties, but their names are just as colorful — Dabinett, Yarlington Mill, Medaille d'Or, Porter's Perfection, Kingston Black, Foxwhelp, etc. These apples are usually not palatable or for fresh consumption. They are very low in acid and high in tannins, giving them a bittersweet or crabapple-like taste.
Nick Gunn and James Kohn, owners of Wandering Aengus Ciderworks in Salem, who named their company after William Butler Yeats' poem, say they did not want to be a "traditional" company when they started their business eight years ago. The duo, in their 20s when they began, got into the business because they realized they could not make a living growing apples. Gunn's in-laws own Bethel Heights winery, so he knew they did not want to compete with them but wanted to do something on the farm.
With nine varieties, Wandering Aengus infuses some of their ciders with local pear, cherry or single-varietal apples. A popular gluten-free beer alternative is their "Hops" Anthem cider, which has the taste of a light beer and the flavor of a dry cider. Kohn says the interplay with the hops and malic acid from the apples makes a great combination. While the infused fruit ciders have a hint of sweetness, it is not overwhelming in the way a six-pack cider can take over your taste buds.
Corvallis-based 2 Towns Ciderhouse, owned by five friends from Eugene and Corvallis, pour their passion into their bottles of cider 10 to 11 hours a day. Drawing from a full spectrum of consumers, they say the 25- to 40-age range is their largest demographic. With a 50/50 male/female customer base, they say the food revolution has helped interest people interested in hard cider. Dave Takush and Lee Larsen two of the owners of 2 Towns say, "People want to try something new with hard cider, and it's great to see artisans along the West Coast producing it."
In the heart of the north Willamette Valley, Carlton Cyderworks opened in the fall of 2009. The name is an homage to the hometown of two of the owners, Mark Bailey and his son, Keenan, who founded the business in partnership with McMinnville resident Allen Gould. The unusual spelling of cider is meant to harken back to the days when it was a mainstay beverage in America.
The cider is considered artisan because no concentrate is allowed, only juice from fresh fruit. "How you blend the bases is where the art comes in," Mark Bailey said. The result is a clear, gold, aromatic and slightly carbonated drink that pairs well with pork, sausage or cheese, especially cheddar cheese.
All three took short courses at Washington State University, and conducted further study in England under the direction of celebrated cider maker Peter Mitchell. They augmented that foundation with a process of trial-and-error experimentation until they had a recipe that satisfied them. "We're still learning because it's new," Gould said. "We're making our own tradition."
The partners said there is more interest in cider making now than at any time in the last century. They think the development of artisan wine and beer industries in the Northwest should help them promote and market cider.
Brown of Blue Mountain agrees: "We're seeing another boom now: more people on the artisan side who are getting serious about it."