The New American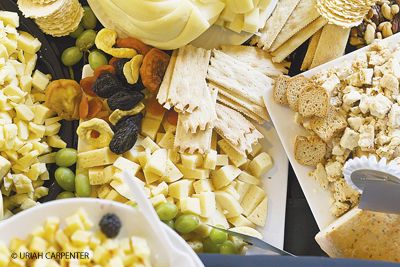 By Christine Hyatt
October is American Cheese Month. Celebrating its second year, the monthlong celebration honors our country's farmers, cheesemakers, retailers, cheesemongers and chefs who bring them to your table.
Throughout the month, the cheese community comes together to recognize and raise awareness of the quality and diversity of American cheeses at a crucial time of the year, just before the holiday season.
November through the end of year is the make-it-or-break-it period for many producers. Putting homegrown cheeses on your table during fall and winter celebrations is a great way to support this dynamic and delicious movement.
Beyond the fine cheeses lovingly crafted by producers from traditional as well as newly emerging cheese regions like the southern part of the U.S., there are many developments that point to an industry entering a more mature phase.
ACS Conference
The 28th annual American Cheese Society Conference was held recently in Raleigh, N.C., the first time the event was hosted in The South. The state has seen tremendous growth in the number of specialty and artisan producers, with more than 35 producers throughout the state, most of them 10 years or younger.
The four-day meeting featured speakers — including renowned author Temple Grandin — a North Carolina-style barbecue dinner, tours of local cheese facilities, educational seminars, workshops, meet-the-cheesemaker event, gourmet festival and the announcement of ACS Judging & Competition winners. A record 246 companies submitted 1,711 entries. Cheeses are judged on both technical and aesthetic qualities.
This year, "Best of Show" remains in the Northwest. Flagsheep, a cloth-bound, aged cheese made by Beecher's Handmade Cheese in Seattle, took top honors. First runner-up was Crema de Bleu from New Jersey-based Valley Shepherd Creamery. Second runner-up was Emmi Roth Grand Cru Surchoix, a Gruyère-style cheese made in Wisconsin.
Beecher's Handmade Cheese has been in business more than seven years and their corner store at Seattle's Pike Place Market greets passersby with a live cheesemaking presentation. The company expanded with a new location in New York City's Flatiron District in fall 2011. If you visit either location, don't miss the incredible sandwiches made with your choice of a robust American cheese.
Scoring a wedge of the winning Flagsheep is a difficult task, as an extremely limited production of it was made last year — but I wouldn't be surprised if production increases this year. For now, treat yourself to a piece of Flagship Reserve, a cow's milk version; you won't be disappointed.
Oregon cheesemakers were no slouches this year either. Oregon cheesemakers took home a total of 12 ribbons given to six Oregon producers, including Briar Rose Creamery (Dundee), Ochoa Queseria (Albany), Rivers Edge Chevre (Logsden), Rogue Creamery (Central Point), Tillamook Cheese (Tillamook) and Willamette Valley Cheese (Salem).
New Cheese Certification
Prior to the conference, 150 cheese experts took the inaugural Certified Cheese Professional Exam, the first-ever certification of its kind in the industry. The test is designed to encourage improved standards of comprehensive cheese knowledge and service. More than seven years in the making, a rigorous development process yielded a "body of knowledge" for the industry throughout the supply chain and resulted in a 150-question multiple-choice format that had seasoned professionals cracking the books for weeks in preparation.
Results were announced September 3, and 121 candidates successfully completed the exam and were awarded the designation. Tom Van Voorhees, cheese shop manager at Rogue Creamery in Central Point, is among this elite group.
The Wedge
Want to meet some producers who are part of this growing industry? Want to learn about their craft? On Oct. 6, you can meet, mingle, try and buy at the Wedge Festival in Portland, 10 a.m. to 4 p.m. at the Green Dragon Brewpub, 928 S.E. Ninth St.).
The event is sponsored by the Oregon Cheese Guild and Rogue Ales and boasts talented curdmasters from Oregon, Washington, California, Idaho and Utah, who will tempt tastebuds of cheeselovers of all stripes. Educational sessions will be featured throughout the day, so you can up your cheese IQ — and perhaps begin to prepare yourself to take the exam…
AMERICAN CHEESE SOCIETY 2012
Oregon Winners
AMERICAN ORIGINALS
Colby (cow's milk)
1st: Tillamook County Creamery Association Colby
AMERICAN ORIGINALS
Original Recipe (goat's milk)
3rd: Rivers Edge Chevre, Beltane
INTERNATIONAL STYLE
Dutch-style (Gouda, Edam, etc.)
3rd: Willamette Valley Cheese,
Farmstead Gouda
CHEDDARS
Mature Cheddar (aged 24 to 48 months)
3rd: Tillamook Co. Creamery Assoc., Special Reserve Extra Sharp Cheddar
BLUE MOLD CHEESES
Blue-Veined with a Rind (cow's milk)
2nd: Rogue Creamery, Flora Nelle
BLUE MOLD CHEESES
Rindless Blue-Veined (cow's milk)
1st: Rogue Creamery, Oregon Blue
HISPANIC/PORTUGUESE STYLE
Fresh Unripened
3rd: Ochoa's Queseria, Don Froylan Queso Oaxaca
FLAVORED CHEESES
Flavor-Added Monterey Jack
3rd: Tillamook Co. Creamery Assoc., Hot Habanero Jack
FARMSTEAD CHEESES
Open Category (aged 60+ days)
2nd: Willamette Valley Cheese,
Perrydale
FARMSTEAD CHEESES
Open Category Soft (aged up to 60 days / over 50 percent moisture)
3rd: Rivers Edge Chevre, Siltcoos