Home and Host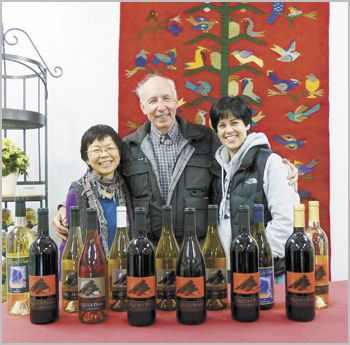 By Janet Eastman
Visitors to Grizzly Peak Winery never know what to expect. Depending on the day, they could be part of a Hawaiian luau, a Jewish boy's first haircut ceremony or some other authentic cultural event.
So far this year, the Ashland winery has hosted an improv comedy show, themed birthday parties and seven distinct weddings, including a traditional Hindu ceremony where the groom entered the property on a white stallion.
On Sunday, Sept. 9, supporters of La Clinica medical services watched Oregon Shakespeare Festival actors perform under a tent on the lawn followed on Sept. 29 by an ASH*MINSTER Mutt Show, a Westminster Kennel Club dog competition parody to benefit Ashland Supportive Housing and Community Outreach.
On Labor Day, there was a funk concert with the band Evolfo Doofeht ("the food of love" spelled backwards) playing under the oaks.
It's not unusual for wineries to host events inside a tasting room or near the vineyards. Vine-laced properties typically benefit from being located in the country, away from neighbors who might object to noise and streams of cars. They also are popular for party planners because they offer picturesque backdrops and are already approved to serve wine.
Paschal-Tenuta Winery in Talent has musical events, fundraisers and weddings, and Weisinger's of Ashland hosts concerts and winemaker dinners. But no wine producer near Ashland has hosted so many diverse events in as few years as Grizzly Peak.
"It's interesting what they are doing there," says Shelby Dias, who works in the tasting room at Weisinger's of Ashland. "They have a huge lawn area, and they invite people to present unique events. It's great."
With 40 events a year, Grizzly Peak has become something of a setting from Disneyland's "It's a Small World" ride.
"It's quite a mosaic," says Grizzly Peak owner Al Silbowitz, who, with his wife, Virginia, and daughter, Naomi Fuerte, schedules the fundraisers, business meetings and other activities. "Our intention is to support divergent and diverse events; but even I am surprised at what we've seen here." Many fundraising events are at no cost to the group.
For five years, the Youth Symphony of Southern Oregon has had a wine dinner here to raise money. For two years, there has been a fundraiser for the Jackson County Fuel Committee, which provides fuel and subsidies to valley residents who can't afford heating.
The Community Health Center, which grants medical care to uninsured families, and Heart & Hope Ministries, a musical program for elders and those with special needs, also have had events here.
When the Silbowitzes are asked by a member of a family or an organization to use the property, the next question is usually where?
An event for a dozen to hundreds of guests can take place on the lawn, under oak trees, on a stage-like deck, under a pavilion near the rows of vineyards or on the wisteria-shaded winery terrace in front of the tasting room.
"When the weather is good and we need extra space," says Silbowitz, "we open the doors to the tasting room and have chamber music there." Or something else. In June, Ashland bluegrass musician Jef Ramsey had a jam session inside the building.
For the third annual luau in June, 75 dancers in traditional Hawaiian attire performed on the level front lawn area — "a wonderful natural stage," says Silbowitz — and 250 people fanned out in front of them.
Admission fees were donated to the Halau Hula O Na Pua O Hawaii Nei dance troupe to fund competitions. Lei Aloha Serenaders performed and Oahu-raised Ed Chun of Sunrise Cafe & Catering in Medford prepared a lunch of barbecued huli huli chicken, pulled pork and Hawaiian-style, mayonnaise-laden macaroni salad.
The next day, Havurah Shir Hadash provided a Jewish Eastern European food extravaganza and live vintage jazz, gypsy and klezmer music for an event called "A Night of Mazal Under the Stars."
Marriage ceremonies are usually held under the oaks. Afterward, guests are served wine on the terrace as they make their way to the front lawn for the banquet and dancing. "We call it our wedding circle," says Silbowitz.
Canopies are set up on the deck overlooking the front lawn and caterers serve from there. The deck can act as a small theater, too. During the Havurah dinner, speakers stood there to address the group. For concerts, musicians like to sit there, at the foot of the grassy area.
Just as Al and Virginia Silbowitz never could have predicted their 40 acres with views of Mount Ashland and Grizzly Peak would become a site of such diversity, they didn't plan to grow grapes or sell wine.
After they moved to Ashland in 1998 from the San Francisco Bay Area, Ron Stringfield, an Ashland hobby viticulturist, approached them. After listening to Stringfield praise the property's soil, the couple planted 100 merlot vines that year.
Now, they have 8,000 vines growing across 15 acres that produce 11 different Bordeaux and Rhone grape varieties. Winemaker Linda Donovan of Pallet Wine Co. in Medford makes their wines, including rare Malbec and a white Tempranillo.
Al Silbowitz says his family wants people to feel that their property is "a community resource" but he also says that hosting events on the winery's property is good business.
"This is a great way for more people to be familiar with us and the wonderful wines we're producing," he says. "It's not totally selfless, but the events we have here also fit with our intention to contribute."
GRIZZLY PEAK WINERY
ADDRESS: 1600 E. Nevada St., Ashland
HOURS: noon to 4 p.m. (May–Oct.: Thur.–Sun.; Nov.–Apr.: Sat.–Sun.) or by appt.
PHONE: 541-482-5700
WEBSITE: grizzlypeakwinery.com
Used with permission from the Ashland Daily Tidings.