Prime Pinots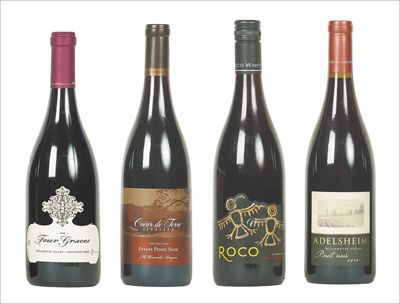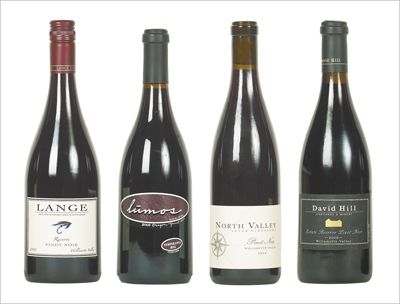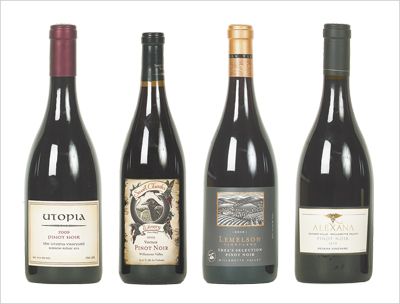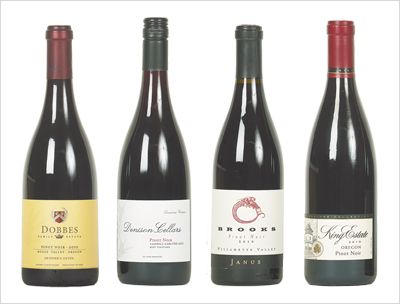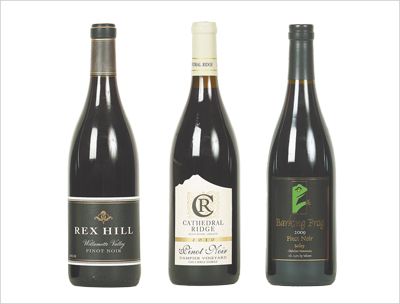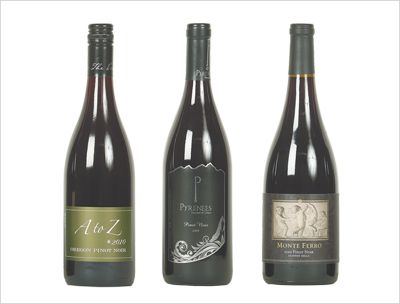 Oregon's premier Pinot Noirs are irrefutably among the finest in the world. Even so, most of them have consistently remained lower in cost than their competitors from France and California. Inevitably, however, prices across the board have crept up over time. As a result, for purposes of this tasting, the retail price per bottle limit was raised to $45.
Other criteria included the most recent vintage currently available in the marketplace and, even if more than one wine met the criteria, only one entry per winery was permitted. In the final analysis, the following 22 wines were deemed worthy of recommendation. This is more than any other tasting conducted since Oregon Wine Press launched its Value Picks program in 2006.
The Four Graces 2010 Black Family Vineyards Pinot Noir, Willamette Valley • $32 (9,500 cases)
Aromas of black cherry, campfire smoke and almond lead to cherry, tobacco and wood flavors on the palate. Well-balanced with a long finish.
Coeur de Terre 2009 Estate Pinot Noir, McMinnville • $34 (343 cases)
Dense and intense. A big, concentrated wine featuring black cherry, dark chocolate, smoke and tar. Nicely balanced. Needs time.
ROCO 2010 Pinot Noir • $30 (1,500 cases)
Luscious dark berry, tantalizing spice, toasty oak and smoke engulf the nostrils. Sweet, velvety richness of berry playing off earthiness in the mouth.
Adelsheim 2010 Pinot Noir, Willamette Valley • $32 (14,800 cases)
Appealing aromas of cola, cherry and gooseberry give way to a full, berry-laden mouthfeel complimented by soft, supple tannins.
Lange Estate 2010 Reserve Pinot Noir, Willamette Valley • $32 (1,800 cases)
Balance and elegance best describe a youthful wine exhibiting cola and cherry notes on the nose followed by a harmonious mélange of ripe dark fruit, peppery spice and velvety tannins.
Lumos 2009 Temperance Hill Vineyard Pinot Noir • $34 (421 cases)
Earth, spice and everything nice sum up this Pinot's well-balanced, varietally characteristic qualities that make it appealing now yet likely better later.
North Valley (Soter) 2010 Pinot Noir, Willamette Valley • $30 (2,700 cases)
Piquant aromas of briar and toasted almond rise from the glass. Dried red currant, freshly ground pepper, tobacco and cedar roll across the palate. A medium-weight winner.
David Hill 2009 Est. Reserve Pinot Noir, Willamette Valley • $35 (261 cases)
Berry, cherry and chocolate blend beautifully adding up to delicious. A soft, seductive mouthfeel, smooth tannins and good balance complete the captivating picture.
Utopia Estate 2009 Pinot Noir, Ribbon Ridge • $38 (600)
The concept of cherry espresso is compelling in this context. Pile on strawberries, macadamia nuts and milk chocolate. Add the yin of creamy and the yang of dry.
Sweet Cheeks 2009 Pinot Noir, Willamette Valley • $23 (2,050 cases)
Vanilla wafers, dry toast and a hint of jasmine up front complement classic flavors of cherry, leather and cola. Harmonious tannin and acid bring beautiful balance.
Lemelson 2010 Thea's Selection Pinot Noir • $30 (6,738 cases)
Irresistible at the outset owing to expressive aromatics of ripe jammy fruit, exotic spice and mineral earthiness. Cherry and spice entice the palate as the flavors linger long.
Alexana 2010 Revana Vineyard Pinot Noir, Dundee Hills • $42 (1,654 cases)
Voluptuously concentrated wine opens with aromas of baked bread, saddle leather and wood shavings, and delivers cherry, tar and orange zest to fill out its full-flavored performance.
Dobbes Family Estate 2010 Skipper's Cuvée Pinot Noir, Rogue Valley • $45 (297 cases)
Fresh, juicy cherries roll out of the glass enrobed in leather. The palate carries through with loads of cherry and red berry backed by a meaty mouthful. Round, rich and satisfying.
Denison 2010 Kiff Vineyard Pinot Noir, Yamhill-Carlton • $38 (125 cases)
Flavor to savor and nuances to pause over are led by interplay of dark cherry and red berry with a spicy hint of pine needles. Chocolate, oak vanillin and supple tannins add to the tantalizing taste.
Brooks 2010 Janus Pinot Noir, Willamette Valley • $35 (1,000 cases)
Classic characteristics of earth, cola and berry bring style to a big wine that pleases the palate throughout and speaks of the variety from first sniff to final sip.
King Estate 2010 Signature Pinot Noir, Willamette Valley • $29 (25,000 cases)
Chocolate, earth and toast combine to form an appealingly forward aroma. A sweet, rich mouthfeel expresses cherry and berry nicely accented by oak.
REX HILL 2010 Pinot Noir, Willamette Valley • $35 (8,370 cases)
Hint of roses and wafting bonfire on the nose. Bright, black currant accented by vanillin with underlayment of slate and leather. A robust, full-bodied wine.
Cathedral Ridge 2010 Pinot Noir, Columbia Gorge • $32 (400 cases)
An intense concentration of bright, red fruit flavors finds its counterpoint in a hint of herbaciousness. Soft tannins and bright acidity complete a most favorable effect.
Barking Frog 2009 Bailey Pinot Noir, Chehalem Mts. • $32 (125 cases)
Needs more bottle age to fully express the dark, ripe fruit, chocolaty sweetness and earthy minerality that is beginning to show beneath its subtle, still-evolving exterior.
A to Z Wineworks 2010 Pinot Noir, Oregon • $20 (80,238 cases)
Strawberry, fresh baguette and cream introduce lively red raspberry and tea leaf aromas with just enough tannin to top it off. A complex quaffer that would be perfect with pork.
Pyrenees 2009 Pinot Noir, Umpqua Valley • $25 (553 cases)
An enticingly ethereal perfume rolls out of the glass. Both floral and fruity, it leads into bright, fresh flavors of red fruits that persist to the last sip.
Monte Ferro 2010 Pinot Noir, Dundee Hills • $27 (84 cases)
Strawberry fields you want to play in forever. A companionable cola for accompaniment. Luscious sweetness is an example of what the surprising 2010 vintage delivered to this brand new winery.