Old Barn Reborn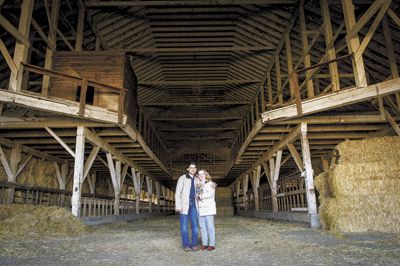 By Karl Klooster
Ecological awareness and sustainable practices should be mandatory for every person and business. Regrettably, we have a long way to go in that regard. But when extra attention is taken to follow the philosophy, it sets an example deserving wide recognition.
Such is the case with a marriage of two entities outside Yamhill in the North Willamette Valley — an old dairy barn and a new winery tasting room that will soon share a commendable common bond.
Earning environmental accolades are the former Laughlin Dairy Barn and Saffron Fields tasting room facility, about to begin construction.
The former, once an important figure in the now-diminished local milk industry, has been carefully deconstructed for the benefit of the latter, a promising newcomer to Oregon's wine scene.
Much of the reclaimed wood — disassembled one board at a time — is being incorporated into the structure of the tasting room, whose design is strikingly enhanced by this fine, clean lumber.
Planning, overseeing and personally participating in the barn dismantling project is a local man whose name has become synonymous with wood in this corner of the state.
Rich Mathis, owner of the Wood is Wonderful Foundation in Sheridan, has provided recycled wood for projects around the Willamette Valley in recent years. The fruits of his efforts can be seen on the facades of wineries such as Dobbes Estate in Dundee and Raptor Ridge in the Chehalem Mountains outside Newberg. Interior finishings at Willamette Valley Vineyards Wine Center and Community Plate Restaurant, both on McMinnville's Third Street, bear Mathis's mark, as do a couple of McMenamins' properties.
Closely coordinating with Mathis are key staffers at Cellar Ridge Construction. The McMinnville-based company is noted for the creative incorporation of wood in its structures — they are responsible for the much-admired reconstruction of the McMinnville Saturday Market Building on N.E. Eighth Street, for example.
Impressed by their work, Saffron Fields owners Sanjeev Lahoti and Angela Summers chose Cellar Ridge to translate their vision to reality. Co-owner John Mead is overseeing the project.
He describes the style of the tasting facility as contemporary modern combining copper, stone and masonry exterior elements. Encompassing 3,281 square feet, it will include hospitality, dining and office space.
"The wood from the barn has a wonderful patina and rich grain that can't be duplicated," Mead said. "We are using it strictly for accents on the exterior. Much more will be incorporated into the interior finishings, including furniture that will be designed and built by Rich, as well as some other artisans."
As part of his payment, Mathis will get half of the wood from the 22,000-square-foot barn with the other half retained by Saffron Fields for current and future use. Mead estimated that about 15 percent will be incorporated into the tasting room and the remainder stored for a winery, part of the owners' longer-term plan.
The couple is firmly committed to sustainability. So much so that, in addition to strict adherence to sustainable vineyard cultivation practices, they intend to apply the disciplines to their adjacent farmstead.
Saffron Fields will include an orchard and vegetable garden integrated into a landscape designed by Hoichi Kurisu, former director of the Portland Japanese Garden, and incorporating art from Summers' extensive collection.
Not surprisingly, it was a passion for Pinot Noir that first drew the couple to Oregon. Both chemical engineers from Houston, they first visited the Willamette Valley over Thanksgiving in 2003. After more than two decades working in Texas, they decided it was time for a new life adventure. With vineyard potential in mind, they began a serious search around the Yamhill Valley.
The Laughlin Road farm soon caught their attention, but they looked a bit further before confirming it was what they wanted. Four months later, they bought what would become Saffron Fields Vineyard.
It wouldn't be until 2007 before they installed a manufactured house on the Laughlin Road site to live in while working in Oregon. Their home base is still in Houston.
That year, they hired Results Partners Vineyard Management to plant 10 acres of Pommard clone Pinot Noir. In 2009, they put in another 16 acres — four each of Dijon 777, 115 and Wädenswil clones.
Noted winemaking consultant Tony Rynders, owner of Tendril Cellars, who built a sterling reputation as Domaine Serene's award-winning winemaker, purchased their first grapes. Delighted by the quality, they had Rynders make 50 cases for them from the small but superb 2010 vintage. With that decision, Saffron Farms became both a winegrower and wine producer.
Henceforth, they will devote an increasing portion of each harvest for their own label slowly expanding the brand presence as their 26 acres of estate vineyards mature. Both Rynders and Chris Berg of Roots Wine Company have been retained as winemakers to craft different varieties for the Saffron Fields Vineyards label.
The Laughlin Barn dismantling was completed. Sept. 14. Groundbreaking for the tasting room will take place within a month, and Mead said completion is projected for early summer 2013.
Your wording in this sentence confuses me: Cary Laughlin, grandson of patriarch C.F. "Sport" Laughlin, is doing the excavation. Given the reuse and recycling theme, this could be categorized as "What goes around comes around."