Grand Green Opening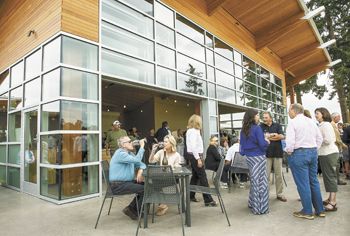 By Molly Walker
As Gary Mortensen describes it, Stoller Family Estate's new tasting room is "something that would come out of Oregon: Embrace the land and celebrate sustainability." Mortensen is the family operation's general manager, working with owner Bill Stoller.
"Bill's vision always feels very Oregon to me. We didn't go for a lot of façade — but functionality." The design, created by architect Ernie Munch and built by R&H Construction, may be simple — but it's also beautiful and highlights green building while it showcases the vineyard.
While the Stoller facility itself was the first LEED Gold-certified winery in the U.S., Mortensen said that while they didn't go for the actual certification in the tasting room, nonetheless, they applied the same standards.
The giant old-growth support beams were purchased in 1998 from an old parking structure in Portland's Pearl District. Before they were reconfigured — six used at Stoller and four sold to Domaine Serene — they were transported and stored. Not a small feat, as they weigh 5,200 pounds each, originally.
The wood used inside was reclaimed from Oregon's famed Biscuit Fire which blackened nearly 500,000 acres in the southern part of the state in 2002. Ten years later, it's used to create, among other features, a ceiling designed to emulate the undulating hills of the vineyards.
Some of the more dramatic features are the glass curtain walls. Facing the rolling hills of the vineyard and oak savannahs, the bank of windows are equipped to rise like garage doors, connecting indoors with the environment.
The floors are a simple polished concrete, which extends to create an outdoor deck.
There are 236 solar panels on the tasting room, providing 77 kilowatts of electricity. The plan is for the building to be a net zero and generate all the power it needs. If there's any excess, it will go back to the winery.
"The whole idea is to provide connectivity to the land," said Mortensen. It also allows plenty of natural light — essential to showing off the true colors of the wines.
The total winery property encompasses 373 acres with 185 currently planted to Pinot Noir, Chardonnay, Pinot Gris, Pinot Blanc, Syrah and Tempranillo. It is LIVE (Low Impact Viticulture Enology) and Salmon Safe certified and bordered by two county roads.
Mike Haverkate, who has worked at the winery for 18 years, said that Bill's cousin, John Stoller, had been operating a turkey farm there when the local industry collapsed. When Bill bought it, it was basically abandoned with 12 turkey barns remaining.
The buildings were removed, resold or recycled when possible, and the rest burned or disposed.
One piece still remains. A large concrete pad in the middle of the vineyard, once a brooder pad, is still used.
"Having concrete is a luxury in Oregon if it rains," Haverkate said.
A simple tire rope swing hangs from an oak tree at the edge of the vineyard. Mortensen said it is a very popular attraction and has become an iconic symbol for Stoller Family Estate. It certainly attracts the children and even a wedding proposal was made at the swing. There's also a nine-hole disc golf course set up seasonally.
"Bill's vision for the property is to share it," said Mortensen. He said that Stoller keeps his eye toward sustainability and maintaining a functioning farm, having been raised on a farm himself. Mortensen said that Stoller is looking far beyond his own lifetime, seeing himself as a caretaker for the land.
The oak savannahs are an important piece of the property, having been intentionally left as small nature preserves, according to Mortensen. The largest is 30 acres of contiguous trees, where they have worked to remove non-native species to help the oaks survive.
There are also three guest houses that were working farmhouses at one time. In those, visitors can stay and enjoy a working vineyard.
"Bill's attention to detail is remarkable," said Mortensen. "He's one of those people who does it right. I think it shows."
The tasting room is open daily from 11 a.m. to 5 p.m. at 16161 N.E. McDougall Road, Dayton.