Harvest vs. Halloween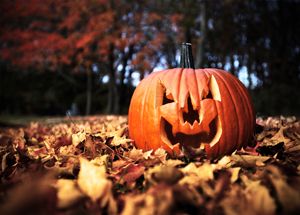 by Hilary Berg, OWP Editor
Harvest and Halloween. The two go head-to-head every fall. How do they measure up? Let's see…
While they both happen in the glorious month of October, harvest lasts much longer, starting in September — this year — and running through November, at least. Halloween's celebrated day is the 31st, but people start decorating and planning costumes in the month previous, too. I also recall seeing Halloween merchandise in the heat of August — ridiculous. But it's harvest's long hours and months of work and preparation that wins this round.
How about attire? Halloween takes the crown, hands down. It's up to one's imagination what to wear. A wicked witch? Classic. A pirate? Arrrrr. A bedside table? (I have pictures to explain.) On the crush pad, it's pretty blah: fleece, rain boots, wine-stained shirt, headlamp, etc. Although harvest crews can at times appear to be zombies — dirty, tattered, exhausted, hungry, thirsty for the red stuff — their "look" is not intentional.
Ahhh … the aromas. When I think of Halloween, I instantly recall the smell of my trick-or-treat bag at the end of the night. While the distinct odor of converging candy is a fond smell, it has always made me a bit queasy. Meanwhile, in the winery, the aroma of fermenting grapes is intoxicating. If you've ever experienced this perfume of promising Pinot, you know who takes this round. Harvest, it's you.
Did you hear that? "Trick or treat! Trick or treat!" When I hear a chorus of kids — and the occasional sneaky teenager — yell those words, my heart melts. Holding their bags open, candy is dropped in with care. And then, "Thank you! Thank you," fills the air. You close the door, and the sound of pitter patter on the porch and down the stairs concludes the encounter until "Ding-dong!" ... another group of kids at the door. So sweet.
In the winery, not so sweet. There's the sound of delivery trucks filled with bins of fruit, forklifts buzzing around and backing up … "Beep, beep." There's also the periodic swear word for all kinds of potential disasters. Mixed with the sound of the press — always reminded me of a ghostly entity — and music to keep the crew humming along, crush can sound a bit chaotic. From the sound of it, Halloween wins again.
It appears harvest and Halloween are in a dead heat. I knew this would happen before I even started writing. The outcome brings to mind an important lesson: It is essential to balance fun and work. For winery crews, this can be challenging, but, beware, you don't want to get burned out before the end.
Halloween happens once a year and only for a few hours, so if at all possible, grab a costume — no need to find a flashlight, you already have one on your head — gather your kids (if you have any) and give yourself a real treat: lasting memories.
Happy Halloween. Happy harvest.