2013 Superior Cellar Awards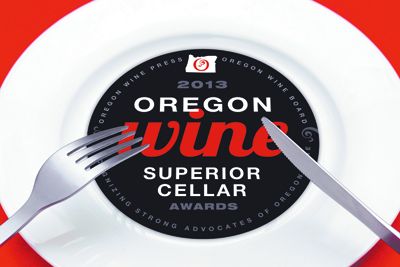 By Karl Klooster
When the Oregon Wine Press launched its Superior Cellar Awards program in September 2010, we were pleased and gratified by the excitement it generated.
Recommendations of restaurants to be considered for inclusion rolled in from around the state. And that is where we placed our initial focus.
Oregon restaurant wine lists selected for the award understandably had to meet the most demanding criteria, thereby setting the standard for all those considered from that year forward.
As a result, 42 Oregon restaurants were honored with 2010–11 Superior Cellar Awards for Best Oregon Wine List. Not surprisingly, among this group were some of the state's finest dining establishments.
Their qualifications in all key respects — food, service and ambience, as well as wine — topped everyone's best of the best in the Beaver State.
In late 2011, OWP formed a partnership with the Oregon Wine Board to create greater awareness for the state's wine industry by showcasing Superior Cellar Awards recipients.
In the first year of working together, the program reached beyond our own borders to recognize 11 restaurants in seven states and two in other countries.
Restaurants in Florida, Washington, California, Alabama, Arizona, Virginia and Washington, D.C., all earned accolades for making Oregon wines an important part of their offerings.
Japan and Sweden couldn't be farther apart geographically or closer together in the agreement of two of their restaurants regarding wine selection. The Oregon Bar & Grill in Shiodome, Tokyo, and Clarion Hotel Post Norda Bar & Grill in Gothenburg shared Superior Cellar Awards honors for 2012.
On the home front, 2012 saw 63 Oregon restaurants proudly receiving Superior Cellars Awards, an increase of 21 over the previous year. Restaurants continuing from 2010-11 were re-evaluated.
As we begin making our 2013 selections, the following three outstanding restaurants have already come to the fore.
Salishan Spa & Golf Resort
From the day it opened in 1965, Oregon entrepreneur John Gray's Salishan Lodge at Gleneden Beach was an instant must-go, -stay, -play and -dine destination.
Its dining room, called in elegant understatement, simply "The Dining Room," offered the region's finest cuisine served with a dashing dollop of Pacific Northwest aplomb.
As for wines, its cellar boasted a collection that was as big, broad and deep as any this side of the Big Apple, Big D, Hollywood or the Windy City.
That Wine Spectator award-winning cellar was masterfully managed by Phil DeVito, the patriarch of Oregon wine sommeliers and cellar masters.
DeVito's depth of knowledge, endearing charm and superb service have since been emulated by all those who seriously aspire to excel in the profession.
Though the days of Gray and DeVito have passed, The Dining Room continues to maintain a reputation for gracious dining and impeccable wine service under the direction of sommelier Lisa White.
The wine list is still expansive, with a total of 831 entries, including 228 from Oregon.
Leading the way are 104 Pinot Noirs with multiple years from Ken Wright Cellars, Bethel Heights, Bergström, Erath and Torii Mor. Vintages date as far back as 1998.
Of the 26 selections by the glass, eight are from Oregon. Other substantial categories include 17 Pinot Gris, 17 Chardonnays, 14 Syrahs and 18 various white varietals.
Simon's Cliff House Restaurant at the Columbia Gorge Hotel
Another 2012 winner is Simon's Cliff House Restaurant, the elegant dining venue and lounge at the historic Columbia Gorge Hotel in Hood River.
Though long considered one of the Pacific Northwest's lodging jewels, the hotel fell on hard times during the recent recession. It was closed for the entire year of 2010 after being operated in bank receivership for several months.
Purchased in late 2010 by prominent hotelier/vacation property investor Vijay Patel, the Columbia River Scenic Highway showplace built in 1921 by timber magnate Simon Benson, has been renovated and revitalized.
An international list of 149 wines is led by Oregon's 36 selections. In addition to a solid contingent of Pinot Noirs, they include varietals such as Zinfandel, Cabernet Sauvignon, Merlot, Syrah and red blends available from Columbia Gorge wineries.
It is a pleasure to be able to welcome back the Columbia Gorge Hotel and raise a top-tier Oregon wine toast to Simon's Restaurant, appropriately named in honor of the visionary who made it possible.
Smithfields Restaurant & Bar
Good things can come in small packages as the limited but carefully selected wine list attests at our third awardee, Smithfields Restaurant & Bar in Ashland.
To accompany its "nose-to-tail" dining menu, featuring imaginatively juxtaposed ingredients, a globe-spanning total of 31 wines are available at this urban steakhouse set in Oregon's Shakespearean destination city.
California, France, Italy, Germany, Spain, New Zealand and, of course, Oregon are represented. Oregon contributions to the eclectic collection total 12 in all. Next is France with six.
Smithfields' small but substantive list is comprised of almost entirely Southern Oregon wineries, such as Quady North, RoxyAnn, Troon, Cowhorn and Irvine.
Although no Willamette Valley wines were present on the current list, this is not an issue. Supporting neighboring wineries is what the Superior Cellar program is all about.