Whites Delight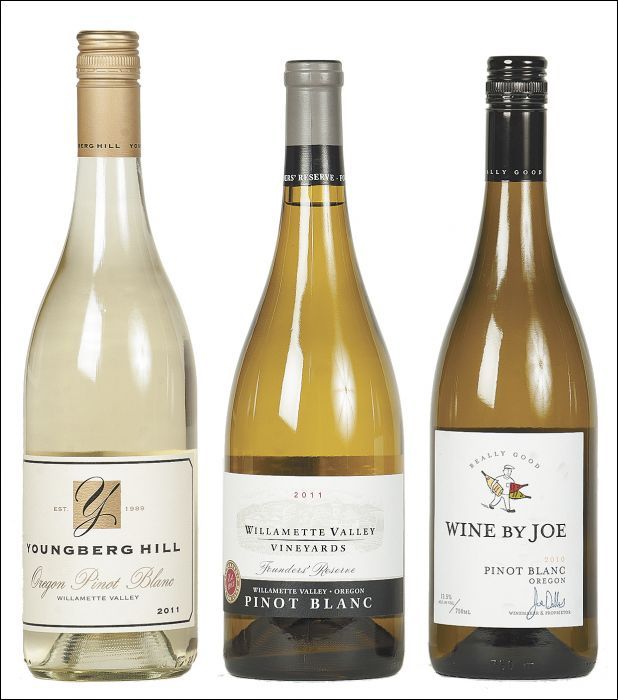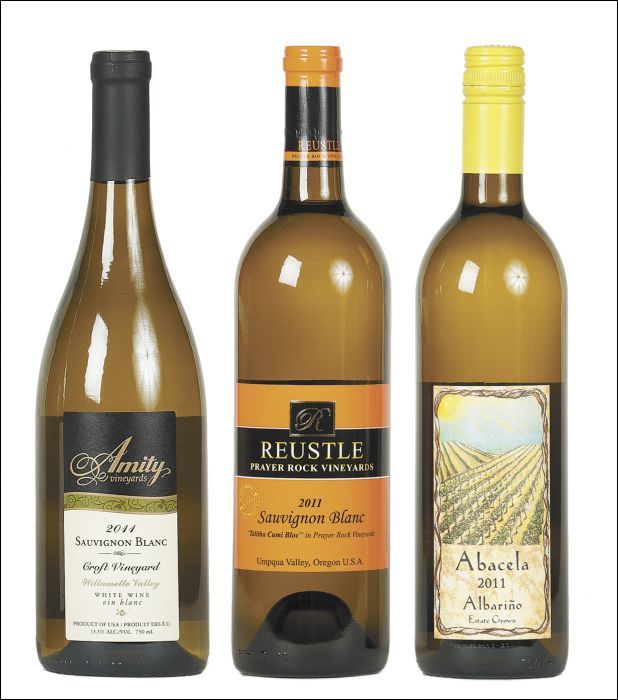 The following white varieties, Albariño, Pinot Blanc and Sauvignon Blanc, have been combined into a single tasting because of their limited plantings and overall production in Oregon. As of the 2011 harvest, 160 acres of Pinot Blanc and 80 acres of Sauvignon Blanc were under vine in the state. Albariño is estimated at less than 30 acres.
Small quantities do not, however, mean lesser quality. Each of the selected wines displays distinctive style and exceptional character expressive of the variety as well as fine wine, per se.
Pinot Blanc is principally found in the Alsace region of France as well as Germany's Baden Wurtemburg and Palatinate, where it is called Weissburgunder. The best examples are full bodied with charming citrus and floral notes.
Villages at the eastern end of France's Loire Valley and in Bordeaux's Graves district make classic Sauvignon Blancs, each displaying its own style of this distinctively aromatic grape.
The history and evolution of Albariño is too long to reiterate here. Suffice it to say that the grape's origins can be traced back as far as the 12th century in Europe and, owing to intrinsically favorable attributes, its star began ascending in northwestern Spain during the late 20th century.
The following selections are indicative of the success certain Oregon winemakers have achieved in bringing out the best in each of these potentially outstanding varieties.
Youngberg Hill 2011 Pinot Blanc, Willamette Valley • $18 (125 cases)
By all rights, this wine could bear the pedigree Eola-Amity Hills AVA, Larkins Estate Vineyards. Picture pretty throughout, it offers floral notes, led by lavender, up front. Clean, green apple, tangy grape-fruity citrus and a hint of vanillin bring zing to the dryness and linger long.
Willamette Valley Vineyards 2011 Founder's Reserve Pinot Blanc • $20 (508 cases)
The big Turner winemaker has apparently paid particularly close attention to what for them is a limited-production wine. Both lemon and lime lead the citrus parade, followed by tangerine, pineapple and just a hint of oak. A sea breeze of a wine, light, zesty, tasty and refreshing.
Wine by Joe 2010 Oregon Pinot Blanc • $14 (879 cases)
The best buy of the bunch, Wine by Joe is becoming known for value Oregon wines well beyond our borders. This example expresses itself with fresh citrus fruit, crisp acidity, intriguing herbal notes that culminate in a soft, mellow mid-mouth and a nutty, creamy finish.
Amity Vineyards 2011 Sauvignon Blanc, Eola-Amity Hills • $20 (58 cases)
Despite its long and distinguished history, Amity produced Sauvignon Blanc for the first time only last year. The fruit is from Croft Vineyard, a respected grower near Dallas, Ore. Weedy, peppery notes on the nose announce the variety in its most positive light. A round, viscous mouthful exhibits pineapple, clove and tarragon.
Reustle Prayer Rock 2011 Sauvignon Blanc, Umpqua Valley • $19 (307 cases)
Southern Oregon comes through big time with this example of a tricky variety that can love you to death or turn on you. In this case, the former bursts forth in a fresh, lively fullness, featuring the aroma of citrusy orange zest, peachy fruit and a tantalizing ripeness in the mid-palate.
Abacela Vineyards 2011 Estate Albariño, Umpqua Valley • $18 (1,800 cases)
Having made Albariño since 2000, Abacela owner Earl Jones knows what it's about. Intermingled fragrances of freshly mowed grass, straw, thyme and evergreen immediately draw you in. A tart, dry palate impression is balanced by lively acidity with tangy citrus, hay and mineral notes.
The Oregon Wine Press tasting panel has selected the following wines based on overall quality and value within their respective categories. To the best of our knowledge, they are currently available in the marketplace. Wine must be: 1) produced by an Oregon winery; 2) priced (retail) $30 or less for reds, $30 or less for Chardonnay, $30 or less for dessert and sparkling wines, and $25 or less for remaining varietals; and 3) currently available to consumers. Recommended wines were selected using a double-blind method and a 20-point ranking system for appearance, aroma, taste, balance and finish.