Pedaling Wine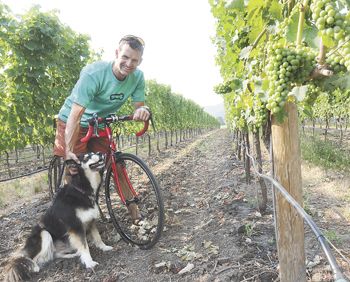 By Janet Eastman
If you are in Ashland and see a fit man on a racing bike with wine tucked into the water-bottle cage, slow down. You might be passing independent wine producer Gus Janeway on his way to work, or play.
Janeway makes Velocity, Velo and William Augustus wine, all of which have been well received by wine judges, restaurateurs and sip-local aficionados.
As often as possible, Janeway rides the 12 miles from his Ashland home to Talent where the Malbec, Cabernet Franc and Viognier used in his wines are grown by Randy Gold in a certified Low Input Viticulture and Enology (LIVE) vineyard.
Is the cycling Janeway simply being green? Thrifty? Or is he also having fun?
The 42-year-old father of two laughs: "It's mostly for fun. But I have found that I make better wines when I'm more familiar with the vineyards, and the way to do that is to be in them frequently. That's easier when they are close by."
He says modestly that if the grapes are farmed well, and the weather behaves, he can make "decent" wine.
Judges in the 2012 San Francisco Chronicle Wine Competition agree that he has taken the right approach. Janeway received a gold medal for his 2010 William Augustus Viognier Marsanne ($16) and bronze medals for both the 2008 William Augustus Cabernet Franc ($24) and 2008 Velocity Cellars Malbec ($24).
His other label, Velo (which means "bicycle" in French), launched Janeway's faith in using nontraditional screw caps instead of corks. "After nearly a decade of watching my wines develop, I have made a firm commitment to that closure as the best way to preserve the quality and character of my wines," he says.
Janeway's path to winemaking has been unconventional, as well. He earned a political science degree, but wanted to make wine. On Valentine's Day in 1997, he and his wife, Julia, arrived in the Rogue Valley from Minnesota. He worked as the vineyard manager for Quail Run-Griffin Creek Vineyards, next as a winemaker for Paschal Winery and RoxyAnn Winery before working exclusively for his boutique brands in 2009.
His wines are sold at Ashland wine shops, wine bars such as Liquid Assets and restaurants, including Chateaulin, The Peerless and The Winchester Inn.
His 2008 William Augustus Cabernet Franc was served with celeriac soup topped with black truffle at a winemaker's dinner at Amuse in Ashland. New Sammy's Cowboy Bistro in Talent offered his 2009 Velo Malbec Rosé ($16) as the house pour until Janeway sold all 156 cases. New rosé is on the way.
Jacqueline Vidalo-Singh of Loft American Brasserie & Bar in Ashland says the William Augustus Viognier-Marsanne "is incredibly popular because it's well made and really shows the varietal characteristics of Viognier and that oddball grape, Marsanne."
Janeway thinks Viognier will continue to distinguish itself in the Rogue Valley's dry, sunny climate. "It's a delicious, wintertime white," he says. "People turn to red wines during winter, but right now it feels like it is spring."
And he would know. For work and play, he pays attention to the weather.
When he's not pedaling through vineyards or riding over to Pallet Wine Co., the Medford custom-crush facility where he makes and ages his wine, Janeway is supporting bike races such as the Mount Ashland Hillclimb, Mountain Lakes Challenge and Siskiyou Challenge, benefitting the Rogue Valley Farm to School program that promotes locally grown foods in school cafeterias.
Janeway jokes that he worms his way into the races by donating a bottle of his wine to every volunteer. "I become a sponsor, which means that I also get the chance to lug myself up to the top of a hill," he says, smiling. And his wine ends up filling many water-bottle cages.
This column was reprinted with permission from Ashland Daily Tidings. To reach writer Janet Eastman, call 541-776-4465 or e-mail jeastman@dailytidings.com.