The Vine Revealed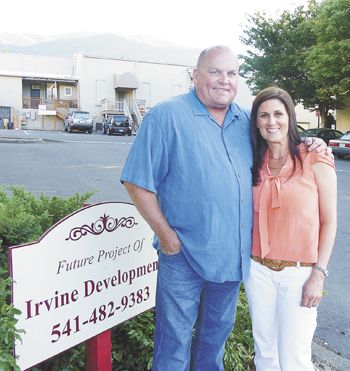 By Janet Eastman
A parking lot now separates two buildings on Lithia Way, but that asphalt gap soon will be replaced by a refined, brick-clad building that houses a tasting room and boutique hotel called The Vine.
The three-story building with sweeping French doors opening to the sidewalk was designed to look as if it has nested in this spot for decades. On the ground floor will be a gourmet market, wine bar, exhibition kitchen and elegant lobby that access a 10-unit condo-hotel with one- and two-bedroom suites on the middle and penthouse floors.
The Vine is the downtown extension of a 31-acre vineyard near Emigrant Lake owned by Ashland residents Doug and Dionne Irvine.
Construction on the building at 160 Lithia Way, between North First and North Pioneer streets, could begin in six months and be completed in 2014, says Doug Irvine.
Hotel suites will be about 700 square feet or larger, all with kitchens. "No one wants to eat out every meal," says Dionne Irvine, a mother of three girls.
The interior decor was designed with warm wood floors and paneling, luxury lighting and rich fabrics. The hotel entry — dubbed a "living room" by the Irvines — sets the stage.
"The 'living room' is intended to make our guests feel like they truly are our personal guests," says Dionne Irvine. "I doubt it will ever be referred to as the 'lobby' as it will never have that feeling."
The wines served and sold will include those made by Irvine Vineyards: estate-grown Pinot Noir, Tempranillo, Chardonnay, Viognier and, rare for this region, Nebbiolo. But other local wines and artisan products will be available, too, says Doug Irvine, if they meet the high standards.
With land developing and wine producing, he says there is always a drive to seek perfection.
"The best examples are simple and elegant," he says. "We believe, let nature do its thing. Don't get gaudy. Deliver a product that sells itself. You can't fool people with gimmicks."
The Irvines live on 80 picturesque acres along Emigrant Creek that used to be a cattle ranch and dairy farm. They cleaned up the land, restored the streambed and, after consulting local viticulture experts such as noted climatologist Greg Jones, they planted six acres in 2007.
Linda Donovan of Pallet Wine Co. was selected as the winemaker, and Irvine Vineyards' first releases, 2009 Pinot Noir ($45) and Viognier ($29), quickly sold out.
The Irvines want to increase production over time but no more than 5,000 cases a year. It's quality, not quantity, they want to deliver.
This article was reprinted with permission from Ashland Daily Tidings. To reach writer Janet Eastman, call 541-776-4465 or e-mail jeastman@dailytidings.com.