Pinot with the Pros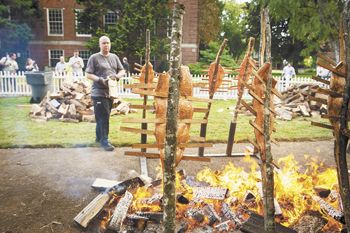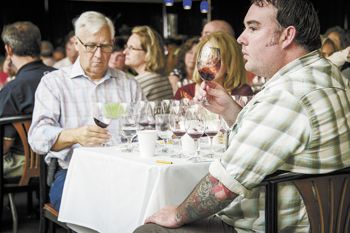 By Janet Eastman
It's natural for a first timer to the fabled International Pinot Noir Celebration in McMinnville to feel overwhelmed. After all, there are more than 250 different wines to taste from France, Chile, New Zealand, Canada, Argentina, California and, of course, Oregon.
The bounty even surprises people who have attended past IPNC events. Some of the local producers, like Scott and Martha Wright of Scott Paul Wines, arrive to find that their long-ago-libraried wines are being poured with abandoned at twice-daily multi-course feasts.
Each year, featured wine producers donate cases of wine, and they're never sure when those cherished bottles might surface again. After 26 years, IPNC has accumulated a serious cache of prized Pinots that can be popped at any moment.
It could happen at the most exalted event of the three-day celebration, the Salmon Bake on Saturday night.
This is when weekend conference-goers, often numbering 800 or more, share tables with people coming for one night to dine under the oak trees on the Linfield College campus, drink unlimited Pinot Noir — some of it pricy and precious — and consume dishes and desserts created by the region's top chefs.
Also vying to attend IPNC are the West Coast's sharpest sommeliers, who apply to work for free, pouring wine they select from temperature-controlled vaults. They say there is no better way to taste so many versions of that fickle, flavorful grape that put Oregon on the map.
During the day, ticket-holders attend discussions by internationally recognized Pinot producers who then stay for the entire weekend because who would leave such a party in which vichyssoise and rabbit fricasse are served outdoors on fine china?
Participants also board buses to visit vineyards and are invited to ask serious questions of grapegrowers and winemakers.
Despite all the opportunities to feel intimidated, people who attend IPNC have a blast. That's because it's the ultimate Pinot party.
Consider this: Everyone can drink as much wine as they like at the breakfast-time seminars, triple-course lunches, afternoon wine-and-cheese tastings, late afternoon tastings and dinners of fire-roasted Chinook salmon, grilled bavette steak and grilled pork loin that continue under darken skies. It's not unusual for wine producers to also crack open a very special magnum and start sharing it.
Artisan food producers show up, too. During this year's IPNC, which was held July 27–29, days began with a breakfast spread of fruits, cured meats and pastries. Chef Katy Millard of Portland's Coquine Supper Club offered butter she made to go with fig-stuffed bread. In the afternoon, Kim and Tyler Malek, owners of Salt & Straw, Portland's "farm-to-cone" ice cream shop, were ready to serve sea salt-caramel high-butterfat ice cream.
To add to everyone's wine know-how, Kristen Young of Michael Mina's RN74 in Seattle showed guests how to chop off the head of a champagne bottle with a saber.
Another intimidation popper: As classy as the attendees are — after all, they are paying $975 to drink some of the world's finest red, whites and rosés paired with Dungeness crab and olive oil tea cake with hibiscus tea mousse and confit cherries — they have no hesitation in filling the spit buckets.
And finally: Winemakers and sommeliers know how to party more than any young rock star or fading movie star. For this year's Sunday Sparkling Finale brunch, sommeliers exchanged their tuxes for togas.
The fun factor is intentional. IPNC organizers don't want this annual event to feel like a closed club. First timers are contacted in advance by one of the featured wineries.
Brian and Jill O'Donnell of Belle Pente Vineyard & Winery in Carlton invited newcomers to join them at their lunch table on the first day. "We will be serving as your 'semi-official' hosts for the weekend," Brian O'Donnell wrote in an e-mail, "and are available to answer any questions and offer suggestions on how to get the most out of your IPNC experience."
The O'Donnells attended their first Sunday Walkabout event in 1992 and have participated as a featured winery or have hosted a vineyard tour since 2000.
"Each Oregon winery is assigned a handful of first-time attendees to make sure they feel welcome and get the most out of their experience," says Brian O'Donnell. "Feedback from first-time attendees over the years has indicated that they sometimes feel like guests at someone else's family reunion, and this is an attempt to mitigate that situation."
That starts at the top. Executive Director Amy Wesselman, co-owner of Westrey Wines, remembers her first IPNC in 1997.
"I had goosebumps as I walked across the stage and took my place among so many luminaries of the wine world," she says. "It is still an honor to be in their presence every year."
Does it ever get old for those who return year after year?
O'Donnell shakes his head. "It just gets better every year."
Next year's IPNC is scheduled for July 26–28. To receive the newsletter, visit www.ipnc.org.
Journalist Janet Eastman writes the Eno Outings wine column for the Medford Mail Tribune. She has posted her photos of the 2012 International Pinot Noir Celebration on the Medford Wine Examiner site (www.examiner.com/wine-in-medford/janet-eastman).