Woo-Plate Special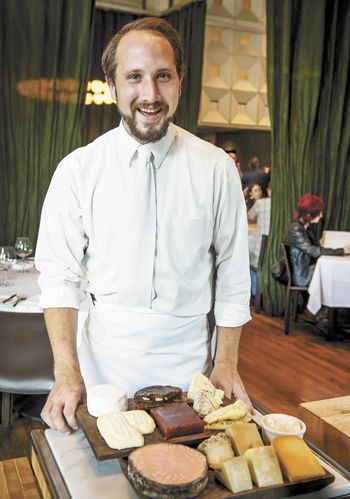 By Christine Hyatt
With this month's focus on restaurants, it's the perfect time to give a shout out to the remarkable job chefs, and even in-house fromagers, do to educate and inspire guests with top-notch cheese programs.
Not so long ago, a cheese plate was an afterthought: a hunk of nameless medium cheddar, unremarkable brie and maybe middling blue cheese with a few nuts or apple slices for garnish. As enthusiasm for regional and artisanal food has grown, so has the expectation for depth and quality when it comes to a cheese course.
More than a few Oregon restaurants excel in this area thanks to passionate and devoted advocates, both front of house and behind the scenes, as well as increased availability of interesting and delicious cheeses from near and far.
"The cheese plate in Portland has changed dramatically in the last 10 years," says Steve Jones, proprietor of Cheese Bar in Portland, a go-to supplier for many restaurant cheese programs. "Early on, a few did a good job — The Heathman, Paley's Place — and some did a very bad job. We went from being a non-cheese scene to being a great scene in a short period of time. "
Jones cites the locovore trend as a major influence in this growth. "At least 50 percent of our clients want regional cheeses, and one of the reasons it has worked is that our regional cheese scene has grown," he says. "We have a lot more depth and people are able to create a well-done local cheese plate now."
"The more cheese that's on the cart, the more we sell," says Patrick McKee, chef de cuisine and cheese champion at Paley's Place in Northwest Portland. "We started with two cheeses from each milk type: goat, sheep and cow. Now, we've bumped it up to four or five from each type, and people are really into it. They're learning more about it; as am I."
Guests at Paley's are greeted with a cheese cart in front as they enter the restaurant. "Even with so many choices, people know the cheeses they want," says McKee. "I work with our waitstaff on education, especially if there are cheeses we haven't had before. We'll taste together before dinner service, so they can feel confident. I can see the enthusiasm in their eyes."
Over in the Pearl District, Bluehour was recently named 2012 Best Cheese Plate by Portland Monthly readers. Undoubtedly this has something to do with fromager Jesse Seratt's way with curds.
Seratt curates a selection of 12 to 15 rotating cheeses and wows guests with tableside service, working with diners to compose a mind-blowing cheese experience.
"It's hands-on, entertaining and visual," he says of the new approach. "It starts by me asking what looks appealing. This is a great starting point to begin the flight, and leads to a more intimate experience because they feel like they are choosing flights to their taste."
Another bonus, he says, is that the service is a great marketing tool. "If a table sees me chatting with another table across the room, I can instantly feel the reverberations. People are intrigued and decide to have a cheese course."
Both McKee and Seratt sing the praises of local sourcing when possible and prominently feature Northwest cheese on the menu.
"A lot of these producers are too small for distributors to pick up," says McKee. "I find it's more interesting and worthwhile to go direct. I get to meet the cheesemakers themselves; and it's great to watch them grow."
"I incorporate locally sourced, American cheeses and then add the other brilliant cheesemaking cultures," says Seratt. "How could I have a cheese cart without French cheese on it? We have some from Italy, Spain and Britain as well. That's where the rotation comes in, reflecting my taste, what I think people would like and what I want to introduce."
When it comes to composing and enjoying a cheese plate, our experts shared a few tips.
At Cheese Bar, Jones recommends a trio of cheese. "For me, three is a great number. Stylistically, you can cover a lot of ground and not overwhelm," he says. "We go for a nice variety of flavors and textures paired with seasonal chutney and whatever seasonal produce is most appropriate. If it's cheese from this region, I love also serving filberts. They're a great Oregon product that pairs so well and fills the plate nicely."
"Our cheese display is a service display. It has to be perfect for that exact plate, that exact day. Cheeses must be at their peak when I serve them," says Seratt. "Seasonality is a big aspect of my pairing. I choose the pairings depending on what's growing and perfect today."
As you explore cheese plates at your favorite restaurants, don't be afraid to ask about the selection of the day, its origins and flavor profile. If you're lucky, the restaurant will have some pleasant surprises. If the selection is 'so 10 years ago', a gentle prod toward an updated plate might make all the difference.