Mural Model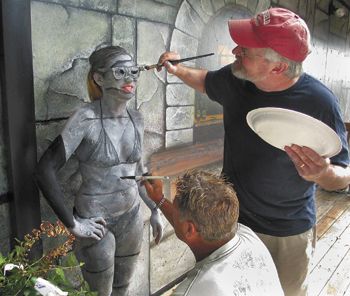 By Molly Walker
When artists John Stromme and Eddie Johnson finished complex murals on the outside of the tasting room of Yamhill Valley Vineyards of McMinnville — complete with stones framing windows — an interesting thought hit them.
How about painting a model to look as if she were walking out through the wall? While it wouldn't be a permanent element, they could preserve it for posterity by capturing it on video.
Discussing the idea over lunch, assistant winemaker Ariel Eberle became intrigued. They asked her if she would serve as the model, and she agreed.
Eberle wore a two-piece black swimsuit and body paint from the bottom of her ankles to top of her forehead. It was the first time they'd used a person as a canvas, and they employed washable body paint.
The base coat, designed to resemble gray stones, was applied first. Details, like seams and cracks, came next. One of her arms was painted to match the dark brown downspout. The final touches were a pair of painted sunglasses, to protect her eyes, and a finish coat of paint on her lips.
"When you paint a portrait, you don't get this dimensional, which is so cool," said Stromme, floating his paintbrush over Eberle's skin.
Sky Kauer, who serves in the tasting room and arranges flowers for the vineyard, helped with the painting as well, following the artists' directions.
Johnson, who owns Mr. Eddie's salon, helped guide Stromme to position the stone cracks in exactly the right places, to match the original mural. One of the final touches was using a sponge to paint for texture.
It took the artists nearly two hours to finish the painting. They called in Mike and Liz Santone of Carlton's Meadowlake Studios to capture the video.
They captured Eberle walking out of the painting, pausing along the way to pull off her sunglasses, undo her ponytail and shake out her blonde hair.
When done with editing, the Santones plan to post the video on YouTube.
After they finished shooting, Eberle had only one wish: "I really want to take a shower."