Chardonnay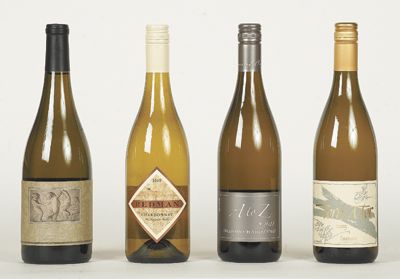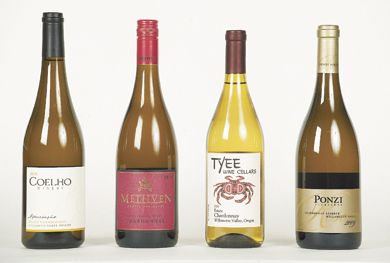 Employing the so-called "Dijon" Chardonnay clones, certain Oregon growers have committed themselves to the pursuit of true greatness in the Burgundian models of Meursault and Montrachet.
Currently, clones 76, 95 and 96 — and to a lesser extent clones 75 and 98 — comprise 950 acres of Chardonnay throughout the state, approximately 600 of which are in the Willamette Valley.
These earlier ripening clones have been grafted to devigorated rootstocks in an effort to focus on lower yields expressing more richness and complexity.
Taking these actions brings the promise of considerably enhanced character to Oregon Chardonnay. The wines selected for recommendation point to the fact that this promise is proving out.
Coelho 2010 Apreciação Estate Chardonnay • $30 (148 cases)
Aromas of hazelnut and toasty oak introduce ripe fruit flavors of grapefruit and green apple that roll soft and sweet across the palate. Nicely balanced throughout.
Methven Family Vineyards 2010 Chardonnay, Willamette Valley • $24 (125 cases)
A judicious use of oak dramatically enhances the character of this rich, full-bodied wine. Buttery vanilla is complemented by juicy fruit and lively acidity. A hint of nuttiness marks the aftertaste.
Tyee Wine Cellars 2010 Estate Chardonnay • $15 (150 cases)
Low price, high pick. Floral notes lead to a round yet zesty mid-mouth exhibiting bright, fresh flavors of apple and lime, underlaid by an intriguing minerality.
Ponzi Vineyards 2009 Reserve Chardonnay $30 (1,015 cases)
Chehalem Mountains and Dundee Hills fruit blended beautifully to make this soft, pleasingly plump Chard whose enticingly succulent flavors of dried pineapple and pear are accented by hints of hay overlaid with oak vanillin.
Redman 2010 Chardonnay • $27 (93 cases)
Though this wine is light in body, to call it a lightweight would be like calling Bruce Lee a small man. It achieves a flowing harmony of aroma, taste and aftertaste that make it irresistibly appealing.
A to Z Wineworks 2011 Oregon Chardonnay • $14 (11,700 cases)
The enticements are evident from the moment the liquid touches the tongue. Bright, refreshing flavors of pear, citrus, mineral and toast are built on a crisp, dry foundation. Excellent value. Readily available.
Torii Mor 2009 Chardonnay • $24 (385 cases)
A combination of Dundee Hills Estate and Van Duzer Corridor fruit has brought forth delicately layered flavors of crisp, green apple, stone fruit and oak vanillin. Nicely balanced.
Monte Ferro 2011 Chardonnay, Willamette Valley • $17.50 (125 cases)
A well-balanced winner has emerged from a new name on the Oregon wine scene. Stoller Vineyards fruit was used to craft this medium-weight wine whose tasty attributes include citrus, apple and kiwi accented by a touch of oak.
The Oregon Wine Press tasting panel has selected the following wines based on overall quality and value within their respective categories. To the best of our knowledge, they are currently available in the marketplace. Wine must be: 1) produced by an Oregon winery; 2) priced (retail) $30 or less for reds, $30 or less for Chardonnay, $30 or less for dessert and sparkling wines, and $25 or less for remaining varietals; and 3) currently available to consumers. Recommended wines were selected using a double-blind method and a 20-point ranking system for appearance, aroma, taste, balance and finish.