LIVE in Concert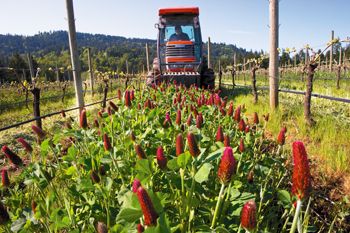 By Wine Press Staff
A history of collaboration and information sharing in the Northwest wine industry is alive today and advancing the region's environmental efforts.
Winegrowers in the Northwest will tell you about a longstanding tradition of sharing ideas, resources, time, even equipment — a tradition that built collective expertise, and a reputation for making world-class wines. The reason, some say, was simple: long-term success depended on demonstrating the strength of the region as a whole, and helping one another tackle common challenges was the pragmatic thing to do.
Those common challenges were many. Winegrowers were confronted with adverse climate conditions, a deficit of region-specific research, even skepticism from within, as Northwest communities long accustomed to other agricultural traditions had to be convinced that winegrowing was a legitimate, valuable land use and enterprise.
Wine industry founders met these challenges with determination, hard work and a collaborative spirit. Today, the industry has an international reputation and formalized mechanisms for distributing resources and expertise, but winegrowers have continued to work directly with their peers to share information and achieve new goals. One of these goals is reducing environmental impact.
LIVE in the Winery
Wineries across the Northwest have achieved certification for their sustainability efforts through LIVE (Low Input Viticulture and Enology). Each certified winery satisfies the program requirements through its own practices, but together, program members work on issues affecting the membership as a whole.
Andy McVay, assistant winemaker at Wine By Joe in Dundee, describes says the winery's technical committee is collaborating with LIVE to improve recycling options for winery-specific waste.
"Infrastructure for typical items like glass and cardboard are in place, but options to recycle screw caps, foils, corks and plastic shrink wrap need more effort to recycle efficiently," McVay said. "LIVE will be able to help wineries network to have a unified voice for recycling options."
LIVE wineries envision collaboration yielding environmental benefits on many fronts. With support from the Oregon Wine Research Institute and the Oregon Wine Board, LIVE members have also begun measuring their use of specific materials in winemaking, as a first step to understanding the materials' impacts to humans and the environment. Data and guidance from the wineries and ongoing independent research will eventually help winemakers consider the manufacturing processes, disposal methods affecting workers and consumers associated with these materials.
Energy efficiency is another common concern for Northwest wineries.
"Informal conversations with industry peers provide proven strategies for energy conservation far beyond changing out light bulbs," said Michele Martin, manager of the Carbon Reduction Challenge (CRC). "Members inspire each other to reach new goals to reduce their energy and fuel use, even as they grow production, because they place importance on regional success."
CRC wineries commit to reductions in energy use; but how they reach energy goals is a question members can tackle together through peer-to-peer events that Martin organizes.
For example, in March, CRC gathered local wineries with experts in energy efficiency. Together, members had an organized and meaningful conversation about best energy practices in the winery and ways to save costs on energy use. "Participants received recommendations to their winery-specific questions in real-time that they could act on them with confidence," Martin said.
LIVE in the Vineyard
In the Walla Walla Valley, a Washington and Oregon AVA, winegrowers are achieving LIVE certification and work together through Vinea, a place-based association of wineries and vineyards focusing on sustainability. Kevin Scribner facilitates discussion among Vinea growers who want to work together on day-to-day challenges as well as a long-term vision for their region and a better understanding of the environmental impacts of their vineyard management choices.
"The vineyard managers with Vinea Sustainable Trust, in the Walla Walla, appreciate very much the collective wisdom and experience represented by the LIVE technical committees, which are comprised of fellow growers, university technical experts, as well as the global perspective of the IOBC [International Organization for Biological Control]. We're certainly much smarter when we work together like this," Scribner said.
LIVE and Vinea vineyards are also trying a new approach to information sharing as they work with PRiME, an online risk assessment tool developed by a team of international experts to inform Integrated Pest Management (IPM) decisions. Paul Jepson and Michael Guzy at Oregon State University work together to gather pest management data from growers, and Jepson presents the resulting analyses at crop-specific workshops throughout Oregon, helping attendees understand the tool and evaluate environmental risks associated with various approaches.
"This is the first time that state-of-the-art risk assessment data have been made available to farmers to help in decision making, and this has proven very effective as a part of broader IPM and also marketing and certification discussions," Jepson said.
Crop-specific assessments based on real data enable vineyards to realize the benefits of sharing pest management information without sacrificing confidentiality.
"The data providers are treated in the strictest confidence and the program has completed Institutional Review Board review to confirm that the data are fully protected," Jepson explained. "This has enabled the program to review real-world cases and greatly enhance the practicality of the outcomes."
Model of Collaboration
The collaborative approach to environmental initiatives taken by Northwest winegrowers is a model that has drawn national and international interest. LIVE's executive director, Chris Serra, has been asked to share experiences with wine industries in Ontario, Canada and Long Island, New York, as well as in Europe. Most recently, Serra spoke about LIVE's approach to vineyard sustainability before the European Commission in Brussels. He views this interaction as deserved recognition for Northwest winegrowers and an opportunity to be true to the spirit of the industry's founders.
"Organizations around the world are following LIVE's lead in practical implementation of sustainable theory, but in reality these groups have so much to offer us in terms of new ideas to tackle difficult problems," Serra said. "It is crucial that we listen with a collaborative spirit in order to gain mutual benefit."