Going All Classic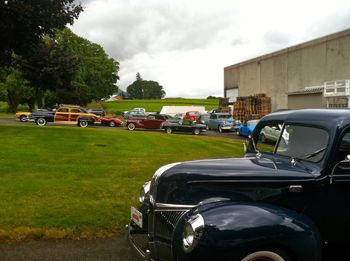 By Janet Eastman
Bill and Pat Lindquist were motoring around the Tualatin Valley in their shiny red 1968 Mercedes 280 SL on July 14. When they turned toward the knoll to Elk Cove Vineyards' tasting room, the Portland couple was not alone. Zooming in front of them or trailing behind were 48 other eye-catching autos, all of them participating in the Forest Grove Concours Vineyard & Lake Tour.
The group parked their collectible cars — Ferraris, Lotuses and 300 SL Mercedes Gullwings — around the Gaston winery's crush pad and went inside to taste Pinot Noir. They ate lunch, bought bottles to enjoy later, and then revved up their engines to cruise over to Henry Hagg Lake.
The next day, the car owners displayed their four-wheel treasures at the 40th Annual Forest Grove Concours d'Elegance, a car competition organized by volunteers with the Rotary Club of Forest Grove. Last year, the touring group stopped at nearby Montinore Estate winery for a similar dine-sip experience.
Vineyards are magnets for classic cars. During this time of year, car clubs, civic groups and auto enthusiasts orchestrate tours that wind through Oregon's less-traveled backroads in search of natural landmarks and roadside fun.
"I've never been on one of these club tours where we didn't stop at a few wineries," says Tom Purcell, who is organizing the Rolls-Royce & Bentley Owner's Club's Oregon tour, which runs Aug. 5–12. Twenty vintage and new versions of those luxury cars will cross the state's borders. The owners of a Continental GTC are driving here from Florida, and back again, and a 1934 Bentley is arriving from Canada.
On Aug. 7, wine tasters at Foris Vineyards and Bridgeview Vineyards & Winery in Cave Junction may see a line of Rolls-Royces, including a 1952 Silver Wraith. The next day, the Rolls group will be touring around Crater Lake, as cars owners have been doing ever since Model Ts headed to the West Coast.
On Aug. 10, thanks to the Rolls' tour, there could be classic Bentleys from the 1920s and '30s and perhaps a brand new $400,000 Rolls' Phantom, complete with custom drink cabinets, in front of Ledger David Cellars' Central Point tasting room. The next stop is Medford and RoxyAnn Winery's tasting room, once a century-old barn.
On Aug. 11, the group is scheduled to be in Jacksonville, where Caprice Vineyard, Quady North and South Stage Cellars have tasting rooms in preserved structures.
When classic cars are seen near historic buildings, such as a century-old farmhouse converted into a tasting room, they appear as if time has stood still. But cars with star quality are best appreciated in motion.
Drivers and their lucky passengers in the California Mille, inspired by Italy's fabled Mille Miglia, spend four days winding through 1,000 miles of vineyard-lined roads during the annual choreographed tour.
In 2010, Ferraris, Jaguars and Porsches parked in front of the 1884 Queen Anne-style mansion used as a tasting room at Nickel & Nickel winery in Napa Valley. The visit was sentimental. The late Gil Nickel, who founded the winery, and owned Far Niente and Dolce wineries, was a car enthusiast, champion vintage auto racer and motorcyclist who racked up 250,000 miles on his BMWs' odometers. Often, he was accompanied by his wife, Beth.
In May of this year, the Marin Sonoma Concours d'Elegance stopped at the Keller Estate, owned by one of the car world's respected collectors. On his vineyard property along the Petaluma River in California, Arturo Keller has four vast buildings, each devoted to French, Italian, British or German cars, all perfectly restored to museum quality. The rooms are rarely opened to the public. But visitors participating in an organized car tour are sometimes allowed time in the showrooms.
Champagne receptions in these kinds of private museums are part of the collector car world, especially in the August weeks leading up to the world's most prestigious car competition, the Pebble Beach Concours d'Elegance.
Up to 40,000 people who want to be within arm's reach of the rarest, most valuable, most coveted automobiles — as well as the photographers ("car-parazzi") who try to capture some of it on film – converge on California's Monterey Peninsula for nonstop auto adoration. Vintage racing, record-breaking auctions and toney social events with wines from King Estate and other wineries are also part of what's called Auto Week.
"The West Coast is certainly the most active and fruitful part of the U.S. classic car market," says David Gooding, whose Gooding & Company produces premier auctions, including the finale to the Pebble Beach Concours. "Eligibility for these events increases a car's value and desirability."
Later this month, the Pebble Beach Motoring Classic, a caravan of elegant automobiles made before 1968, will be motoring through Oregon from Kirkland, Wash., to Monterey, Calif. No doubt there will be stops at wineries along the way.
On the day after the Lindquists visited Elk Cove Vineyards, they were with their red Mercedes in the middle of the Forest Grove car competition, held on the Pacific University campus.
The couple has been on the Vineyard & Lake Tour four times. Because the 50-mile drive is always routed through wine country, stopping at a winery "goes hand-in-hand," with the tour, says Pat Lindquist.
"The tour's allure for me," adds Bill Lindquist, "is to see classic cars driving together. That's a thrill alone. Then going to a vineyard is like opening the last present on Christmas."
Ashland-based wine writer Janet Eastman writes the Eno Outings column for the Medford Mail Tribune and is a car appreciator's companion. She rides in the passenger seat – which is on the left side – of a 1927 Bentley. Her adventure stories can be seen at www.janeteastman.com. Reprinted from the Medford Mail Tribune.