Garden of Eatin'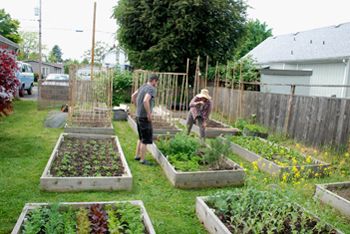 By Kerry Newberry
Leaning over to pluck a vibrant purple beet peeking from a sea of green, Chef Chris Czarnecki of the Joel Palmer House pauses, and then smiles. It's early afternoon, hours before the wine country icon opens, and he is reveling in his own garden merely steps away from the restaurant kitchen.
"Our beet salad exists purely because we had a huge beet harvest about a month ago and then we created a whole new dish," says Czarnecki, as he pulls two more robust tubers from the ground. The beets are roasted and served with a chèvre from Briar Rose Creamery, which is located around the bend in Dundee.
Feathery dill fronds are harvested for mustard dill vinaigrette and tossed with mixed greens, also from the garden. "Except for the mustard, the vinegar and the cheese every other element comes from the garden, which is pretty cool," says Czarnecki.
The pairing of gastronomy and gardens, while certainly not a new concept, is a rising trend in restaurants across Oregon. If the frisée on the fork bursts with fresh flavor, it could be because the chef grew it.
"As far as taste and aesthetics go, that's important, having it right there, but what I like about it the most is that it provides me with inspiration," says Czarnecki. A crop of carrots popping up, for instance, sparks ideas for side dishes with carrots or pickling carrots for salads. The garden helps guide the menu, he says.
The Joel Palmer House garden, a pièce de résistance, took root in 1996 when the restaurant first opened. A whimsical pied-piper sculpture holds court just beyond a red brick archway that leads to an herb garden. Half-wine barrels brim with mint or thyme; honeysuckle drapes like a curtain. "We are never short of garnish," says the chef.
Three raised beds made of reclaimed railroad ties stretch next to rows of wild grapevines, the leaves, large enough to take cover in the rain, tilt toward the sun. The vines we actually found by accident, says Czarnecki. Serendipitous.
The chef turns the prolific Concord grapes into sorbet and sauce. "It's great having ingredients right there to play with," he adds. The umbrella-sized grape leaves, too, find their way to the plate. Czarnecki once wrapped a mix of elk, rice and beans inside the leaves, a variation of the Polish dish golabki.
Two years ago, Mary, Czarnecki's wife and gardening muse, added 400 square feet of raised beds near the small barn, increasing the size to 1,000 square feet. Between the herbs, wild flowers, vegetables and currants, more than 40 different edibles spring from the garden at peak season. As far as cost-effectiveness, the restaurant is not saving money yet. But the chef garden is more about philosophy.
"It's all part of the culinary creative process," says Czarnecki. "Having your vegetables right there, knowing what's coming in each season, year after year creates a rhythm."
After buying edible flowers last year, the chef decided to dedicate one bed to the colorful edibles, currently a patch of orange marigolds bursting and silky nasturtiums in gold and orange hues.
Pink-tipped artichokes and rhubarb are a delicacy from the garden, because there are so few of them, unlike the beds of beans, which are plentiful and often integrated into a side dish. And then there are the volunteers, like a patch of potatoes, quinoa and a giant lemon balm bush that once occupied a third of the herb garden.
"I had to figure out what do with lemon balm because there was so much of it," he says.
The chef ended up creating "Dueling Gazpachos," tomato with pickled ginger vs. cucumber with lemon balm. "It's one of our favorite dishes of all time now, and is a direct result of coming out to the garden and seeing what do I need to use," he says. "That is what I love about the garden."
For Bar Avignon in Portland, the three-year-old urban garden fits the personal philosophy of owners Randy Goodman and Nancy Hunt.
"By nature, the restaurant business has a huge environmental impact, so we want to do what we can to be sustainable," says Hunt.
The garden, a short bike ride from the restaurant, is comprised of 15 beds, one of ornamental flowers, two herbs and the remaining filled with salad greens, vegetables and creative garnish. The land is encircled with a broken fence, which inspired the name.
Broken Fence Farm is mentioned on the menu with the use of an asterisk by the items using its produce, engaging both staff and customers. The bruschetta with bacon and chopped egg is topped with whispery frisée*.
In the garden, Hunt and Goodman band the frisée. "The inside leaves remain really pristine, white and soft," says Hunt, using one of many tips gleaned from their mentors.
Also on the menu, wrinkled, crinkled, crumpled cress* is served with charred Spanish octopus, avocado, Green Goddess Dressing and cherry tomatoes. Garden arugula* is tossed with cherries, Iberico cheese and red wine vinaigrette.
"Instead of farm-to-table, it's seed to plate," says Goodman. "Nancy sources the seeds after talking with the chef about what we want; then we plant it, grow it and harvest it."
Bar Avignon chef, Eric Joppie, often comments on the quality, size and freshness of the garden edibles. "He's excited about the fact that we can look at a row of little gems with perfectly tender and soft leaves and say, let's pick tomorrow," says Goodman.
If thyme happens to be blooming, the flowers garnish a pork chop plate. Purple chive flowers add a splash of color to risotto. Instead of bringing a bundle of produce to the chef because it needed to be harvested, they have complete control over when they pick based on taste. "It's pretty phenomenal," says Goodman.
Garden education is an unexpected perk for the restaurant. "An analogy I always use is when I was studying about wine you can learn a lot from books, but the best way to learn, is hands-on, visiting vineyards, tasting wine," Goodman says. "What better way to learn about the nuances of food than to grow your own?
The cooks at Bar Avignon also work shifts in the garden. Goodman believes nurturing the food you prep leads to newfound respect for, say, the arugula you toss into a salad. "It's a romantic notion," he says.
The kitchen collects scraps from vegetables or coffee grounds that go into a bucket that we haul over to the garden, says Hunt. "It's this nice circle and the right thing to do on so many levels."
The reality of a restaurant garden at the peak of summer entails an endless list of to-dos and can be overwhelming. "If you had to break it down on cost-per-pound for lettuce, it doesn't make sense; but for us, it feels good to be able to do it," adds Hunt.
Kerry Newberry is vineyard-hopping, Pinot-sipping food and wine writer in Portland.
RECIPES
ROASTED CORNISH GAME HEN WITH HEIRLOOM TOMATO PANZANELLA
Recipe by Eric Joppie - Bar Avignon, Portland
Wine Pairings: Big Table Farm Laughing Pig Rose or The Eyrie Vineyards 2010 Pinot Gris
INGREDIENTS
2 Cornish game hens (can substitute half a Draper Valley chicken)
4 tablespoons extra virgin olive oil
*cracked black pepper
1 loaf country-style bread
½ bunch oregano
3 ripe large heirloom tomatoes (best if different varieties/colors)
½ bunch basil
¼ red onion
1 English cucumber
1 bulb fennel
1 pint bocconcini mozzarella
¼ cup extra virgin olive oil
1 tablespoon red wine vinegar
¼ teaspoon Dijon mustard
* kosher salt to taste
*sugar, to taste
DIRECTIONS
Game Hens: 1. Cut the backbone out of the birds with kitchen shears, then cut into halves (one breast and one leg per serving). Season the birds on all sides with salt and cracked black pepper and rub liberally with olive oil. Set aside until ready to cook (not more than 4 hours). 2. Heat oven to 475°F and roast on a rack to 160°F, about 35 minutes, or until the juices run clear when the leg-thigh joint is pierced. Allow to rest for at least 10 minutes before serving. Salad: 3. Heat oven to 325°F. Remove the crust from the bread by cutting off each end; then setting it on one cut-edge, and cutting away the crust as though you were peeling a melon. Tear the bread into bite size pieces and toast until thoroughly dried but not too browned. 4. Pick the leaves of the herbs and tear, or chop, them very roughly. Slice the red onion, peeled cucumber (seeded if desired), and fennel very finely on a mandolin. 5. In a small bowl, combine the mustard and vinegar. Whisking constantly, add the olive oil in a thin stream until well combined (emulsified). Season with salt and sugar, to taste. Combine all the veggies, cheese and vinaigrette in a large bowl and allow to stand for about 10 minutes for the flavors to combine. A couple minutes before serving, toss in the croutons so they absorb some of the liquid — they should not get completely soggy. Serve the Cornish game hens on top of the salad and be sure to pour any juices from the rested bird on top. Yields 4 servings.
DUELING GAZPACHOS
Recipe by Chris Czarnecki - Joel Palmer House, Dayton
Red Side: TOMATO PICKLED GINGER GAZPACHO
6 Roma tomatoes
¼ red bell pepper
½ cup pickled ginger
¼ cup olive oil
1/8 cup red wine vinegar
1 teaspoon salt
1teaspoon sugar
Green Side: CUCUMBER LEMON BALM GAZPACHO
2 English cucumbers, peeled, chopped
½ cup lemon balm, fresh
1/8 cup white wine vinegar
¼ cup lemon juice
¼ cup olive oil
¼ medium onion
2 garlic cloves
1 tablespoon salt
1 teaspoon sugar
DIRECTIONS
1. Purée all "red" ingredients in a blender until smooth. Set aside. 2. Purée all "green" ingredients in a blender until smooth. 3. Slowly pour each gazpacho into glass bowl until the two colors form an even semi-circle in the bowl. Garnish with basil. If you prefer a chunkier gazpacho, instead of using a blender, mix all ingredients in a food processor.