Dishing the Dirt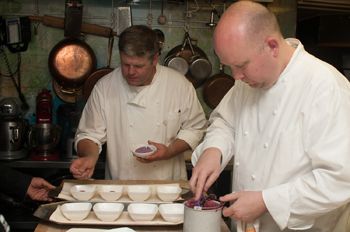 By Hilary Berg
No matter the house, people always gather in the kitchen. You can clean the other rooms, even decorate with signs pointing to the patio, but it's inevitable guests migrate to the room where comfort is cooked up and snacking is encouraged.
Across the country, it's the same scenario; even at legendary locales like the James Beard House in New York.
Born and raised in Portland, James Beard was anointed the "Dean of American Cookery," in 1954 by The New York Times. Among his culinary accomplishments, he was the host of the first cooking show, "I Love to Eat;" he was a prolific cookbook author; and in 1955, he established The James Beard Cooking School. Most importantly, he is the pivotal figure in the story of the establishment of a gourmet American food identity and is credited with bringing French cooking to the American middle and upper classes in the 1950s.
Although Beard died in 1985 at the age of 81, people still gather in his kitchen, now the heart of the James Beard Foundation, established in his honor to provide scholarships to aspiring food professionals and to champion the American culinary tradition.
Chefs from around the world regularly share their talents at the James Beard House. Anyone can eat at one of these dinners, but you'll need a bit of luck to snag a seat.
Those who attended the June 19 dinner were a lucky bunch, indeed. Jason Stoller Smith, executive chef at Timberline Lodge, along with winemaker Josh Bergström, wowed the crowd with a multi-course meal that surely would have made Beard honored to be an Oregonian.
Having teamed up for many wine dinners over the years — especially when Smith was the executive chef at the Dundee Bistro — the two crafted a plan to create what would be a memorable meal. Instead of simply matching food and wine, Smith and Bergström wanted to talk terroir, dirt specifically.
The dinner was divided into five courses. The three main courses were labeled Sedimentary, Volcanic and Laurelwood. "We wanted to talk about Willamette Valley soils," Smith said. "We traditionally paired the wines with the food through taste, but we also tried to pair them thematically, too."
For example, because sedimentary rock is found in ancient seabeds, the Sedimentary course featured oceanic offerings. Sea salt–cured salmon with sea scallop, Fino in Fondo Tartufo (charcuterie), radishes, fennel sprouts, currants, root beer, and espresso soil were paired with Bergström 2008 and 2010 Pinot Noir sourced from de Lancellotti Vineyard, which contains, you guessed it, sandy, sedimentary soil.
The next course, Volcanic, offered guests a taste of Smith's own stomping grounds, Mount Hood. Sous-vide Wapiti elk strip loin with duck heart confit, alder-smoked morels, baby carrots, semmelknoedel (bread dumplings), Ice Axe IPA–poached mustard seeds, pine nuts and raspberry soil were served with Bergström Estate 2009 and 2010 Pinot Noir. When choosing the wine for this dish, Smith focused on the vineyard's red clay, volcanic soils resulting in bright, red fruit flavors. "Think bright, red lava," he said.
The final course, Laurelwood, presented diners with a decadent dessert. This type of soil is made of rich, wind-blown loess, so Smith says he had to choose goose. Hudson Valley foie gras torchon with compressed Hood River pear, crabapple mostarda, yogurt biscuit, orange rock candy, hazelnuts, mountain mint and Oregon white truffle soil were presented with Bergström 2008 Late Harvest Riesling.
The final course ended the evening on a sweet note and a round of applause.
"Jason and his team sent every dish out with ease and great skill to the visible pleasure of the 60 diners who were all very impressed by the thought and passion put into each plate" Bergström said.
Crowded in the storied "tiny" kitchen, Smith and his team — Kris Smith, his father; Kelly Shattuck, Timberline pastry chef; and James Healy, Timberline executive sous chef — were not alone. Before dinner started, guests naturally found their way to the most popular room in the house.
"You walk in, and the kitchen is on the main floor, and the dining room is up above you," Smith said". Everybody kind of walks through the kitchen, which can be problematic because it is so small, and everybody wants to hang out like it's your own house."
Having been to the James Beard House once before with the Ponzi family, Smith knew he would need to prepare as much as he could in Oregon, given time and space.
"We did our grocery shopping in the city the day before for things like cream and butter, but anything that I could prep ahead of time, I did," Smith said. "It takes the pressure off during the day so you can enjoy the experience."
In other words, the opportunity to hang out — and cook — in James Beard's kitchen.
THE MENU
Hors d'oeuvres
Strawberries with Sterling Caviar
Hazelnut-Smoked Bacon–Wrapped Prunes
Rosé Gelée with Crispy Salmon Skin and Grape Gremolata
Wine Pairing: Bergström Winery Rosé 2011
First Course
Nitro-Whipped Potatoes with Chicken Skin, Brioche Crunch, Vanilla Crème Fraîche, and Preserved Lemon
Wine Pairing: Bergström Winery 2010 Sigrid Chardonnay
Sedimentary -- Second Course
Sea Salt–Cured Salmon with Sea Scallop, Fino in Fondo Tartufo, Radishes, Fennel Sprouts, Currants, Root Beer, and Espresso Soil
Wine Pairing: Bergström Winery De Lancellotti Vineyard Pinot Noir 2008
Wine Pairing: Bergström Winery De Lancellotti Vineyard Pinot Noir 2010
Volcanic -- Third Course
Sous Vide Wapiti Elk Strip Loin with Duck Heart Confit, Alder-Smoked Morels, Baby Carrots, Semmelknoedel, Ice Axe IPA–Poached Mustard Seeds, Pine Nuts, and Raspberry Soil
Wine Pairing: Bergström Winery Bergström Vineyard Pinot Noir 2009
Wine Pairing: Bergström Winery Bergström Vineyard Pinot Noir 2010
Fourth Course
Oregon Cherry Sorbet with Wild Ginger
Laurelwood -- Fifth Course
Hudson Valley Foie Gras Torchon with Compressed Hood River Pear, Crab-
apple Mostarda, Yogurt Biscuit, Orange Rock Candy, Hazelnuts, Mountain Mint, and Oregon White Truffle Soil
Wine Pairing: Bergström Winery Dr. Bergström Late Harvest Riesling 2008