Carlton Gates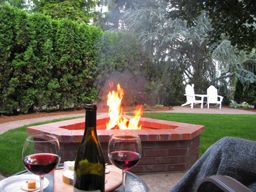 by Molly Walker, News-Register
Carlton Gates, a new vacation rental in Carlton, has opened for business at 905 S. Pine St.
Owner David Gates said he purchased the four-bedroom home in 2005, drawn by its wall of windows. At the time, he was planning to sell his home in California's Napa Valley, where he works in the wine industry, and relocate to Carlton.
About a year ago, he began discussing the idea of converting the property into a vacation rental.
He discovered the city had made changes in its charter to better accommodate tourist facilities like the one he had in mind. So he hired Stubberfield Custom Homes and Morris Design to undertake a renovation.
The home can accommodate up to 10 guests. It features a great room, fireplace, 70-inch home theater system, set of bicycles and five separate patios.
"It really is unique," Gates said. "It's not like taking a regular home and turning it into a vacation rental. It has an incredibly relational floor plan."
Carlton Gates can be booked at 503-474-4520 or Vacation Rental by Owner at www.vbro.com/414703.