Fifty Shades of Green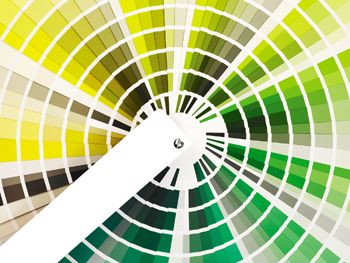 By Hilary Berg, OWP Editor
Green is a magnificent color; and its many shades inspire. Seafoam, forest, jade, emerald, apple, sage, lime, pine, tea, jungle, moss, celery. These hues take their cues from nature, which is fitting, as the term, "green" has become rooted in environmental everything.
Green can conjure up beautiful imagery, although the movement and its distinct practices are not always pleasant; and some can be downright funky.
In Biodynamics, a method of organic farming that emphasizes the holistic development and interrelationships of the soil, plants and animals as a self-sustaining system, one of the most popular preparations, 500, involves filling cow horns with cow dung and then burying them. Instead of a number, I think they should call it "stink and sink."
Abacela, a leading Tempranillo producer located in Southern Oregon, has mammoth moments of odor when the winery receives pachyderm poop from Wildlife Safari next door for use in vineyard compost. We're talking a sizable stench.
In organic farming, most grapegrowers use sulfur on the vines to combat powdery mildew, a serious concern for vineyards at different times of the growing season. If you've never smelled it, I can attest this stuff stinks. I don't have to see someone spraying the vines to know that sulfur was applied. It permeates clothes, hair, dog (couch). And at times, you can taste it. Although helpful to the plants, it really reeks.
Being green may be gritty at times, but it's the right thing to do; and Oregon wine knows how to do it.
On page 6, learn how sustainable certification LIVE (Low Input Viticulture & Enology) remains vital, continuing the industry's spirit of collaboration. On page 28, read about wineries' energy savings from the use of solar panels; the numbers are inspiring. Who knew cloudy Oregon could pull in so many rays? And on page 32, discover how wineries have incorporated innovative, environmentally friendly practices into company protocol — composting, recycling, upcycling, biodiesel and more.
As you leaf through this issue, you'll find Oregon wine eco-conscious in numerous additional ways, as if we are unearthing the myriad of combinations called green.
As I was saying … avocado, turquoise, fern, honeydew, olive, pear, pistachio, fish poop — smelly, I'm sure — sap, shamrock, sea, spring, myrtle, mint, grass...