Superior Additions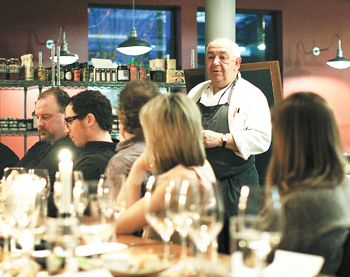 By Wine Press Staff
Two more restaurants have earned spots on Oregon Wine Press and Oregon Wine Board's list of Superior Cellars Award winners.
Regency Grill at Rogue Regency Inn & Suites
The first may be a surprise to some who live well north of Southern Oregon, but for Medford/Ashland locals, The Regency Grill at Rogue Regency Inn & Suites more than makes the cut.
The Grill's wine list may be small — only 46 selections — but almost 70 percent is Oregon-made, and most of those wines are from neighboring Southern Oregon producers.
The restaurant is definitely proud of the area's wineries and celebrates them with a full-page introduction describing the many winegrowing region's varieties, climates and tourist charm. At the end of the wine list prologue is a suggestion to inquire about the inn's travel packages — including an exclusive tour of RoxyAnn Winery.
As the wine list celebrates Oregon, the dinner menu boasts local bounty, too. How about a smoked chicken apple salad with Rogue Creamery Oregon Blue Cheese for lunch? Or maybe a house-smoked and marinated "drunken" half chicken with Oregon berry glaze?
With monthly seasonal specials, Executive Chef Dale Fowler keeps customers coming back with quality food at affordable prices.
ADDRESS: 2300 Biddle Road, Medford
HOURS: 6 a.m. to 9 p.m., daily
INFO: 541-770-1234
WEB: www.rogueregency.com
Milwaukie Kitchen & Wine
Driving north, the second newly added Superior Cellar winner is not in the foodie mecca of Portland but in its sleepy southeastern suburb of Milwaukie.
Named for its locale, Milwaukie Kitchen & Wine may have a smaller number of Oregon wines — about 40 percent — but its shared stage with France — also 40 percent — is quite understandable, considering co-owner Chef Pascal Sauton is a native of Paris and former chef at Carafe Café in downtown Portland.
By no means is this a full-fledged restaurant, but rather a cuvée of culinary enterprises, including a coffee shop and deli with soups, salads, sandwiches and gourmet entrées to go — you must try the Carlton Farms pork shoulder roasted and served with a rich tomato reduction accompanied by risotto-style barley with asparagus, tarragon, lemon and Parmesan.
You'll also find wine tastings and wines by the glass, cooking classes, a specialty grocery store and the opportunity to employ Sauton's cooking skills in catering both off-premise and in-house — in other words, private dinners.
Sauton regards his new business "as a gathering place to celebrate community through food and drink."
Like many Oregon eateries, Milwaukie Kitchen & Wine supports the food community by procuring seasonal ingredients from our region's small growers and local food artisans. We are thrilled to discover this also includes wine.
ADDRESS: 10610 S.E. Main Street, Milwaukie
HOURS: 8 a.m. to 7 p.m., daily
INFO: 503-653-3228
WEB: milwaukiekitchen.com