Wining Women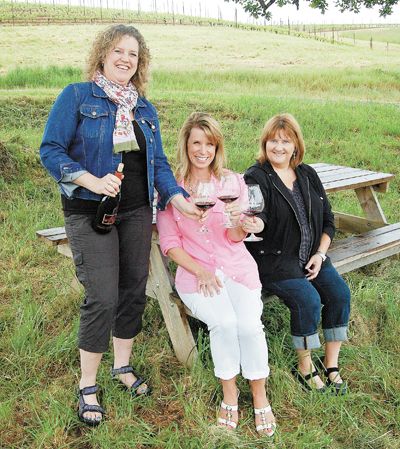 By Leah Jorgensen
In both Old and New Worlds, women have always been a part of wine — in the cellar, among the vines, the inspiring muse for making it. Today, their roles in this traditionally male-dominated industry have blossomed both behind the bottle and in front of the cash register — according to recent studies, women purchase more than 50 percent of wine sold in the states.
Yes, females are a force in regard to fine wine, including creating social and educational opportunities around it. Enter Women for WineSense.
Established in Napa Valley in 1990, WWS was originally organized in opposition to Mothers Against Drunk Driving's campaign to classify wine and hard liquor in the same category. Founders Julie Johnson (Tres Sabores Winery), Michaela Rodeno (Villa Ragazzi/Rodeno Vineyards), Margrit Mondavi (Robert Mondavi Winery) and Margaret Duckhorn (Duckhorn Vineyards) believed the cultural element of wine was absent from the equation. As a viable, sustainable part of the economy, WWS believed there was much more to wine than simply alcohol.
The fight to separate wineries from hard liquor producers took almost three years, but in the end, WWS prevailed. Post-battle, the women made a decision to refine the group's purpose into its current cause: wine education, the advancement of women within the industry and, of course, networking.
Since its inception, WWS has grown to nearly 800 members and supports 12 regional chapters around the country, offering programs and events presented by local, regional and national winemakers, wine educators, wine writers and other key professionals.
Both women and men can join, and non-members are able to attend most events. But as with most organizations, membership has its benefits, and for WWS, perks include discounts on all WWS events, a quarterly national newsletter — packed with interesting articles on wine, food and health — and the opportunity to attend any WWS meeting across the U.S. at the member price.
While the national organization's headquarters and most of its members are based in California, Oregon has recently emerged as an important member state. Not only does Oregon have two active chapters in Portland and Bend — remember, there are only a dozen — but also, Oregon is home to the newly elected national WWS president, Rebecca Moore.
Moore recently left her home in Napa Valley to relocate to Carlton, where her parents, Ron and Linda Moore — also Napa natives — transformed a Christmas tree farm into Monks Gate Vineyard in 2000. Currently, Monks Gate has 20 acres planted to Pinot Noir and several acres in Riesling, and produces about 250 cases annually for their own label, selling the rest of the fruit to area wineries.
In addition to the family business, Rebecca Moore brings over a decade of legal expertise and experience in the wine industry to her new role as national president. Having mentored younger lawyers and advised companies on ways to strengthen their businesses, her unique management and organizational skills will help lead WWS.
"As a litigator in Napa-Sonoma, I was interested in wine law," Moore said. "While that didn't work out, I did meet a group of women involved with Women for WineSense, and I immediately valued the associations I had made, both the professional networking and the personal friendships."
Moore was involved in the original Napa-Sonoma chapter and served for six years on the board as secretary and, at one point, was the director-at-large before being elected to her latest post.
Since stepping out of litigation and moving to Oregon, Moore has an agenda that not only espouses every chapter, but also, in particular, brings more attention to chapters in her new home state.
"We're getting ready to celebrate our tenth anniversary in Portland, while Bend is fairly new," Moore said. "Both chapters are mostly enthusiast-based, but I'm here to help both grow and reach out to more local wine professionals. In fact, I think we're ripe for a Willamette Valley chapter with so many incredible wine industry professionals right here in the valley."
Amber Yates in Central Oregon/Bend and Larlene Dunsmuir in Portland currently lead Oregon's two branches.
The Central Oregon group started about five years ago with a small community of women who liked wine — a wine shop owner, a sommelier, etc. The chapter initially underwent a period of serious growth and expansion with elaborate tastings and parties scheduled; however, the downturn in the economy hit hard, causing the group to dismantle. The board dwindled soon after, and the founding president moved to Portland. The organization had to restructure.
"There were other issues and challenges, such as developing content and maintaining member interest," Yates said. "For example, there's only one winery out here, and it was often difficult to draw in industry professionals to speak and present at meetings and events."
Yates attended the national board retreat in Napa this past fall (2011) and returned to Bend with the idea to commence a winter member drive. Her efforts secured a 50-percent increase in membership, and a renewed interest in the group emerged.
Annual events quickly accumulated on the calendar, and the Central Oregon chapter was back on track. This time, the chapter is dedicated to offering more value for the membership, including special event discounts, additional social gatherings and wine education, half of which is formal with the other half set around networking happy hours. Part of their mission is to promote women in the wine industry, and there has been an addition of a few more women wine professionals now working and living in Bend.
"Having Rebecca as national president is certainly a great thing for our chapter," Yates said. "Her being here in Oregon is a huge benefit for the Central Oregon chapter.
"The Napa chapter is huge and has been the base of the organization," Yates continued. "However, for the first time, we have had the opportunity to host the national president for dinner with our board. Her presence is already making a huge impact on our organization, as we've never had that kind of connection before. She knows our entire board, and we have more access to the national organization. Plus, Rebecca loves Bend, she loves to ski, and she's available to help us promote our events."
The Portland chapter is one of the oldest and most active chapters within the organization with a focus on cultivating exceptional wine events. Benefits of membership include discounts on events, opportunities to network with other wine consumers, as well as wine industry representatives, and local and national discounts at specified wineries, restaurants and wine merchants. Tastings and events are held monthly, usually on the first Monday of the month. The group is also developing a scholarship for women in a wine-related field of study and is also working to present more enticements for professional members, such as roundtable groups and other networking opportunities.
"The Portland chapter has around 30 members. Most of our members are wine aficionados. However, our primary goal for 2012 is to increase our professional membership," Dunsmuir said.
In regard to Moore's relocation to Oregon, the Portland group looks forward to working with her to draw interest to their chapter.
"I think we can really use her presence here to promote our organization as well as the Oregon wine industry overall," Dunsmuir said. "Plans are underway to bring the national board retreat to Oregon in the near future. This will draw members from all over the country to come to Oregon and enjoy the beauty of our state along with our fabulous wines."
Moore has very clear goals for the organization at the national level. She intends to create a better support structure for chapters, including implementing concise communications and establishing by-laws, policy and procedures. She also intends to appoint chapter "foot soldiers" to drive membership and hold events. She is already well on her way to visiting every chapter to meet with all of the boards, which has never happened.
"I wish to foster cohesiveness for this organization, and I can't reiterate enough the importance of driving professional memberships, even in the states that do not have vineyard-winery specific tourism," Moore said.
One of the best vehicles for retaining and driving membership is the WWS biennial national meeting and Grand Event, which takes place every two years and is open to everyone. This year's gala was hosted in Napa, May 4–6, and commenced with a tasting reception — hosted by founding member Margrit Mondavi — featuring wines from most of the chapter regions. The gathering also included winery tours, seminars, a vintner dinner, a luncheon with an award presentation, a silent auction, and an educational day at the California Culinary Institute in St. Helena.
WWS chapters can be found in Napa-Sonoma; Los Angeles; Portland, Ore.; Bend, Ore.; Dallas; Richmond, Va.; Pittsburgh, Pa.; Rochester, N.Y.; Denver; Seattle; New York City; and New Jersey.
For more on WWS, visit www.womenforwinesense.org.
Leah Jorgensen is a communications expert who's worked in the wine industry for over a decade. She consults for several wineries and writes about travel, wine and gluten-free living.