Fine-Tuned Talent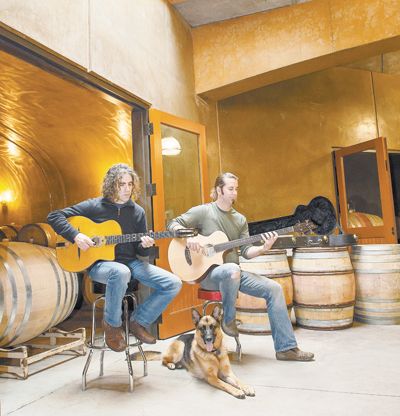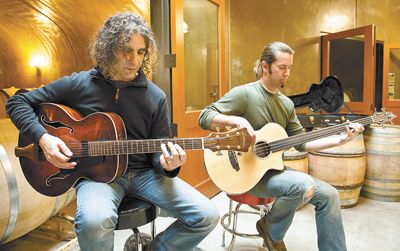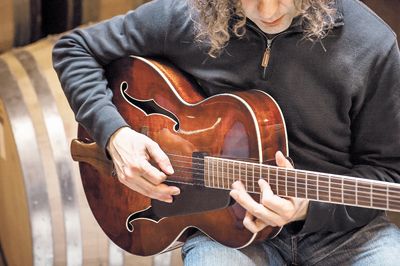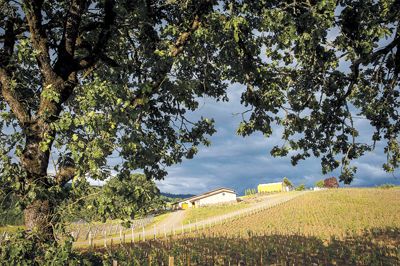 by Mark Stock
For most winemakers, the aha moment usually occurs during crush in a foreign land or while sipping a bottle as old as the winemaker. Jay Somers felt it while Creedence Clearwater Revival's Cosmos Factory spun dizzyingly on his family turntable, conducting an extended clinic in classic rock. An 11-minute version of "Heard It Through The Grapevine" sent shivers down Somers' back, as well instilling a newfound addiction to the electric guitar.
More moments would come, of course. The day he graduated from the University of Oregon with a degree in philosophy and a minor in music. The time he spent opening and brewing for McMenamins Edgefield, where resident grapevines distracted him even more than the Northwest chain's well-known ales. And the fruitful friendship he crafted with — in his words, "the crazed and irreverent" — John Paul at Cameron Wines. Throughout, the hands of the great clock weren't just clicking, they were strumming.
In the late '80s, as Bon Jovi and Duran Duran showed us that rock and synth-pop could coexist in popular music, Somers took a job with McMenamins. He was fresh out of college and eager for work, especially at a place that emphasized two loves: fermentable beverages and live music.
"But I was always more interested in wine," Somers recalled. The cellar, perhaps, would provide a new stage wherein he could apply a bit more of himself … an added touch of creativity, a solo.
Pinot Noir, with its unparalleled expressiveness and sensitivity, was a worthy new instrument to perfect. If Somers could learn to play this tricky grape, his audience might be exposed to something they'd never experienced before.
His musical inclinations were at home in wine country. Like music, the industry had its own rhythm, its own time signature, its own artists. And while it's tempting to run through the long list of musical metaphors that fit so comfortably within wine culture, I don't want to sound like skipping record.
"I look at blending wine like music in that it is a relationship of frequencies," Somers said. "The best wines are achieved when you have a perfect balance, which is very difficult." He went on to praise the beauty of Old World wines, citing terroir, texture, acidity and ageability. "Great wine, like music, should be polarizing," Somers added.
In 1992 — with grunge rock in full force — Somers joined the Adelsheim Vineyards team in Newberg. At this point in his young winemaking career, I can't help but imagine him in torn jeans and flannel, listening to Pearl Jam. Most of the country was, after all. David Adelsheim was the first of many big names Somers worked under. He subsequently worked with John Paul at Cameron in Dundee and ultimately forged a partnership with Dr. Ernst Loosen of German winemaking fame.
Somers bottled his first vintage in the fall of '96, under his own label, J. Christopher Wines, at Cameron. This would prove to be the first of many vintages under that name. John Paul's Old World techniques and offbeat persona had rubbed off on Somers after sharing five years in the cellar.
"John Paul is the best old-school winemaker in the country," Somers said. Dr. Loosen, it turns out, says the same of Somers today.
In 2005, Somers formed the band Poncho Luxurio. The jazz-inspired funk group featured Somers on guitar and a big sound not unlike genre pioneers such as P. Funk and Medeski Martin & Wood. A small but loyal following formed and shadowed the band's every funky move. With only a single riff or keyboard solo, Poncho Luxurio could have the most bashful audience members at the venue dancing like it was their full-time job.
The band played many of the McMenamins venues, with occasional stints at the Goodfoot in Southeast Portland. Somers was identifiable almost immediately, with his long curly hair and speedy guitar riffs. Some of his biggest influences come through in his sound, which meanders carefully through several genres. Whereas traditionalists like John Paul show in Somers' wines, iconic musicians such as Jeff Beck and Kenny Burrell reverberate through his finger work.
Somers reflects fondly on the times he witnessed Miles Davis perform live. "He was an amazing conductor," he remarked. "It's not so different in winemaking" he added. "It's important not to be too overbearing."
Somers, wielding the conductor's wand in the cellar, believes it's important for each voice to be heard, whether it is a piano interlude or a blending adjustment. Controlled integration is what makes bands like the Beatles so fascinating.
As Somers talks about music, he could just as easily be speaking about his wines. He sites the older ascetic as more interesting and less, as he describes it, "processed and predictable." The high alcohol fruit bombs he associates with the New World conjure up images of today's pop stars. Both linear and fleeting.
Unsurprisingly, J. Christopher sports names like "Appassionata" and "Nuages" on its labels. The former refers to a Beethoven sonata while the latter pays tribute to one of Somers' favorite Gypsy Jazz numbers.
While most harvest crews blast Zeppelin every fall, Somers tunes his guitar and plays. In fact, he's sitting in with celebrated Portland jazz guitarist Pete Krebs in mid-July at J. Christopher's stunning new winery in Newberg.
Poncho Luxurio has since dispersed. Winemaking keeps Somers plenty busy, and there's a tone of exhaustion in his voice when talking about booking shows. And while his 20 guitars seem the collection of a performer destined for world tours, Somers is happy enough just playing. "I have a kitchen guitar," he added. "It hangs in the kitchen, and I can play it while the coffee is brewing."
Among his favorite possessions is his 1948 Gibson ES-145 acoustic guitar. Somers also has several Stratocasters, including a Japanese model that rivals for top spot in his guitar room at home. With his collection once peaking at 43, he is aware of his situation. "I have a guitar problem."
He plays guitar everyday. "It's the first thing I do in the morning, it kind of clears my head." Somers also keeps a guitar at the winery, where he enjoys jamming with assistant winemaker Tim Malone, an avid and talented bassist.
Presently, he is part of a four-piece group, hoping to record a full-length album in September, before harvest; it will be recorded at the studio of an old drummer friend in Birmingham, Ala. The project, quite fittingly, is called "Captains of the Frequencies."
When I remind Somers that he could be dangerously close to harvest season by that time of year, he shrugs and says, "Yeah … it's going to be a busy September."
Same old song and dance for Somers, who's been juggling wine and music successfully for 20 years.
Mark Stock, a Gonzaga grad, is a Portland-based freelance writer and photographer with a knack for all things Oregon. He currently works at Vista Hills Winery.