Germanic Jackpot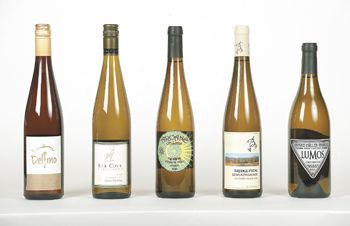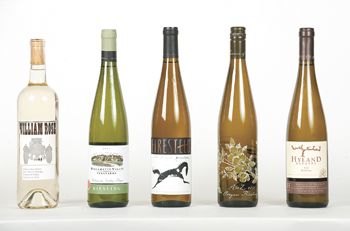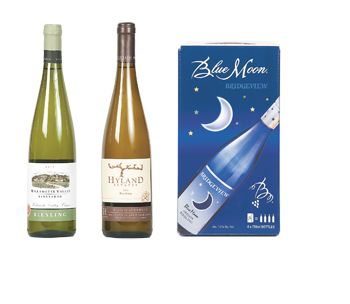 Winegrowers and winemakers around the world devote considerable time and attention to Riesling. And the regal grape's Germanic origins are inevitably referenced as a benchmark of the very best.
Few but devoted aficionados, however, know that the variety, by all accounts indigenous to Germany, can be traced as far back as the 14th century. Records of its planting in the Rheinhessen, the Alsace and the Wachau in Austria date from that time.
Its cousin, Müller-Thurgau, a cross between Riesling and Madeleine Royale, was developed by Dr. Hermann Müller in the Swiss Canton of Thurgau in 1882. When Riesling is referenced, Müller frequently is included in the discussion.
In Oregon, both varieties have thrived and interest is on the upswing. Not surprisingly, the primary focus is on Riesling but owing to its productivity and ease of drinking, Müller-Thurgau seems to be finding a solid place as well.
Occupying a status all its own, Gewürztraminer possesses a unique flavor profile wine drinkers find either irresistibly appealing or over-the-top unattractive. Though the grape is grown in many places around the world, it long ago found its most favorable home in France's Alsace region. There, the wine's intensely spicy, lychee-caramel character most eloquently expresses itself. Elsewhere, winemakers struggle to replicate that elusive richness which is best when the style is dry or just off dry. This session, the panel could agree upon only one wine that approached the classic criteria.
Firesteed 2008 Riesling, Oregon • $12 (6,000 cases)
If we didn't know better, we could have been fooled into thinking someone had slipped a German Mosel into the mix. An aroma reminiscent of wet slate leads into bright, lively acidity that complements grapefruit and flinty flavors.
Hyland Estates 2010 Riesling, McMinnville AVA • $25 (160 cases)
Characteristic varietal expression is evident throughout from a forward, floral aroma to a long, lingering finish. Crisp, tart green apple predominates this clean, come-back-for-more drinker. The style says food friendly.
Bridgeview 2009 Blue Moon Riesling, Oregon • $20 (5,000 3-liter bag-in-the-box)
What a surprise to unveil this ultra-bargain beauty. This wine transcends the banal box image with seductive, come-hither rose on the nose accenting ripe flavors of melon and quince. A light, fresh mouthfeel adds to the enticement.
Elk Cove Vineyards 2011 Estate Riesling, Willamette Valley • $19 (1,220 cases)
Soft and creamy may not be normal descriptors for this variety, but they ring true when backed up by flinty minerality complementing tangy tangerine. Good balance throughout puts the finishing touches on a pretty picture.
A to Z Wineworks 2011 Riesling, Oregon • $15 (918 cases)
The German wine designation auslese, or "selected harvest," in the mode of individual vineyard, or "einzellage," Rhine wine would be applicable to this lush lip smacker. Tasty stone fruit transcends to tropical flavors falling somewhere between peach and papaya.
Willamette Valley Vineyards 2011 Riesling, Willamette Valley • $14 (21,354 cases)
Excellent balance brings a pleasurable experience from first to final sip. Lively, citrus-accented acidity and the fruity sweetness of kiwi and clementine are wrapped in a creamy robe with a long, flowing train. Large production translates to top value.
Arcane Cellars 2010 Sonja's Block Estate Riesling, Willamette Valley • $16 (357 cases)

Superb, sweet styles being one of Riesling's strong suits, this peachy keen example performs a delightfully soft, smooth prance over the palate with sugar and acidity as perfectly paired partners.
Lumos 2011 Wren Vineyard Müller-Thurgau, Oregon • $15 (65 cases)
Viscosity is a word used for a wine that exudes seductively round, supple flavors. Other words that might logically follow include lush and ripe. Tropical, as in pineapple, wraps up the succinct story. Best to go online to buy this limited-production wine.
William Rose 2011 Müller-Thurgau, Willamette Valley • $16 (140 cases)
Instantaneous attraction when glass is lifted to nostrils is a tough act to top. Zesty, racy, citrus and spice make it especially nice. Actually, a German wine named after a Scottish rogue made by an expat Aussie in Oregon should be worth several sips all on its own.
Delfino Vineyards 2011 Müller-Thurgau, Umpqua Valley • $16 (230 cases)
Chock full of nuts is a very complimentary way to describe a wine whose immediate appeal has an almond-like quality in both aroma and taste. Floral accents, suppleness, good acidity and a touch of oak augment the positive impression.
Bridgeview 2010 Gewürztraminer, Southern Oregon • $8 (668 cases)
Gewürz can be great when the unique characteristics of the grape are captured. It's just unfortunate that more Northwest vintners haven't been able to master that trick. From the moment the varietal aroma emerges, it's apparent this is one of those spicy exceptions. And check out the price.
The Oregon Wine Press tasting panel has selected the following wines based on overall quality and value within their respective categories. To the best of our knowledge, they are currently available in the marketplace. Wine must be: 1) produced by an Oregon winery; 2) priced (retail) $30 or less for reds, $30 or less for Chardonnay, $30 or less for dessert and sparkling wines, and $25 or less for remaining varietals; and 3) currently available to consumers. Recommended wines were selected using a double-blind method and a 20-point ranking system for appearance, aroma, taste, balance and finish.