Growing the Garnier Way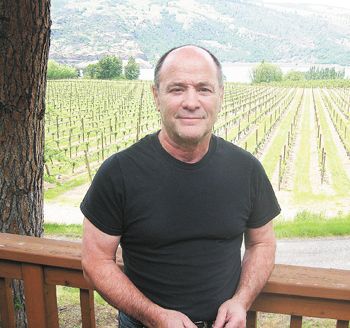 By Stuart Watson
Having a buyer before you plant a vine makes all kinds of sense, but it's rarely how people get into the wine business.
Tom Garnier didn't set out to start a vineyard and winery when he bought the historic Mayerdale Estate in 1999. Situated just east of Mosier, its 335 acres angle gently north from the old Columbia River Highway across I-84 toward the Columbia River.
Up-slope of it all sits a grand, white, four-story manor house, Mayerdale Place. Built in 1910, it was severely damaged in a 1912 fire. Garnier is refurbishing the structure that rose Phoenix-like from those ashes.
A Midwest transplant and owner of SSI Shredding Systems in Wilsonville, Garnier bought the place in '99, attracted as much by the home as the cherry, pear and apple orchards. He quickly learned the vulnerabilities of these trees — rain heavily damaged his crop in 2000 — and began to diversify.
Bill Wayne of Abbey Ridge Vineyard and Cameron Winery guided Garnier's thoughts toward grapegrowing when he bought apples to press for cider. And momentum increased when Argyle Winery's Allen Holstein and Rollin Soles, vineyard manager and head winemaker, respectively, saw the apples and became curious about the potential of the same land to support grapes.
"They came out, looked at it, offered to plant and buy the production," Garnier said. "They wanted Chardonnay and Pinot Noir. We also gave them Merlot and Sauvignon Blanc."
Garnier cleared and planted 15 acres — 10 reserved for Argyle — in 2002, and harvested his first grapes in 2004. On a lark, Jerry Dettwiler, SSI's general manager and now Garnier's winemaker, fermented 90 gallons — 80 percent Syrah, 20 percent Pinot Noir — from that harvest, strictly for personal consumption. They stuck it in a barrel. Forgot about it … neglected it.
"When we remembered it and tapped into it, Carol Ladd, a food stylist in Portland, spit it out on the very first taste," Garnier recalled with a chuckle. Personal consumption, indeed.
Of such humble beginnings is better born. Garnier continued to focus on growing, and selling, to Eola Hills, A to Z Wineworks and J. Christopher. But Garnier decided to get serious about making wine again in 2006, and became licensed in 2008.
"We had no burning desire to make wine," he said. "We sell 80 percent of our grapes, and put the rest in wine."
Released under the Garnier Vineyards label, his wine has limited distribution, through its tasting room, New Seasons markets, E&R Wine Shop in Portland, the Gorge White House and a few restaurants. Garnier's first full-time employee, tasting room manager Dana Higgins, estimates they're producing about 2,500 cases a year, and plan to stay at that number for the foreseeable future.
Like many of his mentors, Garnier believes the finest wines start with quality grapes. "The goal is to have a premier vineyard," he said. "If you've got good grapes, it's easy to make good wine."
Sam Tannahill of A to Z Wineworks in Newberg says Garnier "does a great job at growing grapes." He says he has seen steady improvement in the grape quality from Garnier's vineyards.
"It can be a challenging site because of the high sand content and the winds," Tannahill said. "It all combines for potential sunburn and variable vigor within the vineyard," he said. "All in all, it's a dependable site."
A to Z buys fruit from Ashland to the Gorge, and Garnier Vineyards, Tannahill says, "is squarely in the upper half of our vineyard portfolio. His best grape is Chardonnay." He also likes the Sauvignon Blanc and Pinot Noir from Garnier's site.
"We're looking forward to working with him for years into the future," Tannahill said. "I think there is a great future ahead for the Columbia Gorge."
Garnier hopes, as well, to establish his winery and the old Mayer property as a "hospitality winery" – welcoming events, as well as day-sippers; although he smiles when he says he wants nothing to do with the events themselves.
"We trying to enjoy the passing of time," he said. "Not add to our aggravation."
A veteran Northwest newspaper and magazine reporter and editor, Stu Watson owns Watsonx2 Communications in Hood River.