PDXciting Times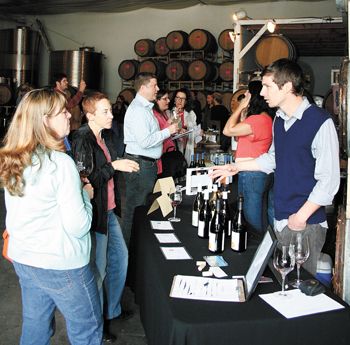 By Jennifer Cossey
Last year, Laurie Lewis of Hip Chicks Do Wine, one of Portland's first wine producers, came up with an idea: Get organized. She wanted to assemble Oregon's growing number of urban wine producers in an effort to gain marketing momentum.
After more than 12 years of crafting wine in the Rose City, Lewis and business partner Renee Neely were thrilled to see so many makers making the move to Portland. Recognizing that there's strength in numbers, she reached out to a number of those wineries, and PDX Urban Wineries (PDXUW) was born.
PDXUW's mission is simple: promote the craft of winemaking in Portland's urban environment as well as its eight member wineries — Alchemy Wine Productions, ENSO Winery, Grochau Cellars, Helioterra Wines, Hip Chicks Do Wine, Jan-Marc Wine Cellars, Seven Bridges Winery and Vincent Wine Company — while providing a forum for members to share best practices.
For Lewis, acting president of the association, it's all about the wine lover's experience.
"I see PDX Urban Wineries as the gateway to Oregon wine," Lewis said. "We allow wine consumers to access locally made wines easily by car, bike, bus and taxi. We are an excellent representation of the diversity of Oregon wineries in both winemaking style and varieties — among all of our members, we produce wine from more than 14 different grape varietals. Urban winemaking allows us to make our wines closer to where we all live. It also allows us to bring a unique experience to the wine consumer."
In celebration of its first year, PDXUW hosted a wine tasting event, June 9, with member wineries sampling 20-plus wines — from Rosé, Pinot Gris and Viognier to Pinot Noir, Mourvedre and Cabernet Sauvignon — for trade and consumers. New releases and limited-quantity offerings were poured alongside cheeses from Portland Creamery and confections from Roll Chocolates.
Nic Donahue, owner of and winemaker for one of PDXUW's newest members, Alchemy Wine Productions, was on hand at the June tasting event sharing his Oregon Viognier, Oregon Pinot Noir and Santa Barbara Syrah. Donahue and his wife, Gracey, moved from Santa Barbara to Oregon to follow their love of winemaking.
"We conceived Alchemy in 2004 and have worked blood, sweat and tears for our dream," Donahue said.
In 2007, while working as assistant winemaker for Carr Winery, a Pinot Noir-focused urban winery, he was bitten by the Pinot bug. Knowing Oregon's "spectrum of growing regions," the Donahues moved to Portland to share their passion for making great wines in an urban setting.
"We loved Oregon and knew that its outdoor elements, more affordable living and progressive community could give us a better quality of life for building our family and business," Donahue said. "We made Portland the epicenter for our project because we share interests in a self-sufficient artisan community and believe that urban wineries can play an integral part."
Also present and pouring its Washington Merlot, reserve Malbec and "Resolution," a delicious blend of Cabernet Sauvignon and Merlot was one of the founding members of the PDXUW, Seven Bridges.
The brainchild of Jill Ross, her winemaker husband, Kevin, and co-owner/co-winemaker Bob Switzer, Seven Bridges is, without a doubt, a proud city outfit.
"When the three of us decided to turn what had been a hobby in our garage into a commercial winery, we considered making wine in the Newberg or Yamhill area, but since we all lived on Portland, the commute seemed unreasonable," Ross said. "We decided to focus on what we liked about making wine in our garage: the closeness to our families and jobs during harvest."
Entering its fifth commercial vintage, Seven Bridges has experienced positive effects from joining PDXUW.
"The winemakers all work as a resource to help each other, whether it is sharing equipment, advice or a beer at the end of a long day. It is a great to be a part of [this association]," Ross said.
Portland's wine industry is not only gaining attention, but also winning the praise of critics, too. For Lewis, Ross, Donahue — and the other members of PDXUW — the growth of the urban wine scene is a positive sign for the future. "I think that the urban wine movement is just going to continue to grow and at an exponential rate," Lewis said.