Malbec Booster Club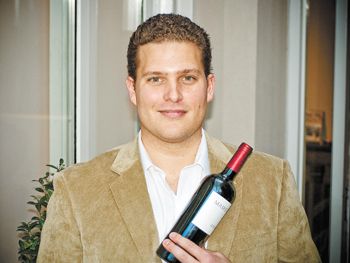 By Janet Eastman
of Medford Mail Tribune
Malbec is famous in Argentina, but its acclaim is growing in Oregon, too, thanks to local producers and an expat from Portland trying to place more bottles of the affordable, food-friendly red wine on shelves.
Daniel Karlin planned to backpack around the world for two years when he arrived in Argentina in 2004 and fell in love with a woman and the country. He married Lourdes and launched Anuva Wines in Buenos Aires in 2007 to introduce visitors to the region's boutique wines and sell wine-club memberships.
With the boom in Argentine wine and travel, his business has grown to seven employees and now he distributes to the U.S. while still continuing to host educational wine events in a glass-wrapped loft in Buenos Aires' pretty Palermo neighborhood.
"The original idea was to present wine tasting for visitors and that quickly grew," Karlin said. "Now I work like crazy when I come to Portland twice a year. I'm starting to distribute, and there are more accounts to visit, events to plan, work managing inventory and the normal wine business tasks."
He laments how restaurants in the Pacific Northwest are too weighted to Pinot Noirs and Cabs, and suggests they become more adventurous with Malbecs, a fruit-forward red wine with soft tannins. He and his wife pair tomato-garlic-basil pizza with a light-bodied Malbec that has "the structure of an easy, soft, feminine Pinot," he says. Or they pour a big, heavily oaked Malbec to serve with a pork shoulder grilled for hours on the barbecue.
Although wine has been part of the Argentine culture since the 1500s, most of it is still consumed domestically. It wasn't until the 1990s that there was a push to export. Now Argentina is one of the top five producers of wine as well as a top supplier to the U.S.
Karlin likes to educate people about the wines and the region through podcasts and blogs posted on his website, www.anuvawines.com.
Karlin says, "Wine drinking in Argentina is casual." But it can be complicated, especially compared to easy-going Oregon. Kurt and Laura Lotspeich of Trium Wines in Talent spent a few weeks in Buenos Aires and Mendoza in the spring and noted that Argentine wineries are remote, reservations are required and fees hover around $50. Anuva charges $48 for five tastes paired with tapas.
Karlin says Oregon offers a wide range of tasting opportunities and areas, but that's not the case in the country where urban tango and rural grass-fed cows reign. "Argentina is generally seen by people as having two parts: Buenos Aires, the capital, and everything else is considered countryside," he said. "When I first started going to Mendoza, there were no wine tastings." Now there are a variety of tasting rooms and tour companies.
In Oregon, however, Malbec is still "a drop in the bucket," according to Charles Humble of the Oregon Wine Board. Malbec is listed as 'other' in the Portland-based state agency's annual survey. "That means it's in a group that totals about 3 percent of the total," he said.
But that statistic may be changing. In Southern Oregon, Randy Gold of Pacific Crest Vineyard Services planted vines in the 1990s, and his Talent vineyard now supplies fruit to a handful of wineries.
Seasoned producers include Earl Jones of Abacela in Roseburg and Gus Janeway of Velocity Cellars, whose Malbecs are available at DANCIN Vineyard's tasting room in Medford.
Other wine producers in Southern Oregon are enthusiastic.
Daisy Creek Vineyards in Jacksonville won a silver medal at this year's Greatest of the Grape for its 2009 Malbec made by RoxyAnn winemaker John Quinones — RoxyAnn blends Malbec grown in its Medford vineyard into a Claret. A Malbec from Spangler Vineyards in Roseburg won Best of Show at Greatest of the Grape in 2010 and Misty Oaks Vineyard in Oakland won a gold medal for its 2008 Malbec at the Southern Oregon World of Wine.
Dana Campbell Vineyard, which is opening its Ashland tasting room in the fall, sold out of its 2008 Malbec but has a 2009 to replace it.
Others are catching up with gusto. Grizzly Peak Winery in Ashland and Pyrenees in Myrtle Creek and Roseburg have released their first year bottlings while Ledger David Cellars' first Malbec, a 2011 vintage, is currently in barrel, waiting its turn to be sold in the Central Point tasting room. Kriselle Cellars will release its 2010 Malbec — now aging in French oak — when the winery opens its tasting room this fall in White City.
Serra Vineyards planted about seven acres in 2011 and Applegate Valley neighbor Troon Vineyard has dedicated acres for its fast-growing program. Other wineries with Malbec on the menu are Agate Ridge Vineyard in Eagle Point, Del Rio Vineyards in Gold Hill, EdenVale Winery in Medford and Ashland, Glaser Estate in Roseburg, Plaisance Ranch in Williams, South Stage Cellars in Jacksonville and Wooldridge Creek Winery in Grants Pass.
Wherever a Malbec is tasted, Karlin of Anuva says, it's a piece of Argentine culture and enjoying it is "all about meeting people and having a good time."
Reprinted from the Medford Mail Tribune. Janet Eastman, who visited Argentina in April, is the Eno Outings wine columnist for the Medford Mail Tribune. Her columns can be seen at www.mailtribune.com.