Jam-Packed Plates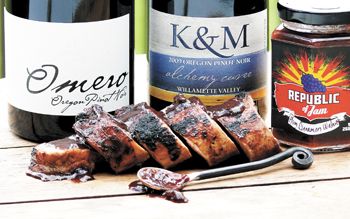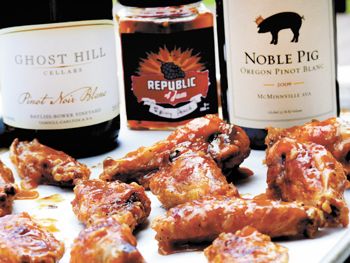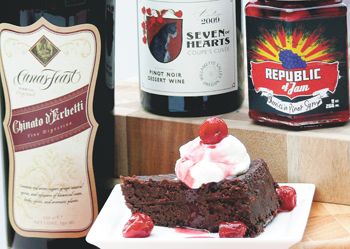 Copy/Photos by Cathy Pollak | Recipes by Republic of Jam
Oregon Wine Press asked Carlton's culinary pros, Lynnette Shaw and Amy Wilder of Republic of Jam (RoJ), and food blogger/winemaker Cathy Pollak of Noble Pig, to create a trio of jam-infused food and wine pairings. As you will discover, they delivered deliciously.
Keeping it local, the six wines chosen can be found at their own individual tasting rooms inside Carlton city limits. If you've never been to the Republic of Jam, surely the following will convince you to make the wine country trip.
Plum Cinnamon Walnut-Glazed Pork Tenderloin with Plum Gravy
The tender and juicy Carlton Farms tenderloin is the perfect medium for delivering a slightly sweet but savory serving of plum gravy. The gravy's garnet hue, creamy consistency and richly spiced plum flavors make this offering a perfect match for a structured Oregon Pinot Noir. The pork is elegant in its presentation but rustic and casual enough to serve for an informal weeknight meal. Your guests will imagine you worked the entire day creating the perfectly glazed and well-dressed meat in their honor. You mustn't disappoint them and let them know how easy it was.
Plum Cinnamon Walnut Glaze
INGREDIENTS
½ cup RoJ Plum Cinnamon Walnut Jam
2 teaspoons Chinese five-spice powder
2 tablespoons whole black peppercorns
2 tablespoons water
½ teaspoon salt
Pork Tenderloins
2 (12 to 14 ounces) pork tenderloins
* salt and pepper
1 tablespoon butter
Plum Gravy
* pan juices from roast pork
3½ cups chicken stock
½ cup dry red wine
¼ cup RoJ Plum Cinnamon Walnut Jam
1/3 cup all-purpose flour
DIRECTIONS
GLAZE
1. Simmer jam, five-spice powder, peppercorns, water and salt in a small saucepan, stirring until jam is melted, about 3 minutes. Press glaze through sieve, discarding solids; cool. TENDERLOIN: 2. Preheat oven to 375°F. Heat butter in large ovenproof skillet over medium-high heat. Season pork with salt and pepper. Sear the pork on all sides until golden brown; about 6 minutes. 3. Transfer skillet to oven, basting pork occasionally with juices until thermometer reads 135°F. Baste with plum glaze and continue cooking until internal temperature is 145°F. Transfer pork to cutting board. Tent with foil; let rest 5 minutes. GRAVY: 4. Make gravy while tenderloin stands. Transfer pan juices to a 2-quart glass measuring cup. Skim any visible fat, reserving 3 tablespoons. Add enough chicken stock to pan juices to total 4½ cups. Set aside. 5. Straddle roasting pan across 2 burners; add wine and deglaze pan by boiling over moderate-high heat. Scrape up any brown bits. Boil until wine is reduced by half, about 5 minutes. 6. Add stock mixture and jam; boil, stirring until jam is melted. 7. In a large, heavy saucepan, whisk reserved fat and flour together, cooking roux over moderately low heat, about 3 minutes. Add hot stock mixture in a fast stream, whisking constantly to prevent lumps. Simmer, whisking occasionally, until thickened, about 5 minutes. Stir in pork juices accumulated on platter and simmer 1 more minute. Season with salt and pepper. Serve pork with gravy.
WINE PAIRINGS:
K&M 2009 Alchemy Cuvée Pinot Noir, Willamette Valley
Rich blueberry flavors as well as hints of earth and wild herbs marry favorably with the nutty essence of the walnut-glazed pork. The wine's brightness of red fruit flavors awakens the enticing spice and pepper nuances found in the food.
Omero Cellars 2010 "Odyssey" Pinot Noir
A vivid, youthful aroma of fresh plums, layers of strawberry-spice and violet intermingle with hints of cinnamon and walnuts in the gravy. The ripe tannins and oaky vanillin create a well-structured pairing robust and well balanced in every bite.
Spicy Peach Miso-Glazed Chicken Wings
These intensely flavored, crispy wings are an exceptionally balanced, mouthwatering combination of spicy meets sweet. The "heat" resonates from the jalapeño and red pepper flakes found in RoJ's Spicy Peach Jam. Deep, savory flavors come from a combination of shallots, garlic, soy and fish sauces in the glaze. Truly a unique combination of tastes, rivaling any chicken wing recipe I have ever tasted. This will undoubtedly become your go-to family wing recipe, taking you through the summer season and right through to Super Bowl Sunday.
Spicy Peach-Miso Glaze
INGREDIENTS
1 tablespoon butter
1 tablespoon minced shallot
1 teaspoon minced garlic
* kosher salt
* freshly ground black pepper
½ cup chicken stock
½ cup of RoJ Spicy Peach Jam
2 tablespoons shiro (white) miso
3 tablespoons red wine vinegar
1 tablespoon soy sauce
1 tablespoon fish sauce
Chicken Wings
5 pounds chicken wings, tips removed, drumettes and flats separated
2 tablespoons vegetable oil
1 tablespoon kosher salt
½ teaspoon freshly ground black pepper
DIRECTIONS
GLAZE
1. In a small sauté pan, melt butter over medium heat. Add shallot and garlic, sautéing
until translucent. Season with a two-finger pinch of salt and some pepper. Add stock, jam, miso, vinegar, soy sauce and fish sauce. Bring to a simmer and cook for 30 seconds; remove from the heat. Glaze can be used immediately or refrigerated up to 2 days. WINGS: .2 Preheat oven to 400°F. Combine oil, salt and pepper in a large bowl; toss with wings to coat. Divide wings between prepared pans and spread out in a single layer. Bake until cooked through and skin is crispy, 45–50 minutes. 3. Add wings to glaze; toss to coat. Place wings in a single layer on baking sheets and return to oven. Bake until glaze is glossy and lightly caramelized, 8–10 minutes.
WINE PAIRINGS
Noble Pig 2009 Pinot Blanc, McMinnville
A subtle combination of pear and apple notes play nicely with the "spicy heat" found in the chicken wings. Hints of white peach with a citrus edge and crisp acidity also meld agreeably with this dish, highlighting the wine's overall intense, fruity characters.
Ghost Hill Cellars 2010 Bayliss-Bower Vineyard Pinot Noir Blanc, Yamhill-Carlton
The wine's stunning aroma of stone fruit and ginger immediately engages the spicy-sweet flavors found in this recipe. Well-rounded tastes of pineapple and candied lemon offset this zesty dish in a great way, making both the wine and food a tasty treat.
Gluten-Free Chocolate Espresso Cake with Cherries in Pinot Syrup
A chocolate lover's dream, this dessert is highlighted intensely by the addition of espresso and freshly ground black pepper. The complex flavors and subtle spiced notes meld sensationally into the irresistible creamy-smooth texture of this cake. It's justifiably a decadent example of dessert at its finest, one that left me speechless and reminiscing about it for days. RoJ's Cherries in Pinot Syrup and a final dollop of whipped cream contribute to the indulgent experience, one I wish to partake in again and again. Make this for someone you love; they will adore you with every bite.
INGREDIENTS
12 ounces semisweet chocolate, chopped
4 ounces unsweetened chocolate, chopped
1 pound (4 sticks) unsalted butter, diced
1 cup freshly brewed espresso or 1 tablespoon instant espresso powder dissolved in 1 cup water
1 cup (packed) golden brown sugar
1 tablespoon freshly ground black pepper
8 large eggs, lightly beaten
* heavy cream
1 jar of RoJ Cherries in Pinot Syrup
DIRECTIONS
1. Preheat oven to 350°F. Line bottom of 9-inch (diameter) cake pan with 2-inch high sides of parchment. Place all chocolate in large bowl. Bring butter, espresso, sugar and pepper to boil in medium saucepan, stirring to dissolve sugar. Add to chocolate and whisk until smooth. Cool slightly; whisk in eggs. 2. Pour batter into prepared pan. Place cake pan in roasting pan, adding enough hot water so it comes halfway up sides of cake pan. Bake until center of cake is set and tester inserted in center comes out with a few moist crumbs attached, about 1 hour. Remove cake pan from water. Chill cake overnight. 3. Run knife around pan sides to loosen cake. Using oven mitts as aid, hold pan bottom over low heat for 15 seconds, warming slightly to release cake. Place platter over pan. Hold pan and platter together tightly and invert. Lift off cake pan; peel off parchment. 4. Whip heavy cream to soft peaks. Serve cake with a dollop of cream and some cherries, drizzling the cream with the Pinot syrup.
WINE PAIRINGS
Cana's Feast Chinato d'Erbetti
A true original made with Nebbiolo grapes, gentian (a well-known medicinal bittering agent), extracts of 18 different botanicals and an eau de vie. Overall, this spicy and vermouth-inspired Chinato is an absolute must-try with this deeply rich, complex cake. The cake's black pepper notes play gracefully with the black pepper-sarsaparilla-vanilla flavors present in the Chinato. Together, the tastes are so appealing and even provided a peppery, warming note to the Cherries in Pinot Syrup. I can honestly say I have never tasted anything like it.
Coupe's 2009 Cuvée Pinot Noir Dessert Wine, Willamette Valley
A captivating, aromatic dessert wine with sweet cherry flavors and hints of cedar. Every sip with a bite of this cake accents the great spices found in both the wine and the dessert. There is nothing more classic than the pairing of chocolate and cherries. This, by far, delivered on that iconic, jammy union of flavor nirvana.
REPUBLIC OF JAM
Address: 211 W. Main Street, Carlton
Hours: Mon., Thur.–Sun., noon to 5 p.m.
Phone: 503-395-JAM1
Web: www.republicofjam.com
Current Offerings: Smoked Tomato Jam with Fennel, Apricot Beer Thyme, Blueberry Syrah Black Pepper, Mango Viognier, Rhubarb Rosemary, Boysenberry Orange Thyme, Apple Juniper Mostarda di Carlton, Rhone Style Strawberry and more.