What's on the Wine List?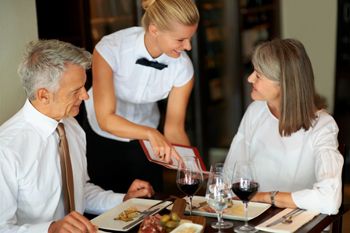 By Karl Klooster
Not so long ago, restaurants offering Oregon wines were scarce.
Here on home turf, diners might have been able to regularly order from a nice selection of Oregon options. When they stepped out of state, it was an entirely different story. The farther one strayed from the Pacific Northwest, the less the likelihood of meeting people who even knew Oregon made wine, much less finding it offered at a dining establishment.
Thankfully, the condition has changed. Consistent high quality is, of course, the primary reason. Make a good product and they will take notice. Make a good product that is fabulously food-friendly, and they will put it on the list.
Ongoing promotional efforts on the part of the industry is the second reason. Oregon wines are very personal. There's nothing more persuasive than experiencing first hand the dedication of the people producing them.
Taking all this into account, it's not so surprising to discover that more and more restaurants are making Oregon wines available to their patrons. In fact, a recent survey conducted by Wine & Spirits revealed some surprising and gratifying results.
The magazine's annual national report of the most popular wines in restaurants listed 259 domestic and imported brands.
An impressive 24 Oregon wineries made the list — A to Z, Adelsheim, Argyle, Benton Lane, Bethel Heights, Boedecker, Brooks, Chehalem, Domaine Drouhin, Domaine Serene, Elk Cove, Evening Land, The Four Graces, J. Christopher, Ken Wright, King Estate, Lemelson, Montinore, Patricia Green, Penner-Ash, Ponzi, REX Hill, Westrey and WillaKenzie Estate.
California accounted for 88 and 127 were from foreign countries, in this order: Italy, France, Spain, Australia and New Zealand.
Given that Oregon makes slightly less than 1 percent of America's wine, and a minuscule .01 percent of the world's wine, accounting for almost 10 percent of the most popular restaurant wines is quite an accomplishment. To gain a better perspective on those numbers, consider this: Last year, Oregon produced 2.65 million cases; the U.S., 297 million cases; and the world, 2.98 billion cases.
Highly regarded by the trade, Wine & Spirits Magazine has been publishing its annual restaurant survey for 23 years.
As a percentage of total restaurant sales, wine sales had been dipping the past few years. But they began a rebound last year that is continuing in 2012.
In 2011, 62.6 percent of survey respondents said wine sales were on the increase, as a percentage of restaurant sales. In a recent mid-year survey, 69.8 percent of respondents said the same.
The average price per bottle, which stood at $62 four years running, shot up to $69 in 2012. Remember, of course, that restaurant prices for currently available wines can be twice or even three times retail.
Also keep in mind that the variety of restaurant offerings appears rather different from those on wine shop shelves. You will usually find more imported Champagnes, Ports and sherries, skewing the prices points a bit.
What makes the local showing even more impressive is that only one Oregon winery, Argyle, makes sparkling wine. High-end specialty wines in the Champagne and Oporto categories filled a dozen placements on the Wine & Spirits list themselves. All the others deal solely in still table wine, which means they go head to head in a very competitive category.
Domestically, California, Washington and New York are vying for all those red, white and rosé slots. Internationally, France, Italy, Spain, Germany, Australia, New Zealand, Chile and South Africa offer strong contenders across a range of price points.
Taking a look at the Oregon wineries on the list, it's apparent that Pinot Noir is almost entirely responsible for the place they have earned at the table.
There may be a few exceptions — a Pinot Gris here, a Chardonnay there, or perhaps even a Riesling or a Sauvignon Blanc — but by and large, its all about Oregon's interpretation of the elegant Burgundian grape.
That's not to say there aren't some other outstanding Oregon varietals and blends. However, as yet, they haven't been able to capture the attention of out-of-state buyers. When you're making a Bordeaux, Loire or Rhone type of wine, the originals are very tough to beat. Besides, Californians make abundant versions of those French wines.
As television's obsessive-compulsive detective Adrian Monk says, "It's a jungle out there." Thus, only the greatest of the grape — in value, quality and/or quantity — can expect to consistently make the cut.