Sunny Sips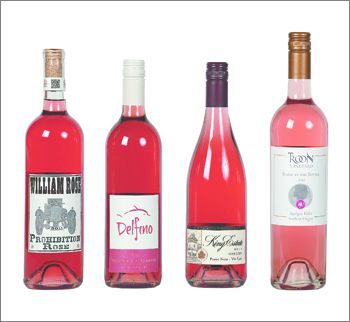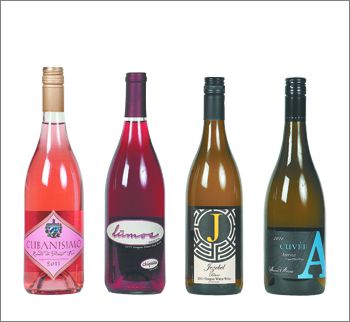 Rosé has emerged as a brilliant way for Oregon to go, especially, but not exclusively in regard to Pinot Noir. Given the prevalence of the Burgundian grape in the Beaver State, good rosés are being made under challenging harvest conditions and very good ones are emerging from great vintages.
Younger vines and vineyards at higher elevations can be well utilized for this age-old alternative that is apparently returning to favor. The excellence to which Oregon rosés might rise if some of the best grapes in the best years were used to make them, is another question. One thinks of Anjou Rosé from the Loire and Tavel Rosé from the Rhone.
The dilemma, of course, is not being able to justify the cost.
Meanwhile, the six exceptional examples below demonstrate how good our rosés can be given current production decisions on a winery-by-winery basis. As with most fresh-style rosés and whites, all of these wines are best enjoyed when chilled.
Addressing the other aspect of this tasting, the approach to blending white wine in Oregon can be literally all over the map in place of origin and across the board in varieties used.
Below you'll find a couple of white blends whose well-crafted character lifted them well above the rest.
William Rose 2011 Prohibition Rosé, Southern Oregon • $15 (113 cases)
Calling this wine Rose's rosé could become confusing but nothing is unclear about its bold, berry flavors and mouthfilling satisfaction. A blend of Merlot and Syrah, cedar and minerality complete a stylish overall impression. Nicely balanced throughout.
Delfino 2011 Vin Gris de Zinfandel, Umpqua Valley • $14 (254 cases)
Leave it to Southern Oregon to do something interesting with one of the world's most chameleon-like varieties. You can make almost any kind of wine from Zinfandel, and if you do it right, it will likely turn out better than all right. Here's an example that has a lot going on flavor-wise, led by cranberry, strawberry, dill and a hint of oak. Round and weighty in the mouth.
King Estate 2011 Pinot Noir Vin Gris, Oregon • $15 (1,200 cases)
Talk about how fresh Pinot fruit can bring out interesting flavors. Tasters detected watermelon, cherry, grass, pine nuts and hints of butter in this stainless steel-fermented wine that never spent a second in wood. Floral aromas, multi-layering in the mouth and good balance add up to more for the money.
Troon 2011 Jeanie in the Bottle Rosé, Applegate Valley • $14 (900 cases)
As its whimsical title implies, something magical can come from a bottle of wine. In the case of this Southern Oregon beauty, the place of origin is shared, but the constituents, diverse. Zinfandel, Sangiovese, Merlot, Syrah and Cabernet Sauvignon all contribute to this champion-caliber lightweight whose tastiness combines strawberry, kiwi, fresh herbs and a hint of sweetness.
Cubanísimo 2011 Rosado de Pinot Noir, Willamette Valley • $19 (139 cases)
As incongruous as the "height of Cuban character" may sound for an Oregon wine, this local rosado puts it all together in a muy bueno manner. Bright, fresh berry countered by tangy green apple makes this a sweet-and-sour temptation that is light, bright, juicy and tart, all at the same time.
Lumos 2011 Chiquita Pinot Noir Rosé, Oregon • $20 (114 cases)
The grape may be Pinot Noir, but the taste is surprisingly and oh, so satisfyingly similar to those fragrant, juicy, strawberry and red cherry classics yielded by the true Gamay grape from France's Beaujolais region. And the color hovers on the brink of red.
Daedalus Cellars 2010 Jezebel Blanc, Oregon • $14 (595 cases)
This wine delivers way more than its initial credentials would indicate. A cleverly crafted blend of Pinot Gris, Gewürztraminer, Riesling, Pinot Blanc and Muscat, the combination of varieties expresses themselves in tasty ways. An irresistible zestiness leads to a burst of tropical fruit, grapefruit, quince and papaya on the palate.
Anne Amie 2011 Cuvée A Amrita White Wine, Oregon • $12 (2,817 cases)
According to the winery, Amrita means ambrosia in the Buddhist dialect. In an effort to meditate on the character of a wine that carries such a definition and tops the alphabet to boot, we found much to consider on several levels. A floral, spicy aroma topped off with a waft of cooked sugar. A combination of red fruit and tangy citrus on the mid-palate. All in all, a vinous effort in which both nature and man can take pleasure.
The Oregon Wine Press tasting panel has selected the following wines based on overall quality and value within their respective categories. To the best of our knowledge, they are currently available in the marketplace. Wine must be: 1) produced by an Oregon winery; 2) priced (retail) $30 or less for reds, $30 or less for Chardonnay, $30 or less for dessert and sparkling wines, and $25 or less for remaining varietals; and 3) currently available to consumers. Recommended wines were selected using a double-blind method and a 20-point ranking system for appearance, aroma, taste, balance and finish.