Milestones in the Making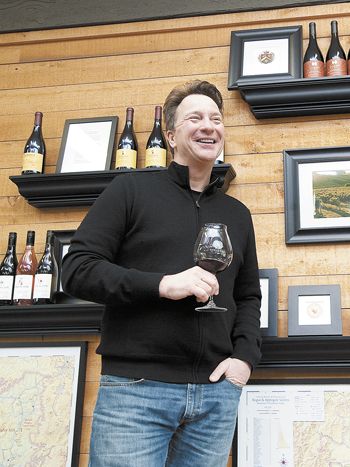 By Karl Klooster
A decade is worthy of note and the passage of a quarter century is a significant time span to reflect on personal progress and look back on accomplishments along the way with a justifiable sense of pride.
This year provides just such an opportunity for Oregon winery owner and winemaker Joe Dobbes Jr. Though it's coincidental, Dobbes began making wine in Oregon in 1987, 25 years ago, and he opened his winery, Wine by Joe, in 2002, 10 years ago.
It's been a long, eventful journey for the native Oregonian, marked by numerous milestones along the way. No matter where it took him, however, the ultimate destination was always certain.
As a young man, Dobbes determined his life's work would be in wine, and eventually, he would find a way to be in business for himself.
Though he said it was an evolutionary process, the desire seems likely to have taken root, so to speak, when as child he helped his father, Joe, Sr., tend the family vineyard located between Molalla and Mt. Angel in the eastern part of the Willamette Valley.
Named Marquam Hill Vineyard & Winery, the operation was acquired in 2007 by two brothers who have renamed it AlexEli. Though Dobbes never worked there, the association still comes up on occasion. There's even a Dobbes Lake nearby.
After graduation from Southern Oregon University in Ashland, he headed to Western Europe, where his wine training spanned 2 1/2 years working for top-tier producers in Germany and France.
His first job was in 1985 as an apprentice at Weingut Erbhof Tesch in Germany's Nahe region, where he immersed himself in learning the basics of the business, particularly as it applies to Riesling and Gewürztraminer.
When he returned to Oregon, he landed a cellarmaster spot with Elk Cove between 1987 and 1988; this was his first opportunity to work with Pinot Noir.
Now wanting to hone his abilities in handling the fickle Burgundian grape, he returned to Europe in 1988, apprenticing for both Domaine G. Roumier in Chambolle-Musigny and Domaine Comtes Lafon in Meursault.
In the heart of the Côte d'Or, his work with maitre vignerons Christophe Roumier, focusing on Pinot, and Dominique Lafon, vinifying both Pinot Noir and Chardonnay, provided a firm foundation to the budding young winemaker.
He returned to Oregon in 1990 and secured the winemaker position at Hinman Vineyards, where he remained until 1995 and was instrumental in launching the Silvan Ridge brand.
In 1996, Willamette Valley Vineyards founder Jim Bernau asked Dobbes to join the rapidly growing company as winemaker and V.P. of production, overseeing the WVV, Tualatin Estate and Griffin Creek labels.
Wines made during his six-year tenure received numerous accolades, including "Top 100 of the World" for the 1996 signature cuvée Pinot from Wine Enthusiast, as well as the honor of serving Tualatin Estate 1999 Semi-Sparkling Muscat at the White House.
By 2003, Dobbes felt ready to strike out on his own. With a wealth of knowledge and experience, but a nest egg of only $50,000, he persuaded his former employer to allow him to make wine at the Tualatin Estate facility.
Dobbes Family Estate and 20 custom-crush clients constituted the initial base. Wine by Joe was launched the following year. With the addition of Jovino in 2005, Dobbes had his business model in place.
That year, he secured a 55,000-square-foot facility in Dundee. Within a year, no longer putting in all those hours for someone else, he had vaulted his custom crush operation into the state's eighth-largest winery, with 76,000 cases annually.
Dobbes, consistently one of the state's hardest working winemakers, obviously made up for in effort and inventiveness what he had lacked in capital investment.
In March 2009, at the height of the recent and only slowly recovering great recession, Dobbes said, ""When times get tough, people get nimble, more disciplined internally. Not to sound trite, but when you're faced with this sort of thing, you really have to be lean and mean."
That mindset continued to see him through and kept the Wine by Joe team ahead of the curve. An employee-run charitable giving program as well as ongoing promotional dinners and tasting events have lent stature to the Dobbes name.
Then came the push that put things over the top. In late 2011, Dobbes forged an agreement with Bacchus Capital Management, a New York-based venture capital firm, to make a substantial investment in Wine by Joe LLC.
The infusion of funds has allowed the winery to begin rapid and aggressive expansion of its marketing and distribution efforts both nationally and internationally. Dobbes has been on what amounts to a roller coaster ride ever since.
"I started traveling way more almost immediately after the deal with Bacchus was signed, and I haven't slowed down since," he said.
One thing, however, did cause him to smile broadly and briefly pause to exchange high fives with his staff before heading out once again.
In January 2012, Wine Business Monthly named Wine by Joe the "Number One Hot Small Brand" in the nation. Now that was something to celebrate.
The accolade put icing on the cake to the 10- and 25-year milestones that the Dobbes extended family — which includes not only relatives but also staff, associates, friends and customers — intends to acknowledge with a series of public events over the next several months.
WINERY INFO
Dobbes Family Estate Tasting Room
ADDRESS: 240 S.E. Fifth St., Dundee
HOURS: Daily, 11 a.m. to 6 p.m.
PHONE: 503-538-1141
WEBSITE: www.joedobbeswines.com