Plans for New Hotel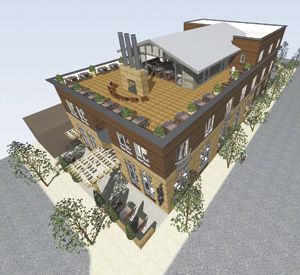 By Nicole Montessano
Bob Emrick, longtime CEO of Western Oregon Waste, has a new project, a downtown hotel and restaurant in McMinnville.
He has submitted plans to city planning and building authorities for a three-story, 21,156-square-foot wood and brick structure. It would replace the existing building at the corner of Third and Galloway streets.
Plans call for a restaurant and mixed retail space downstairs, with hotel rooms above. A rooftop dining pavilion would afford views to the south, east and west.
The building would be set back 13 feet from the sidewalk along its Third Street frontage, providing room for an outdoor dining plaza. Parking would be provided on the back side, off Fourth Street.
"The building design was carefully considered to match the pedestrian scale and details of the buildings in the downtown core," architect Nathan Cooprider stated in the application.
Cooprider said the building would feature rustic golden brick below with dark earth-toned wood above.
"The intent of the design is to have timeless and authentic local materials that provide interest through a highly textural quality," he said. "Because the traditional masonry craftsmanship which resulted in the ornate brick facades of historic Third Street no longer exists, we feel the best way to achieve harmony with those buildings is to select materials which have a natural interest and texture and to apply them in a thoughtful and well-constructed way."