Pure Beef: Pure Brilliance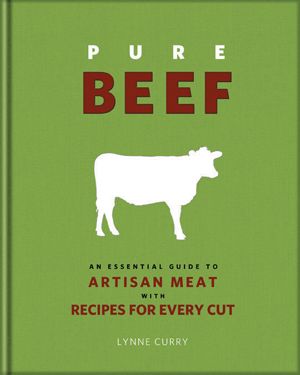 Review by Kerry Newberry
The just-released culinary tome by food journalist Lynne Curry is an ode to artisan beef for every season.
In "Pure Beef: An Essential Guide to Artisan Meat with Recipes for Every Cut" (Running Press 2012; $30), Curry writes: "I love grass-fed beef for its resounding flavors. It starts out faintly sweet, like the clover stem I chewed as a kid while lying on the lawn in the summertime, then blooms with earthy, savory nuances."
A former city dweller and vegetarian turned country-carnivore, Curry rediscovered meat after her family moved to the Wallowa Valley in Eastern Oregon — a region that has supported cattle since the 1840s when the Nez Perce Indians drove herds.
Curry writes, "There is no better place to write a book about beef — especially grass-fed beef — than Eastern Oregon."
This sentiment rings true as the writer shares her ranch-to-table journey. Intended as a complete guide to artisan beef, the book is much more than a comprehensive collection of instruction, insight and recipes.
To understand how beef is made and sold, Curry spends one year following the food chain from the rangelands in Oregon to regional meat processors and retailers.
The writer delves into all the facets of meat production with thoughtful narrative and vignettes in the first part of the book, and presents a heartfelt glimpse into the life of the tight-knit ranching community she calls home.
One essay, in particular, describes what is called "harvest day." Perhaps this is an unexpected detail for a cookbook, but one that I think elevates Pure Beef to an essential read for all meat eaters.
A resident of the Wallowa for ten years, Curry has had a birds-eye view as fourth-generation ranchers convert their long-standing family businesses into certified grass-fed beef operations. These farmers are joining or, in some cases, leading the grass-fed revolution.
"The artisan beef movement is momentous to these ranchers, the cattle, the lands. And we, the eaters, are the greatest beneficiaries," writes Curry.
In the introduction, Curry sets the tone as she reflects on the first Plate & Pitchfork farm dinner held at Carman Ranch — at 350 miles from the metro area, it was also the farthest afield. It was a five-course celebration of grass-fed beef and Oregon wine with a whole-animal menu of steak tartare, glazed short ribs and grilled strip loin, accompanied by late-summer vegetables. Primarily, she remembers the wonder and curiosity the diners expressed when learning about the provenance of their food — one of many reasons she felt compelled to write "Pure Beef."
The book is a welcome addition to the kitchen of all meat-eating locavores and any reader intrigued by the changing landscape of meat production. The first section of the book consults on all of the issues beef consumers want to know; clearly explaining the difference between grass-fed and grain-fed, and addresses antibiotics, hormones and beef nutrition.
Curry breaks down the sometimes mystifying beef labels such as "commodity," "natural," "certified" and "organic." She offers advice on where to buy, how to home-butcher — with illustrations — and how to taste and cook grass-fed beef.
The writer also describes the first time she decided to try cow-pooling (buying a one-quarter share of a longhorn steer directly from a rancher), splitting the beef among three other families. The idea is much like a CSA (community supported agriculture), except instead of a basket of fresh vegetables, the share is a portion of grass-fed beef cuts. Her cow-pooling experience provided the necessary ingredients to develop and refine her nose-to-tail guide section of the book.
"After spending years learning to cook each and every precious cut, I wrote 'Pure Beef' for all those who love beef and others who are venturing back to meat," Curry writes.
The recipe section begins with the most abundant — and least expensive — cuts; the chapters proceed from ground beef, chuck and round, to steaks, roasts, concluding with bones and trim. There are recipes for every cut — more than 140 — with beautiful color photos by Portland-based photographer David Lanthan Reamer interspersed with landscape images throughout.
A testament to healthy, sustainable eating, Curry generally reduces beef portion sizes for each dish and supplements with beans, potatoes and grains.
"In stir-fries and pot pies, pasta sauces and casseroles, steak and roast dinners, beef is an ingredient in the whole meal, never the star of the show," she writes.
The book is an essential reference with recipes inspiring slow cooking in the home kitchen. The dishes are both luxurious and simple; so it is no surprise that the chef-turned-writer honed her culinary chops at renowned Pacific Northwest restaurants, including The Herb Farm and Willows Inn before moving to Oregon.
Any palate will find a favorite, with recipes that range from slow-simmered feasts to global cuisine, such as Ethiopian Steak Tartare with Gingered Collard Greens and Turkish Yogurt Kebabs with Grilled Summer Vegetables. Soul-satisfying fare also abounds with Coffee Bean-Chile-Rubbed Sirloin Roast with Cowboy Beans and a White Truffle Risotto with Roasted Marrow Bones. The ultimate comfort food is showcased, too, but, of course, with a Western twist. Who can resist Chipotle and Corn Sloppy Joes?
As the days grow longer and warmer, the recipe for Perfect Grass-fed Burgers is the go-to for a summer night cookout; especially with the bonus recipes Curry adds for making your own whole-wheat hamburger buns and lardo ketchup.
"Being served a hamburger from the person who provides your food is the ultimate farm-to-table experience," she writes. And the perfect plate to introduce others to the story of grass-fed beef.