…Pursued by OWP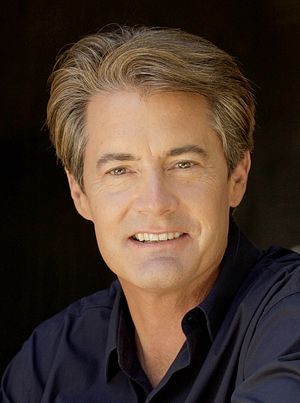 Born and a raised in Yakima, Wash., Kyle MacLachlan graduated from the University of Washington in 1982. The darkly handsome actor made his feature debut when he starred in the big-budget David Lynch adaptation of Frank Herbert's "Dune" (1984), but only enjoyed real success after appearing in a second Lynch project, the moody and perverse classic "Blue Velvet" (1986).
The following year, MacLachlan appeared as an otherworldly FBI agent in the cult classic sci-fi film "The Hidden" (1987). This turned out to be a sign of things to come, as MacLachlan soon portrayed another oddball G-man, Special Agent Dale Cooper, on Lynch's cryptic ABC series "Twin Peaks" (1990–91).
MacLachlan's remarkable work as Agent Cooper earned him a Golden Globe and a pair of Emmy nominations, as well as steady work in television and films, including a part as Ray Manzarek in the Oliver Stone film "The Doors" (1991) and villain Cliff Vandercave in the live action version of "The Flintstones" (1994).
His career took a hit after he appeared in the flop "Showgirls" (1995). However, MacLachlan returned to prominence in the early 2000s with a recurring role on HBO's "Sex and the City" (1998), as well as a starring role in the TV movie "The Spring" (2000) and a turn as Claudius in director Michael Almereyda's version of "Hamlet" (2000). MacLachlan later took advantage of his resemblance to Cary Grant when he played the classic actor's spirit in "Touch of Pink" (2004).
MacLachlan has remained a popular actor with independent filmmakers, and he has also been a familiar face on television, appearing on the ABC-TV shows "In Justice" and "Desperate Housewives," NBC's "Law and Order: SVU," CBS's "How I Met Your Mother" and IFC's "Portlandia."
In addition to acting, MacLachlan enjoys golf, travel, his dogs, Mookie and Sam, and wine. He owns …Pursued by Bear with winemaker Eric Dunham of Dunham Cellars. The duo focuses on a Cabernet blend crafted from grapes sourced in and around Washington. He recently added a second wine called Baby Bear, a Syrah named in honor of his son, Callum, who was born in 2008, the year of the first harvest.
MacLachlan lives in Manhattan with his wife, Desiree Gruber, an executive producer of TV's "Project Runway," and their son.
OWP: When did you become interested in wine?
KM: My interest in wine started early while still in high school. I was occasionally allowed one glass of wine with dinner when I was 17, usually a nice Chardonnay. Pairing it with food was the key — and we were not driving anywhere after dinner! It made me feel very grownup.
OWP: What inspired you to start a winery?
KM: My inspiration came from three directions. I'm a friend with Ann Colgin who created Colgin Cellars in Napa. She has been a source of wine knowledge for me since we met in 1999. I was inspired by her story about beginning to make wine. I also met Eric Dunham, winemaker at Dunham Cellars in Washington State, while searching for a Syrah to serve at my wedding reception in 2002. He has become a good friend and partner in this venture. Lastly, my wife, Desiree, who is a very successful entrepreneur, encouraged me to get off my butt and move into a small production agreement with the Dunham family, which I did in 2005, the year of the first vintage.
OWP: What is the story behind your winery name, …Pursued by Bear?
KM: I tried to register a number of different names for the wine, all of which were not available. Keeping my search related in some way to my career as an actor and also familiar with Shakespeare, this particular stage direction from "The Winter's Tale," 'Exit, pursued by a bear', popped into my head. I've always been intrigued by the idea that in Shakespeare's time, a live bear could have actually made an appearance on stage and chased the actor off, because it raises all sorts of logistical questions!
Initially, I just liked the name, but as I thought about the appropriateness of naming the wine '…Pursued by Bear' I realized there was some logic there. I like to think that Shakespeare took a perverse pleasure in writing this stage direction and insisting that the director of the play figure out how to pull it off. Sort of like me trying to figure out how to make and launch a wine in a marketplace with an ever-expanding amount of product.
OWP: After having been in LA and New York for years, what's it about the Walla Walla Valley that you miss or now treasure?
KM: I grew up in Yakima, which is about two hours north and west of Walla Walla and very similar in terms of climate and look. Now, when I fly into Walla Walla, I'm struck by the wide openness of the land, the focus on farming and the smell of fresh air as I step from the plane. The people are friendly, and it's a nice change of pace from my life in LA and NY.
OWP: What is one of the most memorable wines you have ever tasted?
KM: I don't actually remember drinking this, unfortunately, but in 1983, David Lynch gave me a bottle of Lynch-Bages after I'd auditioned for "Dune." I came back to my hotel room after my screen test, and there was the bottle sitting on the table. It was his way of thanking me and, I guess, saying that I was his choice for the role. We had discussed wine, particularly Lynch-Bages, when we'd first met and discussed the role of Paul. He said that he had just learned about this wine while flying to Europe and had been attracted to it because of the 'Lynch' in the name. We now exchange wine for our birthdays and Christmas.
OWP: What is your opinion of Oregon wine? Are you a fan?
KM: I live around the corner from a wine store called The Burgundy Wine Company in New York. They have been essential in teaching me about Oregon Pinot. I tend to favor a Bordeaux blend and its variations, but I do think a great Burgundy, or Pinot, is a magical thing with nuances and flavors that have the power to transcend.
Things have changed quite a bit in the Willamette Valley since I was a little guy traveling down 99W in a station wagon with my family to the Oregon Coast to visit my grandparents. Back then, we would pass through the towns of Newberg, Dundee and McMinnville looking at nut trees. I can remember driving through Newberg and seeing a door with the name Dr. Bump, physician. We'd get a kick out of that.
OWP: How has the role of playing the mayor of Portland in IFC's "Portlandia" changed your view of Oregon as a whole?
KM: I've always had a real fondness for Oregon and Portland, which comes from my grandparents. My mom's folks moved from Spokane to Gleneden Beach to retire and my dad's folks lived in Vancouver, Wash., and would come across the bridge to Portland to have dinner at the Republic Café. This was back in the '60s.
I can remember driving through Portland, and my dad getting upset because of all the one-way streets and rail buses and bridges — it was all too confusing for him coming from Yakima. My brothers and I would roll our eyes in the backseat and think, 'Come on, how hard can it be?' Then I come back to work on "Portlandia" and I have a car to get around the city and I'm like, 'Why does this street not go through! What idiot made this a one way? Etc.' The apple doesn't fall far from the tree, I guess.
OWP: As keynote speaker at this year's IPNC, what are your thoughts on New vs Old World Pinot Noir?
KM: I'm still putting my thoughts together on that one. Maybe I'll start by saying, 'I've been around long enough to be able to compare Old Nut Tree Farm Oregon with new Willamette Wine Region Oregon!'