Full-Bodied Wine Experience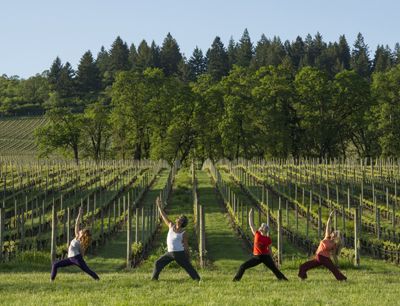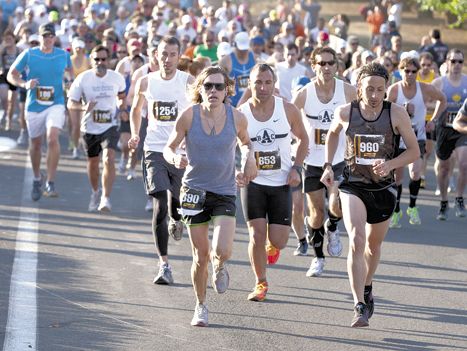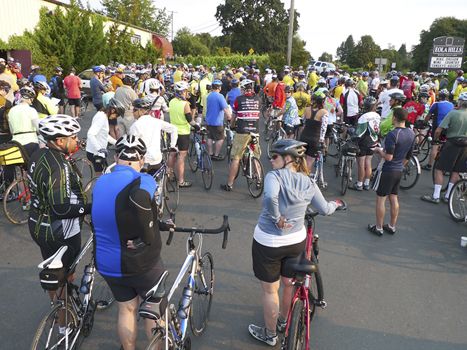 Athletic adventures entice tasters and tourists to cross Oregon wine country
By Jennifer Cossey
Roman philosopher and statesman Lucius Annaeus Seneca wrote, "Things that are hard to bear are sweet
to remember." An appropriate quote for the fun-filled, athletic events dotting this summer's wine country
calendar. Whether its yoga, running or biking, wine's reward at the end makes the finish line even sweeter.
Yoga
What better way to start a day of wine tasting than with some calming, downward-facing dogs or a few energizing warrior twos? Yoga is a beautiful way to connect to your senses priming them for all that smelling and tasting. Not only will the asanas (yoga poses) get your brain in shape for wine tasting, but yoga's health benefits such as strength, endurance, balance and stress reduction are added bonuses.
There are studios all over wine country with drop-in classes ranging from a $5 suggested donation to $15 per class drop-in rate, most with no reservations required. Yogi's Studio in historic McMinnville is one such place.
Owner and teacher Laura Pedroni was once herself in the wine industry and it's not uncommon to have wine industry luminaries on the mats in the studio. For Pedroni, the marriage between the industries is a natural one.
"More than 20 years ago, I was in the food and wine industry, running a family business," Pedroni said. "As everyone in the industry knows, it is intense and the hours are long; yoga provided the balance.
"At Yogi's Studio, the yoga and wine communities connect, bringing vitality and pleasure to an already enriched Yamhill Valley."
For those who want to meditate closer to the vines, several wineries offer classes throughout the summer in their vineyards, including Dobbes Family Estate, Youngberg Hill, Raptor Ridge and Red Ridge Farms.
Entering its second year, D'Vine Yoga offers yoga classes followed by a wine tasting in several vineyards throughout the valley, including Stoller, REX HILL, Sokol Blosser, Willakenzie and Archery Summit, during the summer and early fall. Classes are $15 and half of the proceeds will be donated to Oregon Food Bank.
Some inns, such as The Allison, feature yoga for their guests. The Newberg wine country hotel holds classes in the garden every Sunday morning, July 8 through Sept. 30.
And for those requiring just a bit more pep, Del Rio Vineyards in Southern Oregon offers upbeat Zumba classes on Wednesdays.
Run
There is no doubt that 13.1 miles is a long way to run, but when there is a glass of wine waiting for you at the finish line, the miles go a lot quicker than one might imagine.
Several races in Oregon's wine country bring to life this epic tale of road and wine: Dundee's Fueled by Fine Wine Half Marathon, Oregon Wine Country Half Marathon in Yamhill County and Applegate Valley's Enchanted Forest Wine Run Half Marathon.
Marking its third year, Fueled by Fine Wine, July 15, starts at the Stoller Winery in Dayton, with runners passing through vineyards like Domaine Drouhin and Vista Hills. A large portion of the event follows unpaved vineyard trails as they wind through rows of grapes and hazelnut orchards, making it a sort of cross-country affair.
"You won't run your best time, but you'll have your best time," said Chris Nagy, FBFW architect and president. "It's a run that delightfully blends Oregon's love of outdoor adventure with the passion for fine wine."
Lange Estate winemaker Jesse Lange, who will be running the course and offering his wines at the post-race party, embraces the event as more than just exercise; he says it's about connection.
"I think it combines a healthy product with a healthy activity," Lange said. "Anytime you get people onto a farm where their food and wine are grown, it connects them with the land in a tactile manner."
The Oregon Wine Country Half Marathon, Sept. 2, also begins at Stoller and meanders through some of the Willamette Valley's most prized and picturesque vineyards.
The race finishes in Carlton where wine, music, food and festivities await from sponsoring wineries like Dobbes Family Estate and Ken Wright Cellars.
Mike Willison, education, events and reputation manager for REX HILL and A to Z Wineworks, is preparing to run the event for the third year.
"I like the training, the benefits, the camaraderie, the harsh morning wake-up call, the ritual at Stoller and all of the sounds and sights of the pre-race foolishness," Willison said. "Mostly, though, I love the finish and everything that comes after."
Imagine running through old-growth forest blanketed in moss, beds of ferns, wild flowers and vines. Enchanting, isn't it? Husband and wife team Timothy and Krista Olson are betting on it with their new race, Enchanted Forest Wine Run.
The inaugural event, Sept. 29, is a half marathon, 5K, as well as a kid's fun run, and begins and ends at Wooldridge Creek Winery in Grants Pass. Like the other races, it includes off-road running and a celebration at the finish.
"We thought it would be fun to combine two of our favorite pastimes: trail running and delicious wines from local wineries," Timothy said.
Half marathon not your style? Other races abound in Oregon's wine regions.
Silvan Ridge Winery, located 15 miles southwest of downtown Eugene, hosts three running events a year; one is a 5K in August, the other two are each called "Run & Brunch." Tailored specifically for women, the run includes, you guessed it, a wine-inspired brunch at the finish line.
Seufert Winery hosts the Dayton Fiesta Run on Sept. 8. The race — 5K or 10K, your choice — is organized by the winery's club members. The finish line is conveniently close to Seufert's crush pad, where participants are greeted with a well-deserved glass of wine or beer.
Cycle
Prefer to have two wheels spinning beneath you? Oregon's wine country has you covered.
Hosted by Eola Hills Wine Cellars, Bike Oregon Wine Country is a fully supported ride that takes cyclists through the scenic Eola Hills and Central Willamette Valley wine country. Surrounded by rolling vineyards and scenic countryside, the various routes offer both short and long loops, ranging 45 to 70 miles. Day rides leave every Sunday in August.
Wheels to Wine bike ride, a Cystic Fibrosis Cycle for Life event, starts and finishes at Willamette Valley Vineyard's Tualatin Estate in Forest Grove on July 22. Riders may choose either a 35-mile route or the more demanding 65-mile course. Both are scenic and end with a post-race event featuring wineries like Montinore Estate and Plum Hill.
Money raised — this year's goal is above $65,000 — goes to the Cystic Fibrosis Foundation. For Maggie Lewis, an avid cyclist and Cycle for Life participant, the sport and charity mingle on a much deeper level, as her 18-year-old son lives with the disorder.
"When we do the ride, I love the fact that these are people who are active and have made a commitment to raising awareness toward cystic fibrosis research," Lewis said, "I also love that it is through a very scenic landscape, and that I get to see many friends and make new connections."
These types of events attract not just out-of-towners, but local wine folks as well. For industry members, physical activity — and giving back to the community — is a way of life. Heck, we have to balance out all that great wine, don't we?
Ariel Eberle, assistant winemaker for Yamhill Valley Vineyards, is a perfect example. She is participating in this year's Bike MS ride, Aug. 4–5. Cyclists will pass through Silver Falls and the Willamette Valley near wineries like Piluso in Aumsville. With a personal fundraising goal of $750, Eberle and hundreds other like her are working to find a cure for MS. Yamhill Valley Vineyards are hosting an event, June 9, to help Eberle reach her goal and raise awareness for the cause.
Whether you are a tuned-in yogi, a hardcore runner, an avid cyclist or just a wine and food enthusiast who needs to burn off some of those extra sipping and supping calories, wine country has something for you, especially after you cross the finish line.