B&B Bounty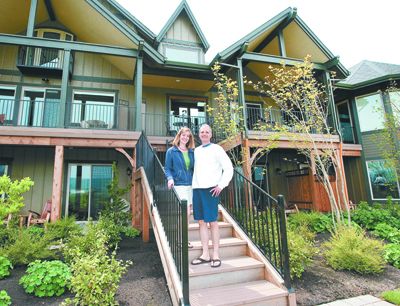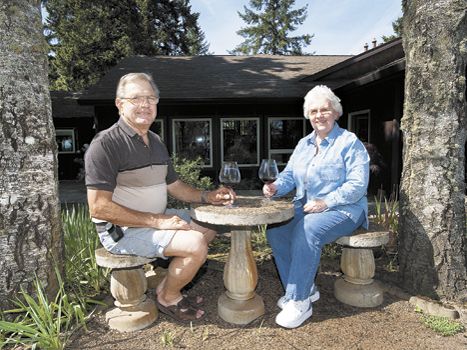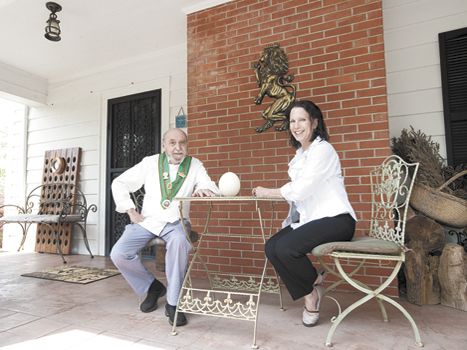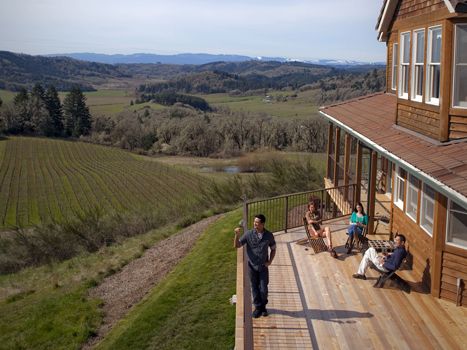 A wealth of bed and breakfast options await tourists in Oregon's Yamhill Valley
By Karl Klooster
If you're planning a trip to the Yamhill Valley, home to more wineries than any other part of the state, you must explore the overnight option of a bed and breakfast, adding to your overall experience.
Individual B&Bs may not be big biz, but many people find them particularly appealing. Each offers a unique environment and a personal experience, given that guests, although paying for the privilege, are being invited into the homes of their hosts.
Furthermore, in most instances, the innkeepers personally attend to the needs of their guests. They prepare the breakfast themselves as well as serve it. Many take particular pride in special recipes that have drawn repeated praise.
Most often, B&B proprietors are couples. Both husband and wife are charming and gregarious folks, people who have honed the ability to make their guests feel relaxed and comfortable without being overly solicitous.
People who embark on B&B ownership should be aware from the outset that the work never ends, and they're going to give a lot of themselves for what they receive. But all who have succeeded will tell you the benefits considerably outweigh the drawbacks.
At the core of it, they must genuinely like people and, in particular, like making them happy and content. When they receive thanks and appreciation in return, that is the best reward they could ask for — besides, of course, making a living.
Historically, a B&B was a private residence where bedrooms were rented out with breakfast included. Over time, however, more guests have wanted an en suite bathroom, which necessitated remodeling.
Usually, lodging establishments offering six rooms of this type have constituted the upper end of the B&B spectrum size-wise. Beyond that, they are classified as inns, which may or may not include breakfast as a part of their offerings.
Some B&Bs also use the term "inn" but not vice versa. There is obviously a point at which such an intimately personal signature can no longer be put on a place. Regardless of the charm, ambience and level of service, it's not a B&B.
Membership in Bed & Breakfasts of Yamhill County currently numbers 24, which accounts for almost all of the area lodgings that qualify for the designation. Although a brief overview of just a few of them is provided here, those mentioned convey the delightfully different styles and personalities of both the places and their proprietors to be found in Oregon's lovely Yamhill Valley and environs.
Lobenhaus B&B & Vineyard
Innkeepers: Joe and Shari Lobenstein
Lobenhaus is a rustic, tri-level lodge surrounded by tall fir trees. Its pastoral setting east of Carlton provides a quiet, peaceful countryside experience, yet a wealth of wineries are nearby and several towns can be found just minutes away.
Each of the six rooms has its own private bath and deck looking out to the woods, nearby Millican Creek and the owners' 8½-acre vineyard, which supplies grapes to local wineries.
Shari Lobenstein's specialty is bountiful breakfasts whereas her husband, Joe, tends the vineyard and invites guests to walk among the vines with him as he describes the varieties and what's done as the season progresses.
Originally from Wisconsin by way of Arizona, where they spent their careers in the food, health and hospitality industries, both have been catering to the needs of guests since they built the Lobenhaus lodge in 2001.
6975 N.E. Abbey Road • Carlton
503-864-9173 • www.lobenhaus.com
A' Tuscan Estate: European-Style B&B
Innkeepers: Liz and Jacques Rolland
You feel as if you're about to visit the mansion of a local mogul when you walk up the steps to the lion-guarded porch and past the soaring columns that mark the elegant front entrance of A' Tuscan Estate.
Located just four blocks from the heart of downtown McMinnville, the immediate surroundings remain primarily residential. The impeccable interior reflects the care that has gone into maintaining this lovely home built in 1928 for a local physician.
You can select from among four Italian motif rooms in the main house and an entire smaller house at the rear whose interior has been done in the Craftsman style.
Co-proprietor Jacques Rolland is a professional chef and cookbook author who puts his considerable talents to work preparing gourmet breakfasts as an epicurean accompaniment to your stay.
He offers multi-course dinners and cooking classes as well. Though these individually tailored indulgences come at additional cost, guests who relish fine food often take advantage of them.
809 N.E. Evans Street • McMinnville
503-434-9016 • www.a-tuscanestate.com
Le Puy: A Wine Valley Inn
Innkeepers: Andy Kosusko and Lea Duffy
A recent addition to the Yamhill Wine Country scene, Le Puy - named for Le-Puy-en-Velay, a village in France's Loire Valley — is a completely remodeled, hillside B&B-style lodging facility.
When they opened Le Puy on a hilltop just northwest of Newberg in March of 2011, owners Andy and Lea were seeking to recreate an Oregon interpretation of a Loire Valley vacation they had taken together.
Drawing Inspiration from Feng Shui, the couple named their eight rooms Air, Earth, Fire, Heaven, Lake, Mountain, Thunder and Water. Some rooms have Temper-Pedic beds and soaking tubs.
To attract guests seeking a holistically balanced experience, the couple has placed emphasis on sustainability throughout the operation. In the B&B tradition, breakfast is included. Organic ingredients are used and fresh produce comes from their own garden.
Natural light from windows and skylights flows throughout the common rooms reflecting off furnishings and appointments that abound in wood, leather, soft fabrics and rich, tertiary tones. The Loire it may not be, but it is très jolie.
20300 N.E. Highway 240 • Newberg
503-554-9528 • www.lepuy-inn.com
Youngberg Hill Inn & Vineyard
Innkeepers: Wayne and Nicolette Bailey
Perched at the very tip top of a foothill ridge on the eastern edge of the Coast Range southwest of McMinnville is Youngberg Hill Inn & Vineyard. The drive up — and up and up — is exhilarating in itself, as the Inn, at first a tiny speck atop the ridge, draws near.
But the real reward comes when you reach the circle drive at the end of the road. From this vantage point, the expansive valley floor sprawls out nearly 1,000 feet below.
A sweeping, near 360-degree view awaits the delighted observer. On clear days, majestic Cascade Range peaks — St. Helens, Adams, Hood and Jefferson — can all be seen stretching their snow-covered summits toward the sky.
To the east, the yellow-red hue of the rising sun greets guests in the inn's four suites and four rooms earlier than elsewhere. The smell of breakfast coffee entices them downstairs to watch as the growing brightness awakens the valley.
To the west, glass of Youngberg Hill wine in hand, those same, well-tended guests can bid the day a fond farewell as the setting sun casts a shimmering white-gold hue across the Coast Range's undulating crest.
10660 S.W. Youngberg Hill Road • McMinnville
503-472-2727 • www.youngberghill.com
Joseph Mattey House B&B
Innkeepers: Jack and Denise Seed
Relax in Victorian comfort and splendor at the 1892 Queen Anne-style residence originally built for successful local beef cattle raiser and purveyor Joseph Mattey. It is listed on the National Register of Historic Places.
The Seeds have owned this stately B&B since 1993, having taken over a business that began operation in the mid-1980s. Both British with a droll wit to match, they previously lived in Germany and Italy, then traveled across the U.S. before settling here.
Four rooms are available — Pinot Noir, Chardonnay, Riesling and Blanc de Blanc — all furnished with antiques, period bedsteads and oriental rugs.
A private drive leads up to the home. It passes through a secluded ten-acre estate, which incorporates an English garden and a vineyard whose grapes are sold to local wineries.
Situated off Highway 99 between Lafayette and McMinnville, the Mattey House is a serene haven with a country feel while merely a stone's throw from the Yamhill County seat and wineries of the Dundee Hills and Yamhill-Carlton AVAs.
10221 N.E. Mattey Lane • McMinnville
503-434-5058 • www.josephmatteyhouse.com
Dundee Manor B&B
Innkeepers: Brad Cunningham and David Godfrey
Not only is this one of the B&Bs in Yamhill County that is literally surrounded on all sides by vineyards and wineries, the 1908 Edwardian manor is framed by mature, beautifully landscaped grounds.
Sitting on Worden Road as it snakes high up into the Dundee Hills, the manor is owned and operated by Brad Cunningham and David Godfrey who refer to themselves as "two gentlemen on the hill."
Carrying that theme to its logical conclusion, impeccable taste is evident in every area of this establishment. From lovely rooms to excellent food to affable friendliness, the hallmark is quality and care.
The four rooms are named The African, The Asian, The European and The North American. They are decorated with antiques and memorabilia the owners collected during trips across this continent and those areas of the world.
The proprietors tailor each experience, acting as solicitous concierges for some guests and leaving others to themselves depending on personal choice.
Simply relaxing with a good book and a glass of wine in one of the gazebos on the estate's 4½ acres has been as much indulgence as some have needed.
8380 N.E. Worden Hill Road • Dundee
503-554-1945 • www.dundeemanor.com
Here's a list of the others members of Bed & Breakfasts of Yamhill County. Each has its own distinctive style and personality, and that's just the place. The proprietors add a dimension that must be experienced firsthand. Refer to websites for further insights.
Abbey Road Farm: Carlton • www.abbeyroadfarm.com
Avellan Inn: Newberg • www.avellaninn.com
Brookside Inn: Carlton • www.brooksideinn-oregon.com
The Carlton Inn: Carlton • www.thecarltoninn.com
Casa Della Valle: Carlton • www.casadellavallebb.weebly.com
Chehalem Ridge B&B: Newberg • www.chehalemridge.com
Deer Haven Farms B&B: Newberg • www.deerhavenfarmsbb.org
The Dreamgivers Inn: Newberg • www.dreamgiversinn.com
Hideaway Hill: Yamhill • www.hideawayhill.biz
Hopewell B&B: Hopewell • www.hopewellbb.com
Kelty Estate: Lafayette • www.keltyestatebb.com
The Lions Gate Inn: Newberg • www.distinctivedestination.net
Martha's Vineyard West: McMinnville • www.marthasvineyardwest.com
R.R. Thompson House: Carlton • www.rrthompsonhouse.com
The Twisted Willow Inn: McMinnville • www.twistedwillowinn.com
University House: Newberg • www.universityhousenewberg.com
Wine Country Farm: Dayton • www.winecountryfarm.com
Yamhill Vineyards B&B: Yamhill • www.yamhillvineyardsbb.com