Oregon Wine Review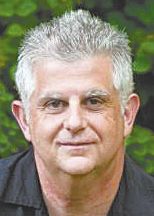 By Jim Gullo
I'll admit, in hindsight, that my response to discovering Oregon wine was a trifle extreme.
In September 2007, while living in the Seattle area, I was researching an article about Western U.S. agri-tourism for Alaska Airlines Magazine. When they asked me to include a business from Oregon's wine country, my response was an incredulous, "Oregon has a wine country?"
I was sent to Dundee to profile a winery/bed & breakfast, and within the course of a weekend, I fell in love with, well, everything. The gorgeous views of hills and mountains and farmlands, where livestock graze alongside hazelnut orchards and rows and rows of vineyards. The charming wineries that, with a few notable exceptions, are small and intimate and produced — who knew? — unbelievably good wines. A food scene that is vital and first-rate, with everything from farmers markets selling local products to superior restaurants.
As a travel writer, I have traveled to hundreds of places, including the wine regions of Burgundy, Australia, California, Washington and Switzerland. But it was Oregon that made me call my wife and say, "You have to see this. We have to move here."
Within a year, my wife, Kris, found a dream job in McMinnville. And on a summer day, we packed up kids and dog, and moved. I felt vindicated a few months later, when on a trip to France, I met Robert Drouhin, the patriarch of one of Burgundy's most notable wine families and founder of Domaine Drouhin Oregon. When I told him I now lived in McMinnville, he said, "You live in the best place in the United States."
A few months later, I hit upon the idea of creating a web magazine out of the dormant domain www.oregon
wine.com. I made a licensing agreement with its owner and was now set free to write about everything and everyone in the business.
But, alas, in April, I received an offer — one I couldn't refuse — to buy the domain and close the webzine.
So, what did I learn about Oregon wine during those three years?
First, and most important, I learned to admire the people who created this industry out of nothing and to appreciate their stories. Everyone the world over finds their own stories riveting, but the genesis stories here, only some 40 years in the making (and counting) are good ones, and worth telling the world.
Subsequent generations of winemakers follow, who in many cases stake their entire retirement and family fortunes on a plot of south-facing Oregon hillside that had never grown grapes, a modest space in which to make and sell the wine, and a home in which to raise their kids, with a barn for the new tractor. They quickly learn the only way to not go broke is to manage the businesses themselves, grow the grapes, make the wine, market like crazy and work together for the collective good of the industry. Oregon wine is a construction not of corporations (at least not yet), but of individuals with fine stories to tell.
Luckily for all of them, and for us, the wine is, for the most part, really good.
Bucolic landscapes and friendly people never overcome lousy wine. I grew up in upstate New York, another place that created a wine industry from former apple orchards, and everyone there tried to make Cabernets and Chardonnays, Pinot Noir and Rieslings, too, alongside awful, sweet things like Pink Catawba and Concord wines. With the exception of Riesling, New York wine has largely proven to be forgettable.
In Oregon, not only are the Pinot Noir, Pinot Gris and Riesling first-rate, but different parts of the state can ripen almost any grape varietal; and Washington and California vineyards are close enough to source. Thus, we can enjoy (and brag about) the Tempranillos of Abacela and Folin Cellars; the Clarets of Del Rio and Tyrus Evan; Sangiovese and Lagrein from Cana's Feast and Remy Wines, and Portuguese varietal blends at Coelho.
On the other hand, what does Oregon wine need?
Better marketing, for starters. When I started my website three years ago, there were wineries that either still didn't have websites or had very cursory ones, and marketing duties are still often relegated to someone's niece or nephew who knows how to run the computer — I couldn't believe how many times the niece or nephew didn't bother to return calls or respond to requests for information.
Venture out to restaurants in New York, Boston and San Francisco, and Oregon wines appear to be an afterthought, if they're on the lists at all.
Infrastructure is another. It is telling that the only full-service resort in wine country is The Allison Inn; south of Eugene, visitors are directed to a smelly, noisy, crowded casino for lodging. People who fly their private jets into McMinnville Municipal Airport to stock up on cases of Pinot Noir don't generally want to bunk down at Grandma's B&B — I hasten to add that I like Grandma's breakfasts just fine, but then, I don't own a private jet; I also lost a bundle at the casino.
Like a good vintage — I'm still partial to 2007 — Oregon wine keeps evolving and getting better, and here's hoping we can grow with it in the coming years.
Jim Gullo is the former editor of www.oregonwine.com. His latest book, "Trading Manny: How a Father and Son Learned to Love Baseball Again" published in March.