High Desert Decadence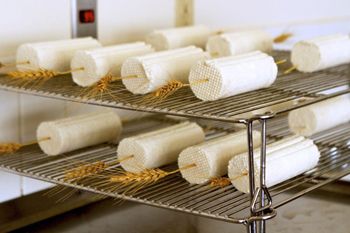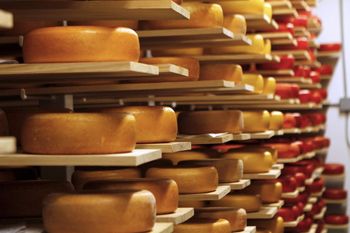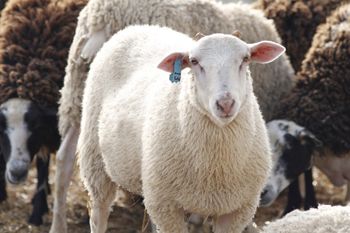 By Christine Hyatt
One of the elements making the landscape of Oregon cheese so diverse is, well, the landscape. The rain-soaked Willamette Valley, the sunnier and temperate Rogue Valley, the breezy coast and the scrubby, brown-hued high desert all have unique climates that impact the animals, feed and the types of cheese best suited for production.
Recently, I traveled to the high desert areas of Bend, Redmond and Madras to interview cheesemakers as part of the Oregon Cheese Trail video project.
Moss-covered woods on the Willamette Valley side of the Cascades morph to snow at the pass summit and transition to the expansive plateau that is Central Oregon. Not a speck of moss to be found.
The weather to the east of the Cascades is decidedly sun-kissed, with earthy browns dominating the landscape, making it an ideal home for rain-averse goats and hearty sheep.
Three distinctive cheesemakers call central Oregon home. Juniper Grove Farm crafts classic, French-inspired goat cheeses. Tumalo Farms produces an outstanding line of refined aged Goudas. Ancient Heritage Dairy uses rich, sweet ewe's milk in their line of ripened and aged cheeses.
Pierre Kolisch is an Oregon cheese pioneer. Farmsteading, before farmsteads were cool, Kolish saw farming as an escape from a law career he found unsatisfying. A chance encounter while hiking in Nepal led him to France, where he learned the art of cheesemaking.
Upon his return to the U.S. in 1987, he founded Juniper Grove Farm in Redmond and built his herd of Alpine, Saanen and La Mancha goats. "Because I had no background in farming, goats were easier to handle … good personalities," Kolisch noted.
The classic French training is evident in his line of fresh and carefully ripened rounds, pyramids and log-shaped buche cheeses, which come complete with a traditional wheat stalk in the center, adding character and stability to the aging cheese.
The farm also produces an Alpine-style cheese inspired by Tomme de Savoie, which is dubbed Tumalo Tomme, in honor of a nearby town. Raw milk Redmondo, an aged cheese made in the style of a Pecorino, was made at the behest of an intern.
Kolish recently expanded his farming operation to a nearby family property, where he grows alfalfa for feed along with his newest crop, potatoes. Like many farmers, varying feed costs add to financial uncertainty, and more are opting to grow their own food. The potatoes, he says, are a new idea to resurrect a crop once widely cultivated in the area.
Down the road from Juniper Grove is Tumalo Farms, home to the most decorated Central Oregon cheeses. Owner Flavio DeCasthilos has a high-tech background and was a co-founder of WebMD.
When he grew weary of his high-intensity lifestyle, he decided on a slower pace, moving his family to Bend and turning his attention to cheese.
A native of Brazil, DeCasthilos came to the U.S. for high school and earned advanced degrees in engineering before entering the tech field. While vacationing in his native country, he tasted farmstead cheeses and began to dream of producing them in America.
His engineering background is obvious at his facility, which he carefully designed with efficiency and scalability in mind. Open, airy barns house bleating Alpine and Saanen goats waiting to be milked. Cheese is made daily and fills wood shelving in meticulously maintained aging caves built into a hill on the property, with panoramic views of nearby peaks.
A similar, scientific approach influences his cheesemaking. Intent on producing a consistent cheese throughout the year, DeCasthilos feeds his animals locally grown alfalfa and a grain ration rather than allowing them to browse. Animals that enjoy the 'edible landscape' can encounter seasonal variations in forage such as spring onions or blackberries, which may impart subtle flavor variations in the final cheese.
Classico, the farm's flagship cheese, is a refined and delicious Gouda aged three to six months. The cheese, showing subtle sweetness and notes of brown butter, was named first runner-up at the U.S. Cheese Championships in 2009.
Several flavored Goudas are available in local and exotic flavors. Peppercorn and fenugreek versions evoke faraway lands. Oregon-inspired flavors feature hazelnuts, truffles and even local craft beer, which imparts a hoppy note to the aptly-named Pondhopper. Tumalo also makes Jewell, a ripened cheese made with a blend of their goat milk and organic cow's milk from a Central Oregon dairy.
The newest licensed cheesemaker in central Oregon is Ancient Heritage Dairy, which relocated from Scio in the Willamette Valley to Madras, in fall 2011. Though only about 50 miles east as the crow flies, the terrain could not be more different.
Ancient Heritage was founded by the Obringer family in 2006 as a way to work together creating nourishing food from their herd of East Friesian cross sheep. The dairy in Scio was rented and Paul Obringer saw an opportunity to create a dairy optimized to his small-scale production methods.
Sheep are relative newcomers to the American dairy and cheese scene but are quickly gaining popularity for their rich, sweet milk. Though highly seasonal and lower in volume than their bovine and caprine cousins, sheep are docile and hearty animals well suited to the climate of the region.
When I arrived, I was greeted by Paul, the owner/cheesemaker and his son, Hank, who is the herdsman. They were keen to show me around their newly licensed facility and share a taste of the first batch of Valentine, a velvety-smooth ripened cheese.
Moving can wreak havoc with the delicate balance of microflora, which establishes itself in a particular area and microclimate, and greatly impacts the flavor and aging of a cheese. I was delighted to find that, though young, the cheese held great promise of successful ripening, comparable to versions previously produced in the Willamette Valley, a true testament to the skill of the cheesemaker.
That a three-county area with a combined population of just over 200,000 could be home to these distinguished cheesemakers bodes well for the future of high desert cheeses. Find cheeses from featured producers at cheese and specialty shops around the Northwest or, even better, meet the maker at your local farmers market.